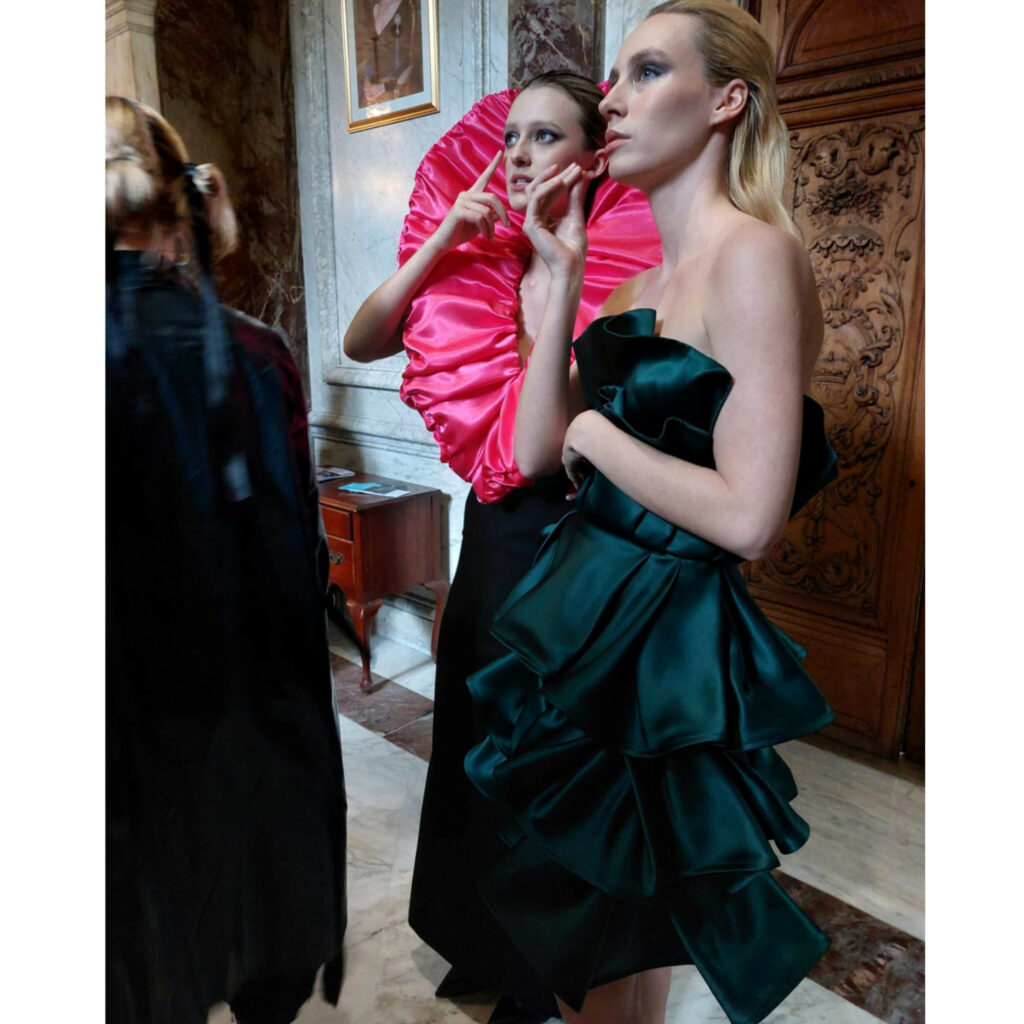 Josh Birch is an upcoming fashion designer who designs classic pieces that withstand passing trends.
His collection was showcased during London Fashion Week on 20th February at the eclectic Georgian Dartmouth House in Mayfair. The venue is steeped in tradition with a sense of British sophistication, much like Josh's own designs.
Josh Birch Jones began his design career at the tender age of 4 years old, by sketching his mother's evening dresses.
At just age fifteen his impressive collections graced the catwalks of London and Amsterdam.
Josh is the youngest ever member of the British Fashion Council. His pieces are bespokely designed from his garden workshop in Kent.
His designs are influenced by the glamour of The Golden Era of Hollywood.
He designs meticulously, in such a way which seamlessly transports us to an era where simple silhouettes leave a little feminine mystery.
During his catwalk the Spencer twins had their London modelling debut. They graced the catwalk, effortlessly elegant in every way.
Who better to capture modern sophistication?
Josh Birch Jones is bespoke in the tailoring and bespoke in the delivery while
articulately depicting the Golden Age of film and fashion with designs that are classic, feminine and elegant.
The craftsmanship speaks for itself with simple silhouettes for the modern woman. These are designs for the woman who doesn't bow to passing trends, but knows the value in functional, timeless, classic pieces.
The designs show British artisan's craftsmanship and natural fabrics from Italy, France and England.
His collection is a true example of how Josh stays true to the brand's British roots yet appreciating tailoring expertise. Josh Birch knowingly incorporates his expertise and style into pieces which are modern yet exude a long history of artisan excellence.
There were many glamorous and sensuous gowns. A strapless black triple crepe flared gown with crescent shaped neckline created
a sense of mystery, sophistication and elusiveness. A floor length black crepe ruffle cape with fuchsia pink satin lining and matching gown created drama.
The collection understood that special something in the woman, the essence of being a woman – the Golden Era meets 2023.
The 1930's fashion bought an escape to a depression.
Josh's AW23 collection made me escape into Hollywood glamour, I felt glamorous just witnessing the art deco lines.

Written by Rebecca Lilley
https://www.linkedin.com/in/rebeccalilleyllb
Main photo: Rebecca Lilley @just.newsinternational
Photography: @mansoorali_fashionphotographer @davebenett / Rebecca Lilley for @just.newsinternational
@joshbirchjonesofficial