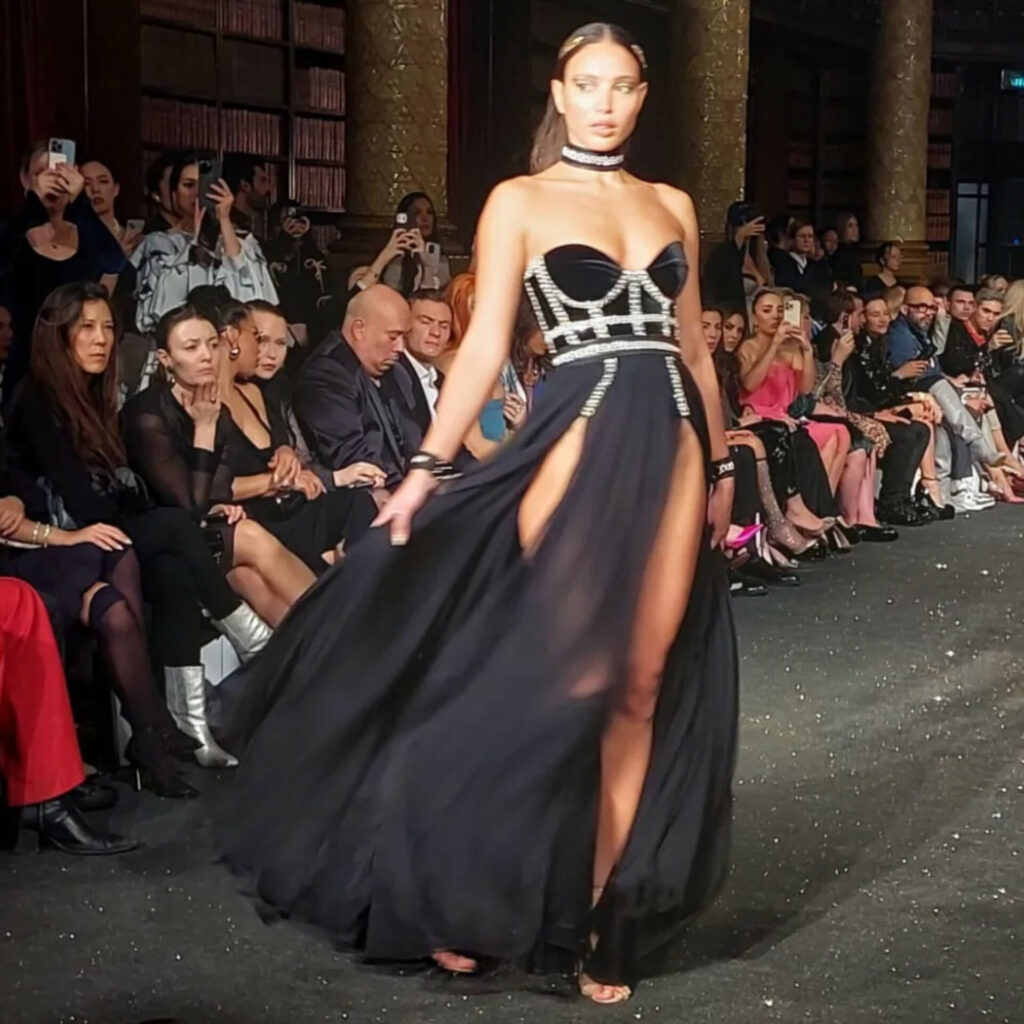 The AADNEVIK 'BYZANTIUM' AW23 collection is dazzling, feminine, sexy and strong. The Aadnevik Woman is represented with goddess like amazonian models adorned in stunning diaphanous gowns effecting a fine balance of dark and light temptations.
The Designers Hila and Kristian Aadnevik, found inspiration for their Autumn / Winter 2023 collection in the Byzantine artists who sought to paint the soul and show eternal truths.
"With the rivers of your tears you made the barren desert bloom; and with your sighs from deep within, you made your labours bear their fruits a hundredfold; and you became a star, illuminating the world by your miracles for the salvation of our souls" Apolytikion
On these artists the designers comment,
"They provided an encapsulation of the universe around them, and the spiritual cosmos was presented in order and harmony. The Icon is the muse of this collection; she is the window to heaven, allowing us to communicate between the earthly and divine realms. The monasteries and churches were the art galleries of the time, and we wanted to re-create that visual splendour and richness as one would enter the church in Constantinople more than a thousand years ago, as if we knew not whether we were in heaven or earth, only that God dwells there among mortals. Lavish gowns and dresses metaphorically shield on the path to the great unknown by virtue. "
This exquisite collection has a wonderful balance of femininity and strength with refined elegance. Metallic leather bodices are paired with shimmering layers of gold tulle symbolizing Divine Light. Gowns are adorned with rich embellishments while draped crystal dresses reflect movement and light. There are angelic creations as well as the darker influences. Black shades of velvet, lace and beading represent temptation and the wilderness. There were bold gold zips and stud fastenings sensually placed on flowing graceful designs.
It is no wonder that Hila and Kristian Aadnevik have such a strong celebrity following. This season Aadnevik showed a spectacular sensual red carpet ready collection.
Hila and Kristian Aadnevik would like to thank: Aya Yasuda at Fairydrops Tokyo / Emily McTavish at Authentic Beauty Concept
/ Marcello Costa at teamcosta / Alina Balatchi and Natalia Stelmakh at Aqua Carpatica
HAIR AUTHENTIC BEAUTY CONCEPT by Joseph Ferraro MAKE-UP TEAMCOSTA by Marcello Costa
BEAUTY FAIRYDROPS TOKYO MUSIC PYRROS WATER AQUA CARPATICA
by Kim Grahame
Photos /video by Virginia Velasco