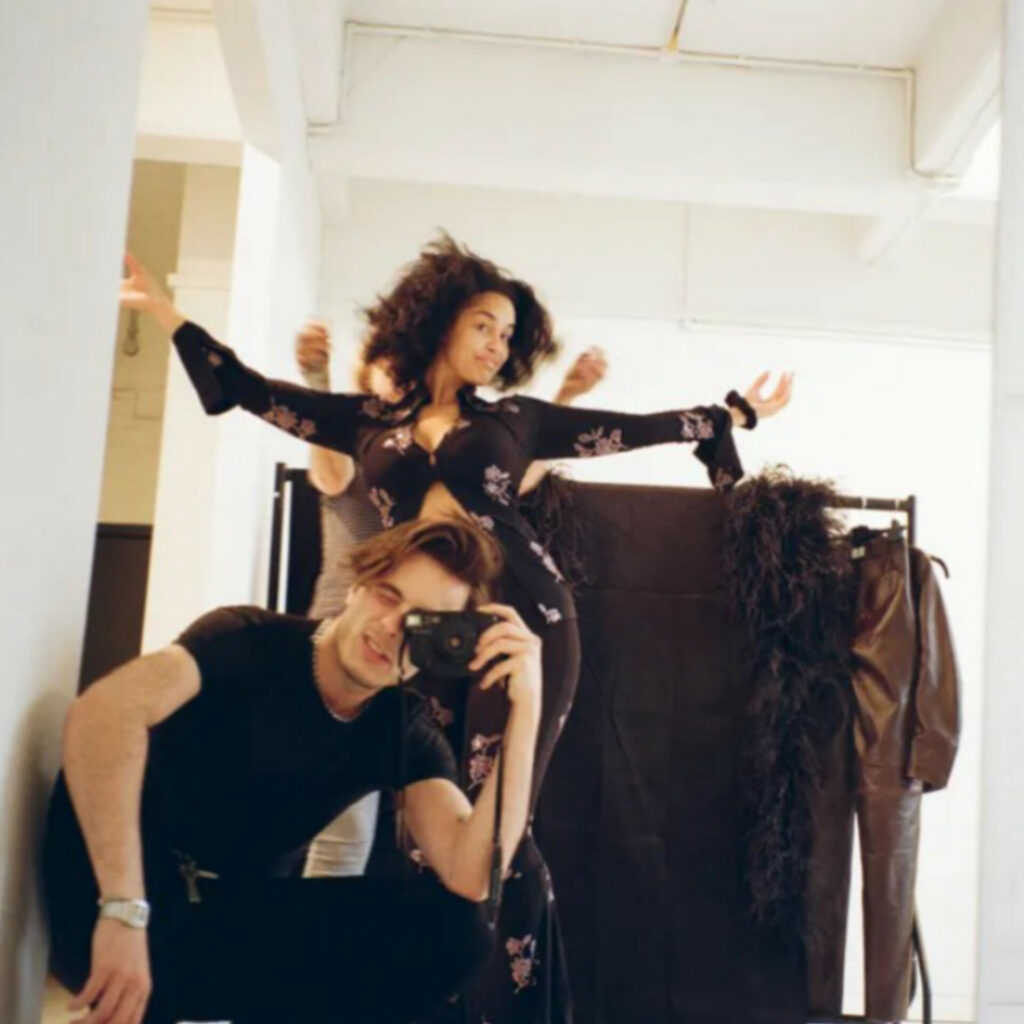 16Arlington is the winner of the prestigious 2023 BFC/Vogue Designer Fashion Fund (BFC/VDFF).
Founded by design duo Marco Capaldo and the late Federica Cavenati in 2018, 16Arlington is a London-based womenswear label. The brand has become known as London's coolest eveningwear label and by February 2019, 16Arlington was invited to host its first London Fashion Week show.
16Arlington has dressed powerful women around the world including Hailey Bieber, Adwoa Aboah, Jodie Turner Smith, Lady Gaga, Jennifer Lopez Olivia Rodrigo, and Naomi Campbell amongst others.
The brand was picked up by an impressive list of global stockists in it's first year Bergdorf Goodman in New York, Lane Crawford in China, Penelope in Italy and
Selfridges in the UK.
Their designs are party-ready pieces that are glamorous and sexy showstoppers destined for red carpets and dance floors.
Cavenati's has a love of minimalism and clean lines while Capaldo's leans towards the use of crystals, sequins for a style of all-out glamour, a hallmark of it's style that continues to this day.
Established in 2008, the BFC/Vogue Designer Fashion Fund provides the winner with a cash prize of £150,000 to support their growth and contribution to the British and global fashion ecosystem, alongside pro-bono bespoke high-level business mentoring and professional services.
The Fund receives the very generous support of British Vogue, Burberry and Paul Smith.
Edward Enninful OBE, Editor-in-Chief of British Vogue; European Editorial Director, Vogue, and Chair of the Fund Committee said: "Congratulations to 16Arlington for receiving the BFC/Vogue Designer Fashion Fund for 2023. 16Arlington is an extraordinary brand which has garnered significant attention from the fashion world for its cutting-edge, party-ready pieces – which are guaranteed conversation starters. We are thrilled for Marco Capaldo and pay tribute to 16Arlington's late co-founder, Federica Cavenati. This is a testament to Marco and Federica's unwavering commitment to push boundaries and challenge conventions with their showstopping, subversive and uncompromising womenswear designs. We are excited to see 16Arlington take it to the next level."
A.W.A.K.E. MODE, Ahluwalia, Alighieri, Completedworks, PĪFERI and Supriya Lele were all shortlisted for the 2023 prize and were invited to present their collections and business plan to the panel.
The BFC/VDFF was open to all gender collections and/or accessories.
This year's judging panel was chaired by Caroline Rush CBE, Chief Executive, British Fashion Council and Edward Enninful OBE, Editor-in-Chief of British Vogue and European Editorial Director, Vogue. The panel comprised of experts from across the fashion industry: Alexa Chung, Designer, Model, Author; Lauren Indvik, Fashion Editor, Financial Times; Munroe Bergdorf, Model, Presenter, Activist; Rod Manley, Chief Marketing Officer, Burberry; Sarah Harris, Deputy Editor and Fashion Features Director, British Vogue; Sarah Mower MBE, Vogue.com & BFC Ambassador for Emerging Talent.
Caroline Rush CBE, Chief Executive, British Fashion Council, commented: "Congratulations to Marco Capaldo on receiving this year's BFC/Vogue Designer Fashion Fund for 16Arlington. We pay tribute to the late Federica Cavenati, a remarkable creative force behind 16Arlington. Since its inception, the brand has captivated the fashion industry with its innovative and bold approach to womenswear. I am excited to see Marco's continued impact and creative vision as 16Arlington embark on this new chapter of success. Congratulations to all the shortlisted designers who are a true reflection of the outstanding creative talent in the UK."
The Fund criteria reflect the values of excellence in design and strong business acumen. The application process also encouraged brands to think strategically about the three pillars of the Institute of Positive Fashion (Environment, People, and Community & Craftsmanship) and the IPF Minimum Standards.
BFCVDFF is part of the BFC Foundation (Registered Charity Number: 1185152) which brings all the BFC's charitable initiatives under one umbrella supporting the future growth and success of the British fashion industry by focusing on three areas: Education, Grant-Giving and Business Mentoring. The BFC Foundation further enhances the UK's position as the best place to study, start and develop a fashion business. The charity activates four support initiatives and allocates several scholarships each year to students, aiming to strengthen those leading the way in terms of creativity, positive business growth, environmental and community impact as well as to increase the diversity of the talent pool.
Since its inception, winners of the Fund include Erdem (2010), Christopher Kane (2011), Jonathan Saunders (2012), Nicholas Kirkwood (2013), Peter Pilotto (2014), Mary Katrantzou (2015), Sophia Webster (2016), Mother of Pearl & palmer//harding (2017), Molly Goddard (2018), WALES BONNER (2019), Bethany Williams (2021), Richard Quinn (2022).
In 2022/23, the BFC raised £1.2 million for the BFC Foundation and its talent support initiatives and supported designers and a number of students through mentoring and financial support grants.
The BFC would like to thank Mishcon de Reya for their pro-bono legal services and hosting the BFC/VDFF judging day, as well as the BFC Fashion Business Network and one-to-one mentors for their ongoing mentoring support.
by Kim Grahame
photo courtesy 16Arlington