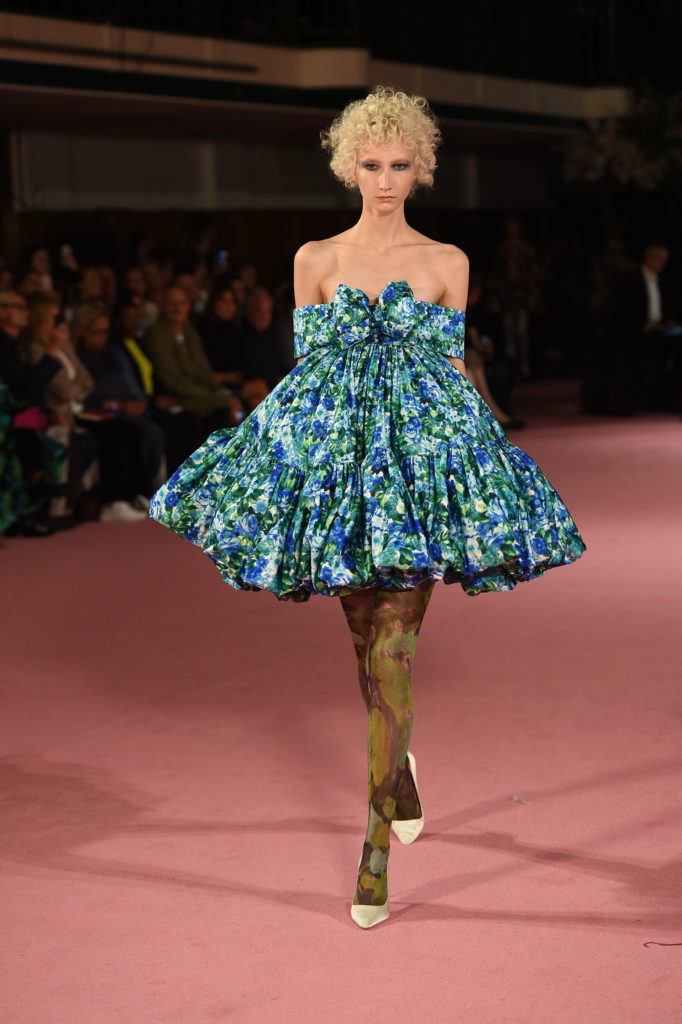 Quinn's spring/summer 2020 collection took place in Bethnal Green's York Hall. His fashion moto  'maximum extravagance with minimum waste' was very evident in this collection. Richard Quinn's irrepressible style and glamour was present within the setting that was decorative and theatrical as well as the fashion show which was complete with ladies-in-waiting. With a background of music from The London Philharmonic Orchestra, the finale was a performance of Handel's coronation anthem 'Zadok The Priest'.
Regarding fashion, Richard Quinn comments, "A fashion sanctuary, where we all come and celebrate." ……."If it's a big shape, it's really large, if it's short, it's tiny!"
His haute couture fantasy came to life with an explosion of colour with floral and carpet prints, big dresses and puffballs. There were tulle capes and voluminous gowns. The designer embellished garments with Swarovski Crystals and feathers.
Richard Quinn is a Central Saint Martins MA Fashion graduate. He was raised in South East  London. In 2017 he was awarded the H&M Design Award and launched his own open access print studio in South London, where he created and prints his bold and original designs.
In 2018 Richard Quinn was honoured by Her Majesty the Queen when the designer was presented with the inaugural Queen Elizabeth II Award for British Design to emerging British fashion designer Richard Quinn.
Richard Quinn is known for his forward-thinking approach to womenswear and textiles and this collection was true to form, big, bold and imaginative. With unique
handcrafted skill and a refined high fashion sensibility he continues to thrill with his attention to innovative fabrications. Quinn's designs can be seen at many red carpet events as he has a growing celebrity following
including Amal Clooney, Adwoa Aboah, Rita Ora, Lady Gaga
Giovanna Battaglia Engelbert and Lisa Tomaschewsky amongst others.
written by Kim Grahame
@richardquinn @rqstudio @bof
@thewallgroup
photos by Kim Weston Arnold .. and Holly Clark @hollyclarkphotography