Written by Rebecca Lilley
The rush. The drama. The preparation. The run through. The last-minute changes. Such is backstage life. But the show must go on and it will be all right on the night and that is what makes it all worthwhile. The applause. The photos. The write-ups. The show lives on and the backstage dramas drift away to a distant memory…dissolving into secrets, not even the audience knows what happened or to wonder why…
Adelina Rusu's  London Fashion Week show took place at 2 Royal Exchange, courtesy of Alinea London.
Adelina presented an intimate show that enabled the audience to feel enthralled and part of the production.
The theatrical undertones were apparent from the outset. As each outfit was presented, there were 'catches of couture', statement flowers and sequined outer elements. The collection's silhouettes; some flowy, some aligned, all creating sophistication.
Adelina's designs can be worn proudly by the woman who wants to be seen, noticed, acknowledged and yet to maintain an element of mystery. Why should the modern woman shy away from vibrant colours and theatrical undertones? The modern woman needs to be seen, noticed and admired and Adelina can provide her a unique design to achieve that special look that she can claim as her own.
The contemporary woman can reinvent herself; day after day; era after era bringing elements of her past to the fore as she chooses; whether that is in the fitted tailoring, the flamboyant accessories or the fluidity of the outerwear.
The couture and craftmanship maintained throughout Adelina's design process keep the contemporary woman in view. This woman can be whoever she decides to be.
The theatre; often a treat, a night out, a special occasion. Adelina's collection enables the contemporary woman to create and style her own storyline; one that does not end in the office, at home or on holiday. An ever-changing ensemble.
A night at the theatre; always a character, a story, a plot that resonates with us in some way. Whether it's Adelina's oversized flexible trousers that allow the wearer to jump into character. Whether it is the embellished blazer put on after a long day in the office; Adelina's collection reminds us that whether we dress in suits or couture; it's okay.
It's okay for us to be extrovert at times and introvert at others. For we are indeed multi-dimensional and multi-faceted women; the sister, the aunt, the doting wife, the determined career woman. The contemporary woman is much like a one-woman show; playing multiple parts in one story.
Adelina states: 'capturing the past'. This means many things, that her collection pieces are timeless yet regenerative.  Adelina's sustainable ethos for her collection can be traced back to her work ethic; understanding the fabrics and sourcing locally. 'Sustainable' materials are used. Adeline keeps her creative vision, principles, and ethos from the beginning of the design process to finished garment resulting in the true craftsmanship; filled with her expertise and vision from start to finish.
And as Adelina says,
'I hope every-time you open your closet, you will choose a piece of Adelina Rusu and, no matter how you style it, you will feel fabulous every time'
Rebecca Lilley Instagram: @becks.1 – Founder/Head Stylist of @passagetopoiseltd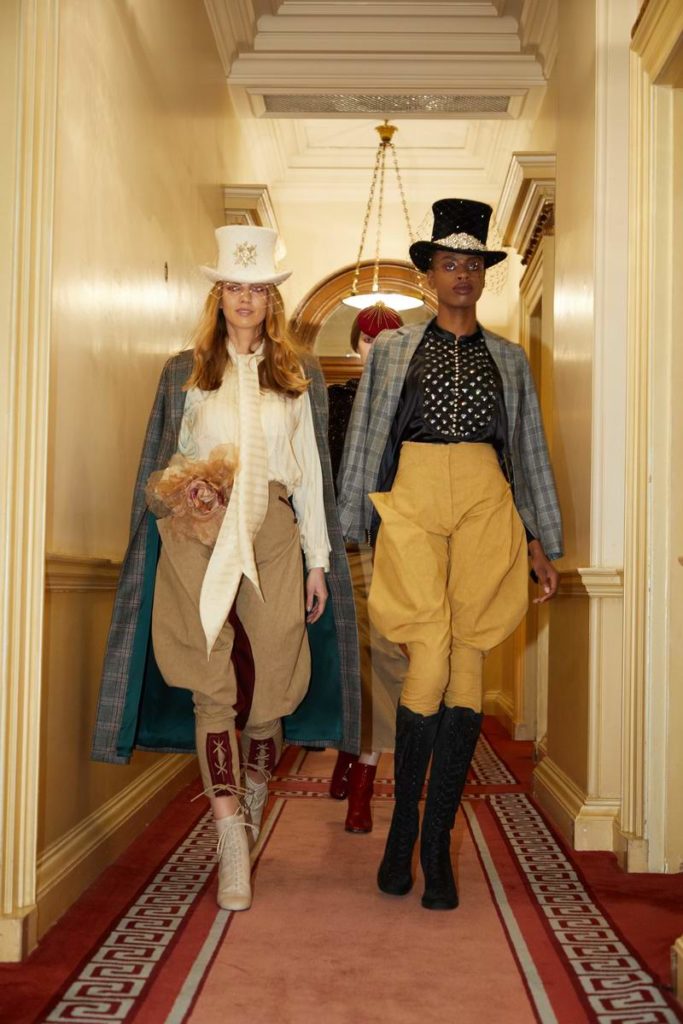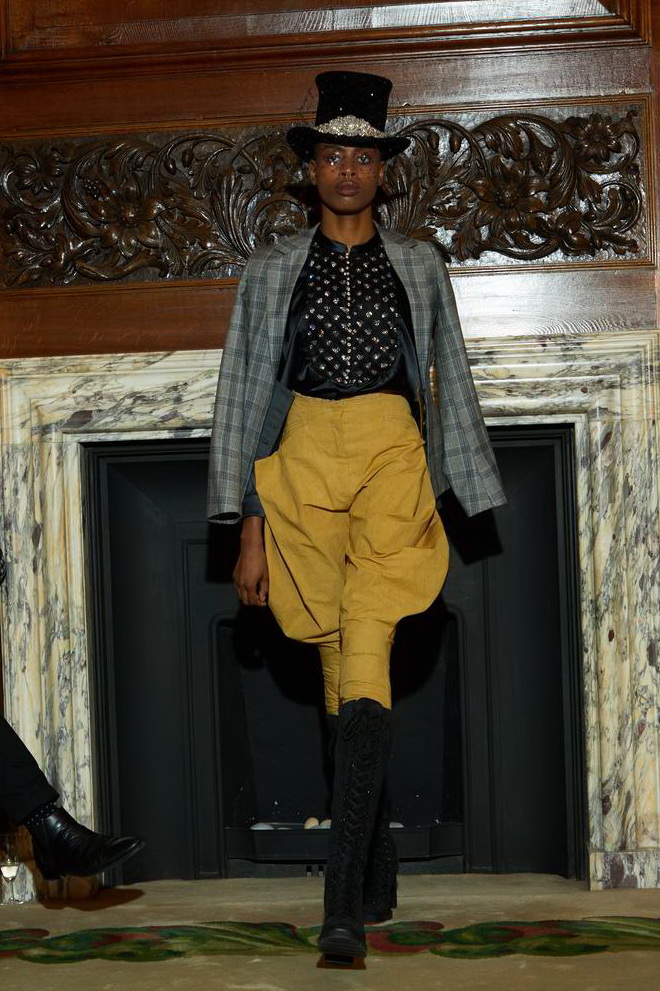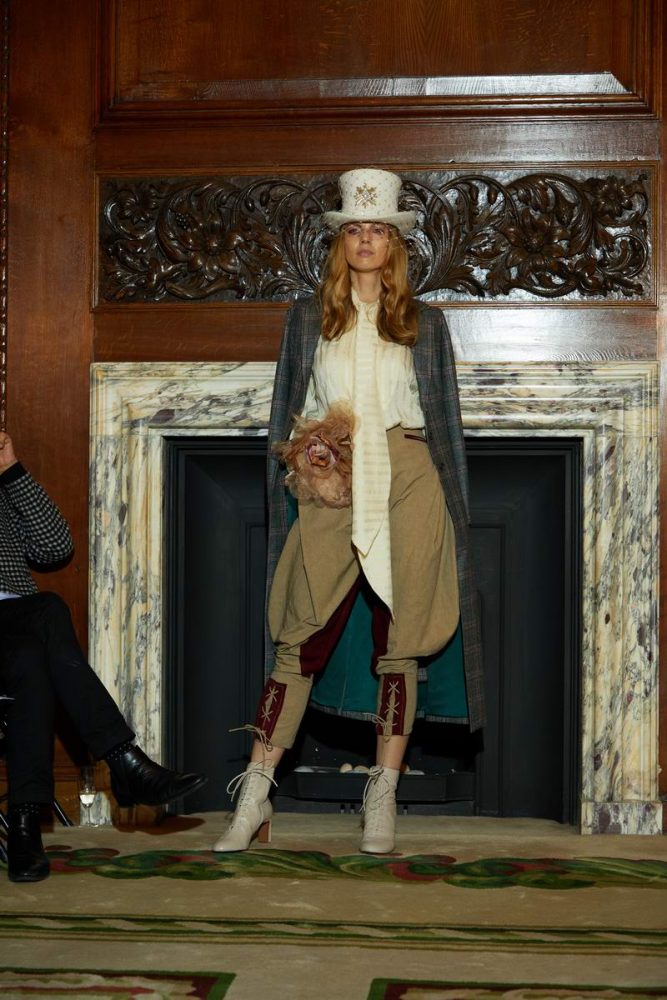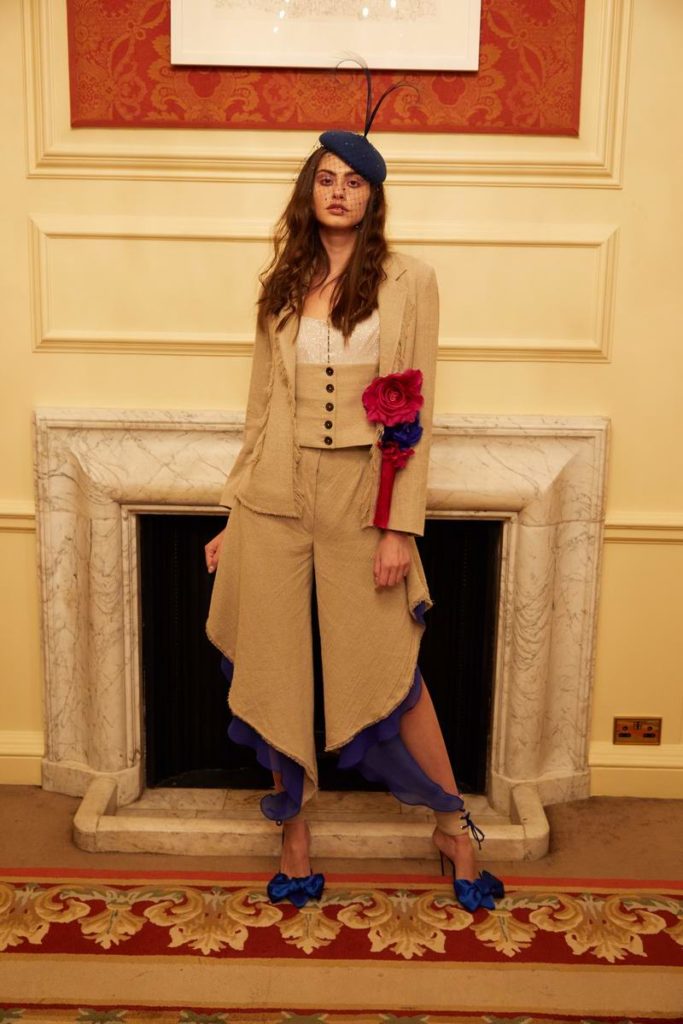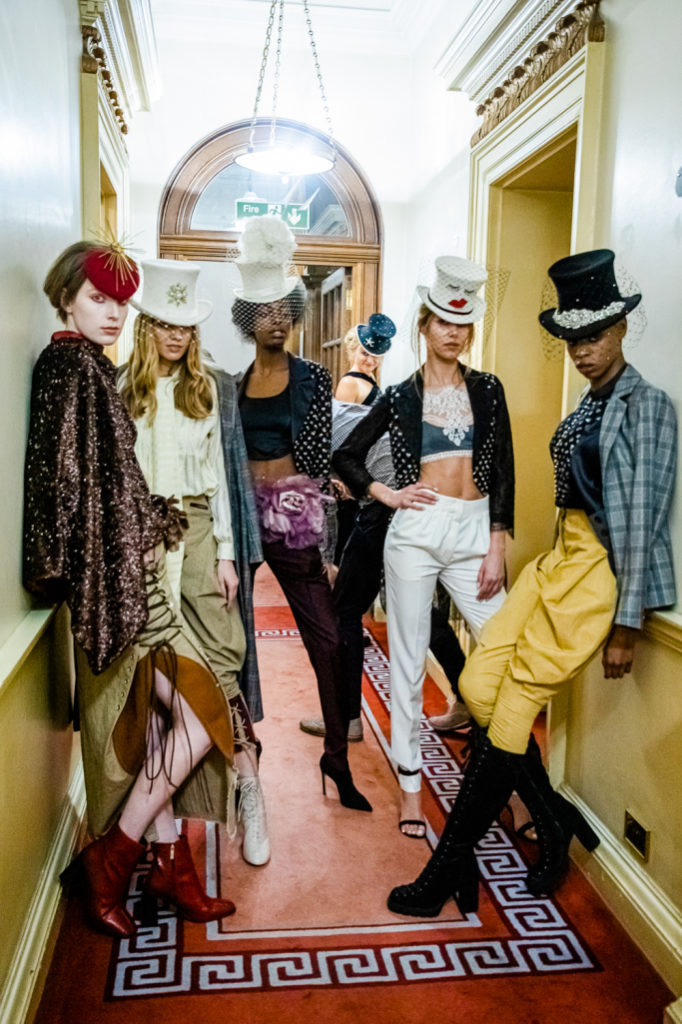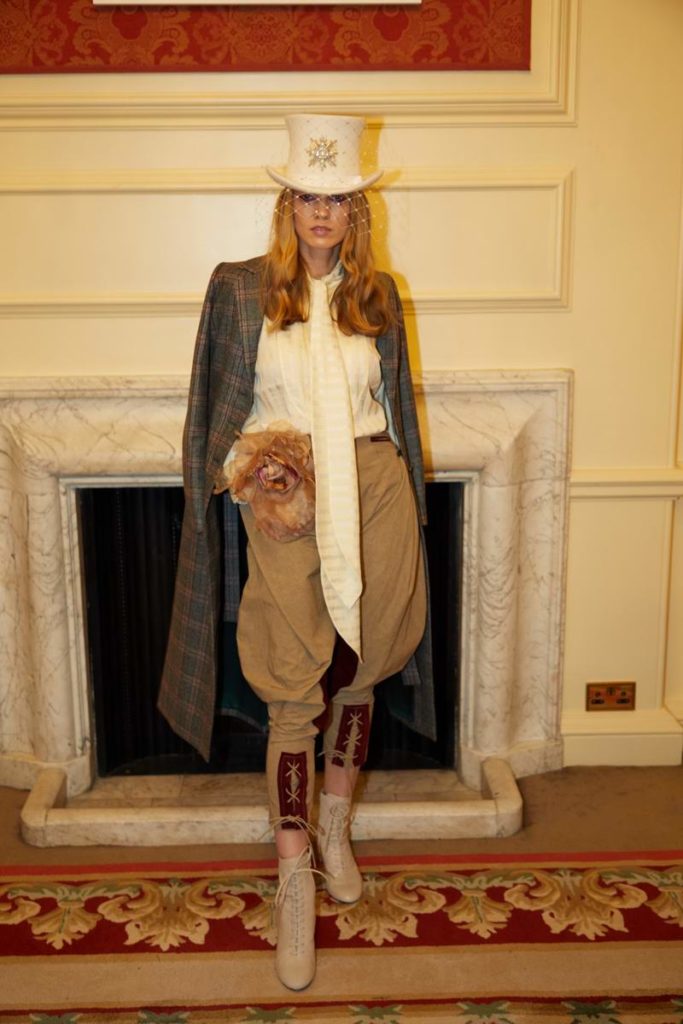 Backstage at Adelina Rusu LFW Show Royal Exchange Buildings Photo: Germán Saez: www.germansaez.com
Credits
Hats: Victoria Grant @victoriagrant
Photographer: CarolineTowning @townandtowning
Public Relations POPPR @pop_pr_
Production Team:
Head make-up artist & hairstylist:  Elvis Schmoulianoff @elvismuaAssistant
Make-up artist: Aleksandra Wszola @wakeupbeauty_
Photographer: CarolineTowning @townandtowning
Filmmaker: Samuel Sotiega
Filmmaker assistant: Victor Rodney Williams
Catering: Ruffled Truffle @ruffledtruffle
Hats: Victoria Grant @victoriagrant
Models:
Courtnie Ashman @courtnie_blair
Eva Bohatova @evabohatova
Paulina Cebrzynska @poxy_coxy
Ivelina Choeva @ivelinachoeva
Charli Fletcher @charliiamalegend
Alis Pavel @alispavelHarriet
Russell @harriet_russell1Iga
Wowski @wowskiiga
Alinea
Adelina Rusu's show was hosted by Alinea based at The Royal Exchange. Alinea delivers business and legal services on a subscription basis to members of the creative, commercial and luxury sectors, and regularly host seminars & cultural events. Alinea founders; Geoff Caesar and Holly O'Leary have a real first-hand love of the arts, and intellectual understanding. For more information https://www.alinealawmembers.co.uk/
Adelina Rusu @adelinarusuofficial https://adelinarusu.com/