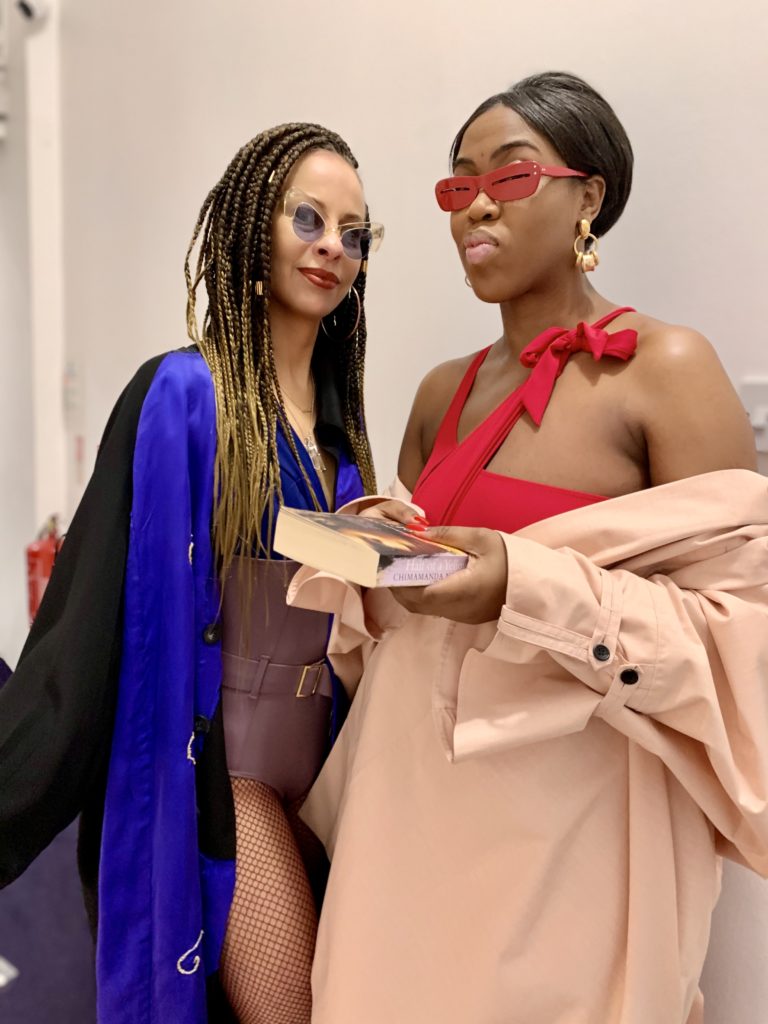 E.MACBEAN UK swimwear brand launched their high fashion LFW Spring/Summer 2020 collection in Bloomsbury Gallery, 34 Bloomsbury Street, London
This collection is beautiful, bold and empowering. The presentation was a cool and original interactive event creating an art experience that further explored the relationship between the wearer and the vulnerability felt by the wearing of swimwear.
This E.MACBEAN swimwear brand is designed and produced in the UK and celebrates stylish and strong 'human character' in design.
Andrew and Eleanor Ibi are the design couple responsible for the collection and they both have creative backgrounds. Andrew is a successful designer, stylist
and artist, and Eleanor is a writer and photographer.
The creations are ethically made with the use of modern quality fabrics and technology.
Female beauty, sexuality and spirit are represented in the designs. This brand creates a new signature style for the wearer as it represents a powerful female design form.
Each design in the collection represents a literary heroine extracted by Eleanor from a book by a female author. Both Andrew and Eleanor then turn to culture, art, literature, film, dance, music and
photography to influence their designs.
The resulting designs in the collection encapsulate the spirit of each of the literary heroines.. the colour …the style, whilst sympathetically embracing a modern and structural design form for a beautifully strong female.
Eleanor Ibi
Co-founder E.MACBEAN explains,
"E.Macbean swimwear is for all women, and especially those with an interest in authentic
design with a cultural heartbeat. I want our customers to immerse themselves in high quality
and conceptual designs created in homage to some incredible literary heroines. These are the
characters that have always intrigued me, and I hope they inspire you too".
Andrew Ibi also Co-founder E.MACBEAN
says, " E.MACBEAN has been designed, alongside my wife, with a very specific woman in mind …
brave, fearless, modern, culturally experienced, intelligent and strong. The process of
developing ideas directly from the pages of our favourite female authored books has been a
conceptual challenge. The dynamics of the leading characters displaying a range of different
personality traits, has allowed us to consider a multitude of complex narratives for design and
development….We wanted to create an alternative to the traditional swimwear narrative. Referencing our
mutual love of art, design, literature and music. Our pieces represent a responsible, inspiring
and considered process, designed through a soft, sensitive lens."
Andrew Ibi is a designer, artist, illustrator, stylist and academic. He worked as trend forecaster in NY before returning to London to work alongside Joe Casely-Hayford in London and Paris. He founded cult destination fashion hub, The
Convenience Store, and is credited with presenting one of the first popup store concepts at
several luxury hotels and spaces, including St Martins Lane Hotel, Soho House and Bungalow 8.
Andrew was the curator of one of London's hippest stores selectively stocking brands such as;
Rick Owens, Gareth Pugh, Maison Martin Margiela, AF Vandevorst and a host of celebrated
contemporary designers from the UK and further afield.
E.macbean concept swimwear @emacbeanswim
https://www.facebook.com/emacbeanofficial/
@londonfashionweek
photos courtesy of  @sam_slingshotldn
PR @slingshotldn
written by Kim Grahame