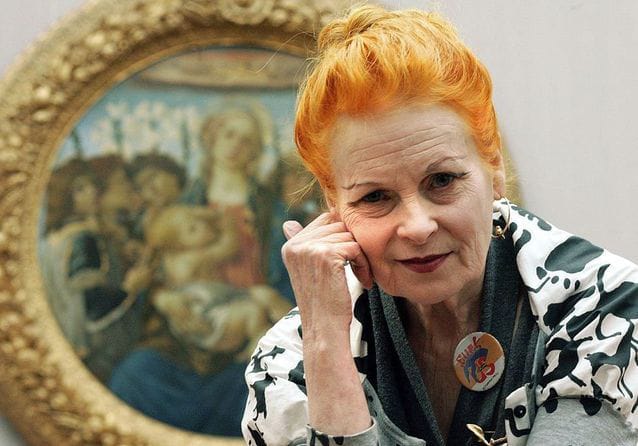 DAME VIVIENNE WESTWOOD Legendary Designer and Activist has passed away. Her lifetime achievements and influences were great and she will continue to inspire for generations to come. Vivienne Westwood 8th April 1941 – 29th December 2022.
Vivienne Westwood was a one off, an originator and by the end of the seventies she was already considered a symbol of the British avant-garde. Autumn/Winter 1981 she showed her first catwalk presentation at Olympia in London. Westwood then turned to traditional Savile Row tailoring techniques, using British fabrics and 17th and 18th century art for inspiration.
Vivienne always kept her Northern grit. A force of nature, she was caring, compassionate and very focused. I fondly remember meeting her various times through the years including from when I was a student at Central Saint Martins to when I was working on PR for Swarovski Fashion Rocks in Monaco. It was there that she introduced me to Andreas Kronthaler. Vivienne met Andreas Kronthaler in 1989, who would later become her husband and long-time design partner, as well as Creative Director of the brand. In 2004 the Victoria & Albert museum, London, hosted a Vivienne Westwood retrospective exhibition to celebrate her then 34 years in fashion – the largest exhibition ever devoted to a living British fashion designer. In 2006, her contribution to British Fashion was officially recognised when she was appointed Dame of the British Empire by Her Majesty, Queen Elizabeth II, and in 2007 was awarded the 'Outstanding Achievement in Fashion' at the British Fashion Awards in London.
Vivienne Westwood began designing in London in 1971 along with her then partner Malcolm McLaren. At the time they showcased their ideas and designs at their shop at 430 Kings Road, London. With their changing ideas of fashion came the change of not only the name of the shop but also the décor. It was in 1976 when Westwood and McLaren defined the street culture of Punk with Seditionaries.
Vivienne Westwood is one of the last independent global fashion companies in the world. At times thought provoking, this brand is about more than producing clothes and accessories. British designer Jeff Banks, a close friend of Vivienne Westwood's recognised the death of his dear friend with great sadness. Recently appointed as director at Westwood's fashion house, Banks said she was a "true originator who will forever stand head and shoulder above her contemporaries and take her place forever in the highest echelons of her craft".
Vivienne Westwood continues to capture the imagination and raise awareness of environmental and human rights issues. With a design record spanning over forty years, Vivienne Westwood is now recognized as a global brand and Westwood herself as one of the most influential fashion designers and activists in the world today, and has been a towering figure in British fashion.
Vivienne Westwood has always been a great supporter of the environment and rewilding. Rewilding offers hope for tackling the nature and climate emergencies, while delivering a cascade of benefits for people. It's the large-scale restoration of nature until it can take care of itself again. It is about reinstating vital natural processes and repairing damaged ecosystems. Vivienne Westwood the brand continues to support Rewilding Britain www.rewildingbritain.org.uk which is taking ambitious action for major nature recovery across 30% of Britain by 2030. They are influencing decision-makers, raising awareness, and upscaling rewilding on land and at sea through the Rewilding Network. As part of the Global Rewilding Alliance www.rewildingglobal.org, it is helping create positive change worldwide.
As a designer and activist Dame Vivienne Westwood will be greatly missed. She had a strong sense of the earth and the cosmos, universal oneness and balances and so had a great reverence for Taoism. Taoism teaches that all living creatures ought to live in a state of harmony with the universe and the energy found in it.
Taoism is a philosophical and religious system built on a holistic view of life and reality. Taoism has been described as a system that 'unifies all existence with principles that cut across both the seen and unseen dimensions.'
"Tao Spiritual System. There was never more need for the Tao today. Tao gives you a feeling that you belong to the cosmos and gives purpose to your life; it gives you such a sense of identity and strength to know you are living the life you can live and therefore ought to be living : make full use of your character and full use of your life on earth." – Vivienne Westwood
The Vivienne Foundation, founded by Westwood's sons and granddaughter, will launch in 2023 to "honour, protect and continue the legacy of Vivienne's life, design and activism".
Main photo: courtesy Moda Metiers
photos courtesy of LFW, Vivienne Westwood, Go Fug Yourself, HNA and Vivienne Westwood Seditionaries Collection