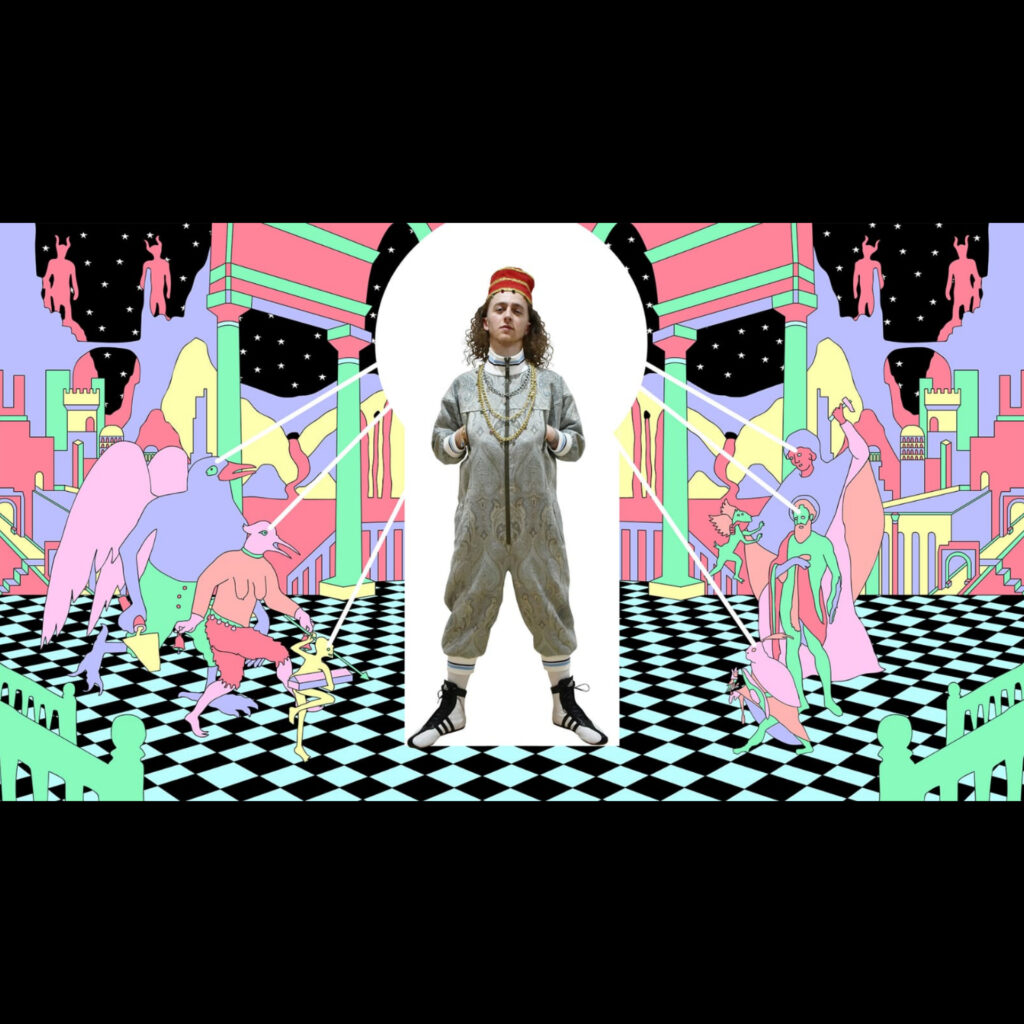 Award winning design duo TIGHE-MEARNS-SMITH premiered at London Fashion Week February 2021 as part of Fashion Scout.
The Tighe-Mearns-Smith sustainable fashion collection, animation, song & thesis during LFW 2021 was bold, impassioned and inspirational.
Tighe-Mearns-Smith are an art syndicate dyad.
After graduating from Kingston School of Art they continued to develop their manifesto for their artistic movement titled 'Redemptionism'. They have accomplished much with their art work and animations at prominent film festivals , art fairs, exhibitions and have recieved a Stanley Picker Travel Award 2018. This artistic duo specialise in textiles, fashion, illustration, animation, music and fine art.
For LFW 2021 Tighes-Mearns-Smith's film 'The Twelve Heads of Cerberus' guides you towards a gate of knowledge, the twelve guardians. These are twelve pivotal points in history.
The twelve heads of Cerberus is a sustainable fashion collection, thesis, song & animation proposed by Tighe-Mearns-Smith; it
marks the transition from the age of Pisces to the Age of Aquarius and with such pivotal moments in history reflects upon the
idols of society. In true Aquarian form Tighe-Mearns-Smith creatively challenges the authority of those we hold in popular
standing as the influencers and idols of our time. Tighe-Mearns-Smith look for a reconstruction of those celebratory names of
the past and propose new influential leaders that resonate with the philosopher kings of Plato's Kallipolis. The Twelve heads of
Cerberus can be found on their website listed below.
It is crucial for art to maintain the element of deliverance. For Tighe-Mearns-Smith this means a liberation that protects planet earth therefore
Tighe-Mearns-Smith's collection is hand made and sustainably sourced from unique upcycled and recycled fabrics, from curtains to ex-designer
deadstock.
Tighe-Mearns-Smith source materials from discarded piles and save them from land fills. They work
with ethically sourced pre-existing materials. They appropriate unwanted products and wasted materials enabling their art to work to create a positive environmental impact.
Tighe-Mearns-Smith are anti-fast-fashion, they are slow fashion.Their mission is to specialise in long lasting unique works of art. Individual bespoke pieces are created from a different fabric that they have saved from waste.
In this collection they have focused on applique and quilting in the spirit of their ethos
showing hand craftmanship and traditional textile techniques as a major feature of their design.
'Art is dead …and it is our duty to redeem it. Welcome to the Era of Redemption'.
Music for Tighe-Mearns-Smith was created by 'Thanatos Techno' alias: Dr.Death and their
previous albums can be found on all major streaming services such as
Spotify, Itunes and Youtube.
Written by Kim Grahame
www.tighe-mearns-smith.co.uk
@tighe_mearns_smith