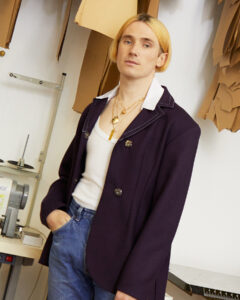 London Fashion Week (LFW) presented by Clearpay September 2021 will bring back its City-Wide Celebration programme, a full schedule of events and activations open to the public over LFW. Running from Friday 17th to Tuesday 21st September alongside the London Fashion Week show schedule, City-Wide Celebration aims to unite London in a festival of creativity and innovation.
The dynamic schedule includes events and activations in partnership with key retailers, cultural institutions, and businesses, opening London Fashion Week to new audiences and communities. The full schedule and map of City-Wide activities taking place can be found on the official LFW website.
The BFC has curated a schedule of activities with over 100 brands and over 350 events taking part over the five day period. Events and activations will continue to be added to the schedule leading up to LFW. Look out for City-Wide activations throughout the city in renowned shopping destinations including Chelsea, Mayfair and Belgravia. Throughout LFW, Chelsea will celebrate with a range of inspiring events including the return of London's largest free flower show, Mayfair is hosting a month-long celebration of fashion in the capital and Belgravia will be transformed with a series of beautiful flower installations, displays and experiences. The BFC would like to acknowledge Cadogan and Grosvenor Estate for their involvement in this initiative. 
New this season, City-Wide Celebration is running in collaboration with Limited Edition London, an initiative that is part of the Mayor of London's Let's Do London campaign, launched to help encourage visitors back to central London. Limited Edition London offers Londoners and visitors a varied selection of exclusive events, activities and clothing items that can only be accessed in person. The Limited Edition London programme will run from the start of London Fashion Week until the end of November. Details of the programme are available on londonfashionweek.co.uk.  
Sadiq Khan, Mayor of London, said, "London is recognised globally as a leading fashion capital and the unrivalled creativity and diversity of the sector in our city will be vital in helping to drive our social and economic recovery. Many fashion retailers have had an incredibly difficult 18 months which is why I am thrilled to mark the return of London Fashion Week alongside a new City-Wide Celebration. The City-Wide Celebration, together with Limited Edition London will encourage Londoners and visitors back to our city enabling them to enjoy access to unique activities, bespoke in-person events and purchase exclusive clothing."
Caroline Rush, CEO British Fashion Council, said, "We are delighted to welcome London Fashion Week back in a physical format this season and are excited to celebrate the city for everything it has to offer through our City-Wide Celebration. The initiative aims to drive footfall back into the capital while reminding consumers of the vibrancy and excitement of London. With involvement from over 100 brands, stores, hospitality venues and cultural institutions we are looking forward to seeing the whole city come to life."
The City-Wide schedule is an extension of the LFW schedule which this season is a hybrid of both digital and physical activations taking place across London and on the LFW Digital Hub. Please see highlights of the activations taking place throughout the city during LFW below.
ANYA HINDMARCH
Anya Hindmarch, 11 Pont Street, SW1X 9EH
Friday 17th September – Tuesday 21st September, 8am – 8pm
The Anya Fruit & Veg Store is the heart of the Anya Village over LFW. Everything has been made over in classic Anya style with limited edition merchandise available to purchase including baskets, string bags, water bottles, coffee cups, tea towels, aprons and caps. In-store events will include fruit carving workshops and a few special offers.
BROWNS
Browns East, 21 Club Row, E2 7EY & Browns Brook Street, 39 Brook Street, W1K 4JE
Friday 17th September – Tuesday 21st September, 10am – 7pm
Browns will play host to a series of installations including a gallery exhibition at Browns East in collaboration with the hilarious visual artist Babak Ganjei. The exhibition, entitled 'Honey Wagon' is a 44-piece gallery exhibition of his original tongue-in-cheek artworks and neon signs, including a new print art piece, exclusive to Browns. Guests can also visit Browns Brook Street throughout LFW to experience an immersive room installation, The Wave Epoch by Haroon Mirza & Jack Jelfs Ft. GAIKA. The Wave Epoch is a concept album, film and multimedia performance that incorporates music, poetry, incantation, archive material and original video footage. Be transported into a distant future with this multi-sensory experience.
CHRISTIAN DIOR 
Christian Dior 160-162 New Bond Street, W1S 2UE 
Friday 17th September 2021, 10am – 7pm 
Dior Journée Savoir Faire is the opportunity to discover the diversity of professions and know-how within the Maison. Artisans from Paris atelier will be showcasing the craftmanship of the iconic Lady Dior, Bar Jacket, Haute Couture and Demi Measure suit tailoring on the 15th, 16th and 17th of September 2021. The House of Dior flagship store on New Bond Street will be hosting a Dior café in the Winter Garden and animations throughout the store. 
COS
COS Regent Street, 222 Regent Street, W1B 5BD
Tuesday 21st September, 6pm – 9pm
COS will debut their Autumn Winter 2021 collection this LFW, with a hybrid show digitally livestreamed to all at londonfashionweek.co.uk and cos.com. To celebrate the show and launch of the Autumn Winter collection, COS will host a event at their Flagship store on Regent Street. The show will be livestreamed at the store from 3pm and guests will be invited to celebrate with a drink and shop the new season. 
ERDEM
70 South Audley Street, London, W1K 2RA
Friday 17th, Saturday 18th, Tuesday 21st September, 10am – 8pm
ERDEM will host late night openings in their South Audley Street store to celebrate LFW and the launch of their latest collection. Guests are invited in store until 8pm throughout the week and will be offered a complimentary gift with every purchase.
JW ANDERSON 
JW Anderson, 2 Brewer Street, W1F 0SA 
Friday 17th September – Tuesday 21st September, 11am – 7pm  
JW Anderson is celebrating LFW with a limited edition 'Show in a Box' for guests. Any customer who makes a purchase at their Soho Flagship store during LFW will be sent a limited edition JW Anderson Women's Spring Summer 2022 'Show in a Box' following the collection's reveal on Tuesday 21st September 2021. 
 
JIMMY CHOO
Jimmy Choo, 27 New Bond Street, London, W1S 2RH 
Friday 17th September – Tuesday 21st September, 10am – 7pm 
Jimmy Choo will host late night openings in their Bond Street store to celebrate the launch of their latest collection.  Shoppers are invited to preview the new collection in store and will be offered a complimentary gift with purchase. 
LEVI'S® BY LEVI'S® x CENTRAL SAINT MARTINS
Levi's® Haus, 41 Great Marlborough Street, W1F 7RG
Friday 17th September – Tuesday 21st September, 10am – 6pm 
As part of the Levi's® by Levi's® range which launched in October 2020, Levi's® debuts its collaboration with a trio of MA design talent from Central Saint Martins. Each student – Charlie Constantinou, Juntae Kim and Pip Paz-Howlett, worked with the denim brand to customise and reimagine deadstock product, resulting in a capsule range of vibrant new designs. The project forms part of Levi's® perennial pursuit of sustainability and its ongoing initiative to bring together fresh new forces in fashion. Made exclusively of Levi's® back catalogue, Levi's® by Levi's® celebrates sustainable product solutions by extending the life of our Levi's® icons. This collection is available throughout the month of September exclusively at the brand's concept store in Soho: Levi's® Haus, London.
MOSIMANN 
Mosimann, 11B Halkin Street S, W1X 8JL 
Friday 17th September – Tuesday 21st September 
Mosimann will be offering exclusive access to their Private Dining Club, founded in 1988. The illustrious Private Dining Club serves light versions of classic international dishes in a former 19th century Scottish Presbyterian church and will offer exclusive 2 and 3 course menus as part of the offering.
 
MULBERRY 
Mulberry, 100 Regent Street, W1B 5SR 
Monday 20th September, 10am – 8pm  
Mulberry invites guests to their flagship Regent Street store to discover the Mulberry x Richard Malone collection with refreshments and exclusive gifts with all purchases of the collaboration. Visitors who mention the LFW City-Wide Celebration to store staff will also receive an exclusive signed program from Richard Malone's LFW show. 
OSCAR DE LA RENTA 
Oscar de la Renta 130 Mount Street, Mayfair, W1K 3NY 
Friday 17th September – Tuesday 21st September, 12pm – 6pm 
Oscar de la Renta will be celebrating LFW at their Mount Street store where guests can enjoy their shopping with a champagne reception throughout the week.
PUMA 
Puma x Liberty London, Regent Street, Carnaby, W1B 5AH 
Saturday 18th September, 10am – 8pm  
To celebrate the launch of the new PUMA x Liberty collection, PUMA will be gifting those who purchase an item from the collection with a bouquet of flowers from the PUMA x Liberty in-store branded activation space at Liberty. Consumers can also take a picture in front of a branded backdrop which will form part of the activation.  
RÆBURN
Raeburn, Studio 1, The Textile Building, 29A Chatham Place, E9 6NY
Friday 17th September – Tuesday 21st September, 11am – 7pm
Go behind the scenes of RÆBURN's studio in the heart of Hackney, East London. Guests can get a private tour of the RÆBURN Lab by the talented team and discover the experiential retail space, extensive brand archive and making atelier. They will get a real insight into how a successful responsible design company operates followed by a toast to creativity with a local drink and friendly open discussion. Tour costs £5 per person with all proceeds going to Off Centre; a fantastic local charity supporting the needs of young people in Hackney.
RIXO
Friday 17th September – Tuesday 21st September, 11:00 – 19.00
104 Kings Road, London, SW3 4TZ
RIXO will be running an in store offer throughout LFW for visitors at their Kings Road store in celebration of their latest collection. Customers will receive a complimentary gift with every purchase made throughout the week.
SAATCHI GALLERY
Saatchi Gallery, Duke of York's HQ, King's Road, SW3 4RY
Friday 17th September – Tuesday 21st September, 11am – 6pm 
Guests are invited to visit the 'JR: Chronicles' at Saatchi Gallery during London Fashion Week. The exhibition features iconic projects from the past fifteen years: from street art, to global large-scale public photography projects & digitally collaged murals. JR's projects honour the voices of everyday people & the spirit of their communities from around the world.  Discover the UK'S largest exhibition of internationally acclaimed artist JR.
SALVATORE FERRAGAMO 
Salvatore Ferragamo, 24 Old Bond Street, London, W1S 4AL 
Saturday 18th and Sunday 19th September, 10am – 6pm 
Salvatore Ferragamo will be holding a two day event in the Bond Street boutique, inviting customers to purchase one of a kind product with customised art work, created by an artist on site. 
SWAROVSKI 
Swarovski 128 Long Acre, WC2E 9AA 
Friday 17th September, 5pm – 8pm  
On Friday 17th September, guests are invited to join Swarovski at their Instant Wonder store in Covent Garden for a special drinks reception and presentation of their latest collection. Visitors to the store will discover a world of wonder with new pieces from Creative Director, Giovanna Engelbert, which tell a story of a rich brand heritage, love of the arts, and an appreciation of the natural world. 
VANISH x PETIT PLI 
Vanish x Petit Pli, 88 Regent Street, W1B 5RS 
Friday 17th September – Tuesday 21st September, 10am – 7pm
In partnership with Vanish, Petit Pli will host an evening screening of the British Fashion Council x Vanish documentary Generation Rewear at the pop up location on the evening of the 20th of September. Over this September and October, material technology company Petit Pli will be popping up in The Regent Street Edit at 88 Regent Street, joined by a number of other innovative fashion sustainability brands.  
Estate Inclusions: 
 
Belgravia
From 20-26 September, Belgravia, a neighbourhood known for its signature florals, will be transformed with a series of beautiful flower installations, unique displays and experiences with the return of Belgravia in Bloom. The floral festival coincides with RHS Chelsea Flower Show and this year's theme will be a 'Floral Fairground', inviting visitors to discover Belgravia's outdoor spectacle and the joy of flowers, with a host of floral themed displays and experiences across the neighbourhood. Belgravia in Bloom will also be brought to life via an exclusive augmented reality experience, offering visitors a floral themed Instagram filter, interactive map and virtual reality fairground themed games in Eccleston Yards and Halkin Arcade.
Chelsea
Chelsea celebrates with a host of inspiring events and offers across the neighbourhood, from colourful King's Road to artisan Pavilion Road and luxurious Sloane Street – including fashion illustrators capturing complimentary portraits for shoppers and London's largest free flower festival 'Chelsea in Bloom' transforming the entire area into a riot of floral displays inspired by this year's theme of 'Extraordinary Voyages'. Expect botanical hot air balloons aplenty and wanderlust captured by almost 100 participants including some of London's best-loved brands. For more information visit www.chelseainbloom.co.uk.
Mayfair
This month, visit the London neighbourhood of Mayfair to discover a month-long celebration of Fashion in the capital. The Autumn Edition encapsulates the vibrancy, sophistication, and glamour of the new season, shining the spotlight on Mayfair as the home of British fashion, through a series of exciting events and experiences. September will see global and British born brands in Mayfair host a series of exclusive events and experiences to celebrate all things fashion, plus the forever fashionable neighbourhood will also see the long-awaited return of the Mount Street Virtual Concierge. Whether in person or online, shoppers can discover one of the world's most luxurious boutique shopping destinations with Mayfair's Resident Style Consultant, Ginnie Chadwyck-Healey.
photo of Richard Malone MULBERRY courtesy of BFC and MULBERRY
@britishfashioncouncil
@londonfashionweek
@clearpay_uk