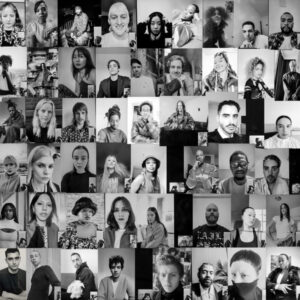 Unveiled 2021 NEW WAVE: Creatives – a list of the fifty most
innovative and inspiring young creative talents from around the world! The dynamic list includes trailblazers
from across multiple disciplines, including artists, casting agents, hair and makeup artists, image makers, nail
artists, set designers, stylists and writers. The British Fashion Council is delighted to reveal this year's finalists – hailing from the UK, Ghana, Austria, Germany, The Netherlands, Nigeria, China, the US and beyond – they were voted for by last year's NEW WAVE: Creatives; the 2020
line-up directly influencing that of 2021 in a meaningful act of peer-to-peer advocacy.
The final fifty will be celebrated as part of The Fashion Awards 2021 presented by TikTok, on Monday 29th
November at the Royal Albert Hall, London. The event, which will evolve to a global entertainment platform to
celebrate fashion's role at the intersection of culture, will celebrate the people and organisations who have led change in the fashion industry this year.
Introducing the 2021 NEW WAVE: Creatives:
Crystabel Riley, Make-up Artist Amidat Giwa, Hair Stylist Billy Lobos, Stylist
Blake Erik, Hair Stylist Chenyu, Stylist Christina Ebenezer, Photographer
Crystabel Riley, Make-up Artist David Ụzọchukwu, Photographer Derrick Ofosu Boateng, Photographer Dushan Petrovich, Hair Stylist Fish Zhang, Photographer Giovanni Corabi, Photographer
Hugo Yanguela, Photographer Ignasi Monreal, Artist Jade Adeyemi, Set Designer
Jazz Grant, Artist Jeano Edwards, Photographer Jenny Brough, Photographer
Jordan Anderson, Creative Director Joseph Charles Viola, Artist Justin French, Photographer & Director
Karin Westerlund, Make-up Artist Kristina Nagel, Visual Artist Kyle Dominic, Make-up Artist
Lisa Mård, Nail Artist Liv Liberg, Photographer Lynski, Make-up Artist
Mata Marielle, Make-up Artist Najia Saad, Casting Director Olivia Lifungula, Photographer
Porsche Poon, Make-up Artist Raisa Flowers, Make-up Artist Rasaan Wyzard, Stylist & Photographer
Raymond Gee, Stylist Rebeka Mór, Digital Artist Rory Mullen, Artist
Ryan Mitchell, Hair Stylist Sirui Ma, Photographer Sonny Molina, Hair Stylist
Tim Elkaïm, Photographer Tom Blesch, Photographer Vassilis Theotokis, Make-up Artist
Vito Fernicola, Photographer William Waterworth, Photographer Xavier Scott Marshall, Photographer
Xin Miao, Make-up Artist Yann Turchi, Hair Stylist Yuen Hsieh, Director & Digital Artist
Zandile Tshabalala, Artist Zhong Lin, Photographer
By becoming part of this year's NEW WAVE: Creatives line-up, the group will benefit from a dedicated, sustained
communications campaign including international PR, year-round social media support across the BFC's
channels, and a purpose-built portal on The Fashion Awards website acting as a go-to resource for the industry
to facilitate recruitment of exceptional talent.
The Fashion Awards presented by TikTok raises funds for the BFC Foundation charity which supports the future growth and success of the British fashion industry by focusing on Talent,
Education, Grant-Giving and Business Mentoring and aims to improve equality and opportunity so that the
fashion industry remains diverse and open to all, helping talented designers at all stages of their career from
school level through to becoming a global fashion brand. In 2020/21, the BFC raised £1.7 million for the BFC
Foundation, and its talent support initiatives and this year the charity supported 33 designers.
Principal Partner: TikTok; Official Partners: American Express,
Flannels, Getty Images, Moët & Chandon, Royal Salute and The Londoner are appreciated for their ongoing support.
www.fashionawards.com | TikTok: @TheFashionAwards | Facebook: BritishFashionCouncil | Twitter:
@BFC |Instagram: @BritishFashionCouncil