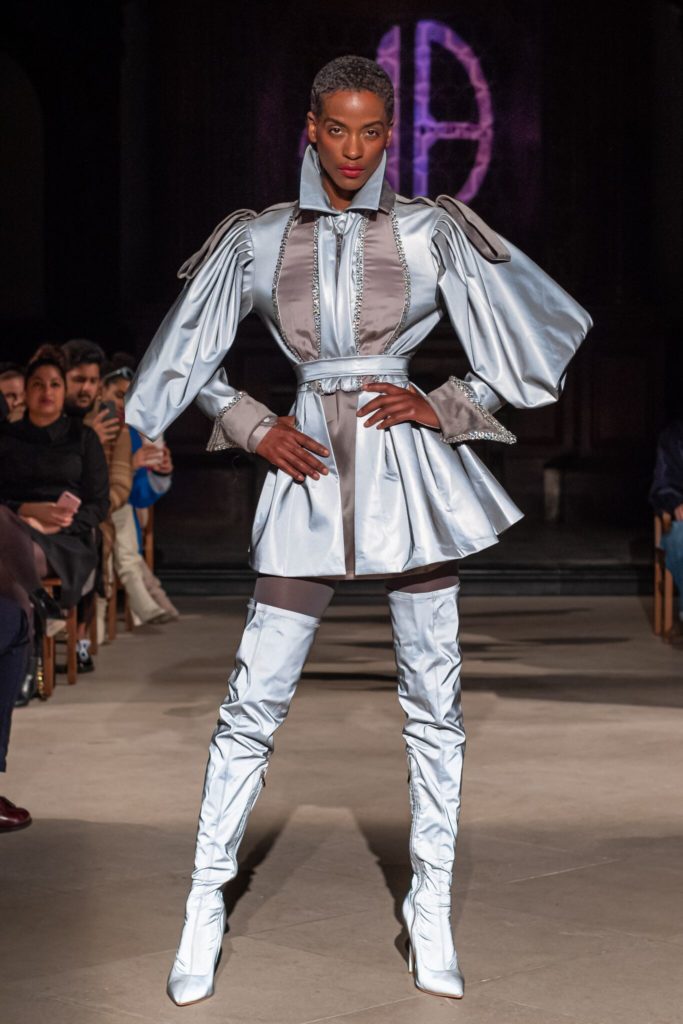 The Malan Breton LFW AW20 'The Rise of The Phoenix' collection was totally spellbinding! Inspired by 'The Firebird Ballet'
the collection showed pure opulence with its inspirational and original creations. Malan Breton ignites his inner flame with his AW20
collection at St Georges Church in Holborn, London. 
Malan Breton is noted as "The Most Influential Designer You've Never Heard Of " by British Vogue and one can see why as his collections are breath-taking. In this collection his smooth elegant design style displayed a modern twist with creations that were positively uplifting and had a gentle futuristic sci-fi influence, made for 'halcyon days'.
The collection explored the techniques of couture but still stayed true to the importance of sustainability with its stunning creative reuse of fabrics. Spangled clusters made of recycled plastics boldly adorned garments.
The collection was a red carpet futuristic 'Silver Screen Hollywood Dream'. The catwalk began with designs with the softness of blush in faux- fur and tulle, followed by glints from Swarovski crystals and reflective fabrics that resembled the embers of the phoenix. Every piece was adorned with Techno fibres creating rich and bold designs. There were amply feathered garments and many inspired designs using reflective fabrics, voluminous silks and tailoring. Breton is known as a master of the made-to-measure suit, having apprenticed under the Royal Warrant and this was apparent with his men's and women's power suits with signature silhouettes that were beautifully tailored in brocades. 
'The Rise of The Phoenix' was the perfect amalgamation of couture craft and ready-to-wear. A fiery metamorphous, a rebirth, another Malan Breton collection ready to set your soul on fire.
Malan has dressed the world's top entertainers, royalty and sports figures including Lorde, Aishwarya Rai Bachchan, Ariana Grande, Michael Buble, Kylie Minogue, Daniel Craig, Scarlett Johansson and the Prince of Wales, amongst others.
Malan Breton finds his work even more enriching in philanthropy, where he is on the Board of many children's charities and is the featured designer for "War Childs" global efforts.
@malanbreton @lordbreton @pop_pr_ @londonfashionweek
www.malanbreton.com
photos courtesy of POP PR
written by Kim Grahame