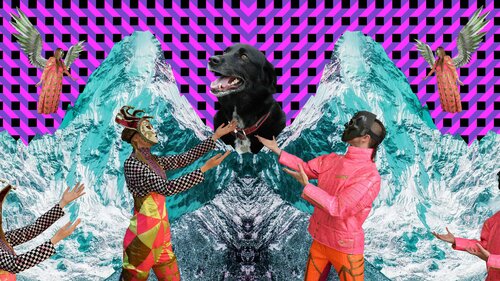 FASHION SCOUT / LFW SEPTEMBER 2020
Tighe-Mearns-Smith
One of my favorite  FASHION SCOUT  creatives during this LFW September 2020 is Tighe-Mearns-Smith. Their work is not aimed at a specific audience, they make art for everybody. It is cardinal to use art as a tool for liberation and maintain the element of deliverance. This liberation should be uplifting for the planet. This is of great importance to Tighe-Mearns-Smith and in turn they employ unwanted goods and second hand materials as a basis for their fashion and traditional art work. Appropriating unwanted products and wasted materials enables art to work as a vessel for positive environmental impact.
'Art is dead, we have killed it and it is our duty to redeem it. Welcome to the era of redemption.'
This season Tighe-Mearns-Smith invite you to climb through the stages of the Magnum Opus and realise the inner King and Queen that reside in the infinite chaos of your mind.
https://www.tighe-mearns-smith.co.uk/fashion
FASHION SCOUT  is a leading international consultancy and platform for nurturing, empowering and showcasing the future of fashion in London, Paris, Kiev and other fashion weeks and have presented a whole generation of designers to international media, buyers and influencers.
Universities, Fashion Weeks and organisations from around the world have utilised Fashion Scout's showcases to present their very best talents including Dubai Fashion & Design Council, Mercedes Benz Sri Lanka FW, Mercedes Benz Kiev Fashion Days, Belgrade Fashion Week, Slovak Fashion Council, Fashion Portugal, Shenzhen Garment Association, Fashion & Design Chamber of Armenia, Kingston University, Swedish School of Textiles and Fu Jen University Taiwan.
With 20 years experience in the industry our consultancy creates and delivers bespoke mentoring and development programmes for designers and organisations around the world – enabling designers to adapt and build sustainable businesses in these challenging times – and providing them with the opportunity to showcase their work to the international market
The team at Fashion Scout have delivered numerous bespoke projects including Graduate Fashion Week – the world's largest showcase for fashion graduates. Attracting 30,000 guests and featuring 90 universities the team developed this platform, bringing in LVMH, Ralph Lauren and Gap as sponsors and developed a portfolio of Patrons including Victoria Beckham, Dame Vivienne Westwood, Diane Von Furstenburg and Christopher Bailey.
Live projects currently being delivered include the British Council's Creative DNA Kenya and the Fashion & Design Chamber of Armenia (in partnership with the British Embassy) – both are year long mentoring and showcasing projects.
Kim Grahame
Fashion Scout / Digital London Fashion Week September 2020 videos