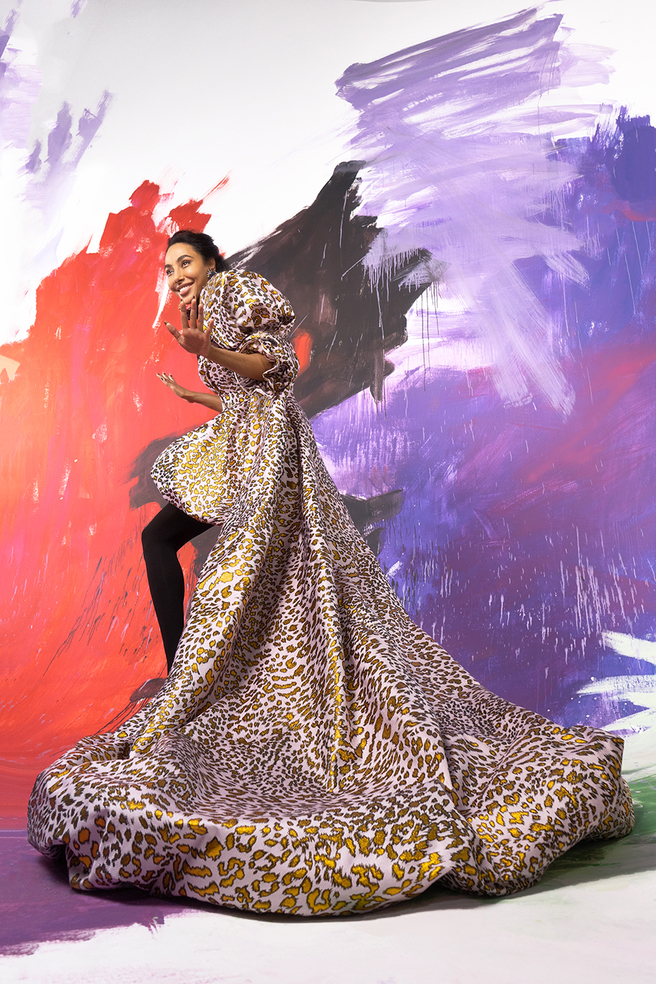 Spring-Summer 2021 "To me, times of re-emergence call for pure creation: the most uplifting feeling I can think of. I didn't design this collection with cocktail parties or ballrooms in mind, but purely from the desire to capture in dressmaking the individuality embodied by savoir-fair, and the joy it brings to those who wear it. This collection was created in celebration of the women on the frontline, and for anyone it may inspire and uplift." –Michael Halpern
Michael Halpern, the New York fashion designer has paid tribute to the heroines of the front line to honour their sacrifice and commitment during the pandemic. Captured in film and portraits, eight women from across the public service sectors reflect on their work during the lockdown period whilst modeling the latest HALPERN collection. Michael Halpern created two looks for each of his muses, inspired by their individuality, courage and positivity. The looks – largely constructed in-house – draw on the silhouettes, technique,and fabrication native to haute couture. The designs were flamboyant and have a sense of joie de vivre. This collection is a celebration of the positivity of humanity. The collection leaves one with a sense of optimism during these uncertain times.
The frontline heroines modeling this LFW HALPERN SS21 collection are:
Odiri,Trains Manager, TFL
Arianna, Sister ITU, NHS / Senior Staff Nurse, Homerton Hospital
Ghalia, OBGYN
Sarah, Cleaning Services, Homerton Hospital
Latifah, Train Operator, TFL
Aziza, Night Bus Station Controller, TFL
Chevonese, Health Care Assistant, Kare Plus Croydon
Caroline, Volunteer Organiser of PPE Manufacturing
The HALPERN video shows a collection that is joyously bold with models dancing around the screen in flamboyant HALPERN designs:
Black hand-moulded crystal plisse dress with a pointe d'esprit tulle base
,pink and gold leopard jacquard with ombré pink-to-black hand appliqué plume, black and emerald polka-dot lounge suit – Peridot green hand-moulded crystal plissé dress on a boned nude tulle bustier, – Pink and gold leopard jacquard gigot-sleeved high/low cape-back gown with a pointe d'esprit tulle base – Emerald and black polka-dot silk draped orb dress , – Plaid French tweed oversized hooded opera coat with draped sleeves worn with a matching skirt with plume, and an emerald and black polka-dot ruffled silk blouse – Red and fuchsia zebra print magnified cape-back kaftan with bows in viscose and plume – Dress constructed from a black fuzzy-micro-sequinned high-neck bodice and a gold and pink leopard silk jacquard bowed tapered skirt – Pink and black dégradé plumed orb dress – Emerald and black polka-dot silk draped-sleeve trained gown – Red and black plaid French tweed skirt suit with plume- Black silk ruffled blouse worn with a gold and pink leopard jacquard pointed-shoulder blazer, and a floor-length black silk bias-cut skirt – Plaid French tweed high-neck draped bustier and a matching high-slit midi-skirt – Black and white printed sequinned lounge suit trimmed in black silk – Emerald and black ruffled silk blouse worn with a plaid French tweed pointed shoulder blazer and a black and emerald bias-cut polka-dot floor-length skirt.
Written by Kim Grahame
Photographs courtesy of Chris Sutton