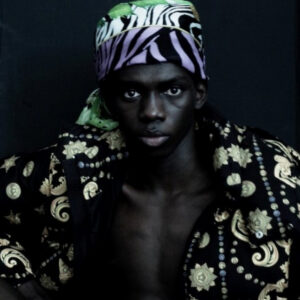 IB Kamara will receive the Isabella Blow
Award for Fashion Creator at The Fashion Awards 2021 Presented by TikTok, on Monday 29th November at
the Royal Albert Hall, London.
Kamara will be honoured for his incredible contribution to culture, art, and
fashion and his commitment to challenging stereotypes and the status quo.
Known for his radically innovative work, Kamara has been described as one of the most exciting creative
voices of a generation. His distinct point of view is daring, marrying high fashion with the wholly unexpected.
In 2021, Kamara was appointed Editor-in-Chief for Dazed Magazine. His editorial work has also been
featured in French, Italian and British Vogue, Double, AnOther, M le Monde, System, and i-D. He has
collaborated with photographers including Paolo Roversi, David Sims, Mert Alas & Marcus Piggott, and
Rafael Pavarotti and consulted for brands including Louis Vuitton, Burberry, Off-White, Philosophy, and
Erdem. Additionally, Kamara has worked with artists such as Beyoncé, Rihanna, Madonna, Sampha, and
Solange.
Caroline Rush, BFC Chief Executive commented: "We are thrilled to present the Isabella Blow Award for
Fashion Creator to IB Kamara and acknowledge him for his incredible contribution to the global fashion
industry. Kamara has through his storytelling and unique point of view inspired people from all backgrounds
to explore fashion, making him hugely respected within the fashion community and a source of inspiration
for many generations to come. We look forward to celebrating with him."
Born in Sierra Leone, Kamara spent his childhood in the Gambia. At age 16, he moved to London, where
he later attended Central Saint Martins. Kamara's work has since been featured in two exhibitions: Utopian
Voices Here & Now (Somerset House, 2016) and Soft Criminal (Red Hook Labs, 2018).
The Isabella Blow Award for Fashion Creator recognises the very best innovators and creatives in fashion,
celebrating invaluable contributions that have changed the entire fashion landscape. With a discerning eye
and incessant drive, the recipient of the Award has brought designers' creations to life and helped create
worlds within brands. Their dedication to the craft has garnered legions of fans and their incredible body
of work has already left an indelible mark on the entire industry. Previous winners of the Isabella Blow
Award for Fashion Creator include Sam McKnight, Mert & Marcus, Dame Pat McGrath, Nick Knight OBE,
Edward Enninful OBE, Lady Amanda Harlech and Professor Louise Wilson OBE to name only a few.
The Fashion Awards presented by TikTok is a fundraiser for the BFC Foundation Charity which supports the future growth and success of the British fashion industry by focusing on Talent,
Education, Grant-Giving and Business Mentoring and aims to improve equality and opportunity so that the
fashion industry remains diverse and open to all, helping talented designers at all stages of their career
from school level through to becoming a global fashion brand. In 2020/21, the BFC raised £1.7 million for
the BFC Foundation, and its talent support initiatives and this year the charity supported 33 designers.
Principal Partner: TikTok; Official Partners American
Express, Flannels, Getty Images, Moët & Chandon, Royal Salute and The Londoner are appreciated for their ongoing support.
Photo coutesy of Wikipedia