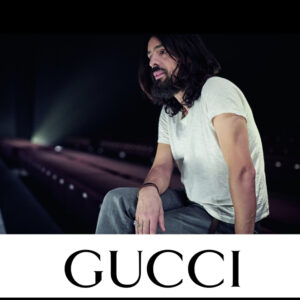 Alessandro Michele will receive
the Trailblazer Award at The Fashion Awards 2021 presented by TikTok, on Monday 29th November
at the Royal Albert Hall, London.
As the Creative Director of Gucci, Michele will be honoured for his visionary work to date in
positioning Gucci at the intersection of culture, art, music and film.
In the past year alone, Michele
has presented Gucci's Aria and Love Parade collections, launched Vault by Gucci and opened the Gucci Garden Archetypes exhibit and the Gucci Archive in Florence, thereby continuing to
expand the scope of what a traditional luxury fashion brand should be.
Beyond designing the collections, Michele has demonstrated a consistently creative vision for the
house, overseeing all aspects from brand image to retail concept, expanding to innovative online retail spaces, creating immersive multi-media experiences and launching disruptive
collaborations.
In an industry first, 'The Hacker Project', that was presented within Gucci Aria, merges the iconic
silhouettes and codes of Balenciaga and Gucci in unique creations as an exploration on ideas of
authenticity and appropriation, combining the aesthetics of Creative Directors Alessandro Michele and Demna Gvasalia.
Gucci's Vault, the online concept store launched by Michele in September is intended as a time
machine, an archive, a library, a laboratory and a meeting place, designed to host expressive,
aesthetic and social interactions, again highlighting fashion's powerful position at the intersection
of culture. The virtual shelves hold a selection of one-off vintage Gucci pieces while also giving
a platform to incredible emerging young talents including British brands Ahluwalia, Bianca
Saunders, JORDANLUCA and Stefan Cooke, sparking conversations that go beyond the walls of the Maison and challenging the conventions of fashion. This year Michele also brought Gucci
Garden Archetypes to Florence, an immersive multimedia experience which delves into the
multifarious inspirations from the music, art, travel and pop culture spheres that resonate through
Gucci's campaigns. Coherently with Gucci's explorations of the digital realms, Gucci partnered
with the global online platform Roblox bringing in their metaverse a captivating Gucci Garden shared experience.
Much of the work he does closely aligns with the film industry, highlighting fashion's critical position
at the intersection of culture and art. The Gucci Love Parade was a celebration of all things Hollywood while his collection OUVERTURE of Something that Never Ended was launched during GucciFest, the brand's digital film festival that took place late last year.
Caroline Rush, BFC Chief Executive, commented "Alessandro's work at Gucci over the last year
defines what it means is to be a trailblazer, he is a pioneer in every aspect of his creative output
and uses the power of design to pave new paths connecting the fashion industry to all other
industries from film to digital innovation. He is an incredible source of inspiration for many
generations to come and we look forward to celebrating with him next week in London."
The Trailblazer Award was introduced at The Fashion Awards in 2018 and is one of the Special Recognition Awards, celebrating the very best innovators and creatives in fashion, whose work in the past year has been a game-changer and has significantly shaped the industry.
Previous winners include Kim Jones and Sarah Burton.
The Fashion Awards presented by TikTok is a fundraiser for the BFC Foundation is a registered charity which supports the future growth and success of the British fashion industry by
focusing on Talent, Education, Grant-Giving and Business Mentoring and aims to improve equality
and opportunity so that the fashion industry remains diverse and open to all, helping talented
designers at all stages of their career from school level through to becoming a global fashion brand. In 2020/21, the BFC raised £1.7 million for the BFC Foundation, and its talent support
initiatives and this year the charity supported 33 designers.
Principal Partner: TikTok; Official
Partners: American Express, Flannels, Getty Images, Moët & Chandon, Roblox, Royal Salute and
The Londoner are appreciated for their ongoing support.
photo courtesy of BFC