So, there I was draped in my seat at The Proud Embankment on the banks of the Thames, attending a glamorous function to raise money for Parkinson's Disease, and which I was invited to by author and broadcaster Lady Kendal Jaggar.
What really struck me out of all the lavish display of entertainment that the organisers had provided, was Emma Lawton who gave a speech on stage. She was a 37-year-old woman who had suffered from the disease for the last 8 years. On one hand, her racked with Parkinson's body was all stooped down into a hunched-up shape and she just shook and shook. Watching what she sadly must permanently put up with daily really made me appreciate what I have got and how lucky people are in good health, although which many of us just take for granted.
But the way she presented herself was something else. Her hair shone out like a light bulb in luminous pink, and the whole look of this great woman was somebody gleefully embracing difference and wallowing in zero self-pity. She was on a mission to enjoy life to the fullest, for however long that might be, and not dwelling on suffering which was an inspiration to see. No moaning in her speech about what she had not got but getting on with and making the most of what she does possess to have the whackiest and wildest time possible, a lesson we should all learn from.
The fundraisers organising the event tried their best to supply maximum entertainment for the attendees. Yes, there was a lavish abundance of food, and Fashion Shows which tried and succeeded in making women as beautiful as possible, draping models in glamorous evening dresses and who were the images of perfection. But whilst appreciating that, on the other hand I wanted to see more of the world I'd just entered with Emma. Alongside these models emulating perfection I hoped to see some subversiveness, edginess, abnormality, and imagination included with all that beauty culture stalking the catwalk, but unfortunately Emma's message hadn't got through to the organisers in that respect apart from some odd interesting and occasional quirkily tangled bits of Butler and Wilson jewellery that sparkled intermittently during the Show.
Sonique singing on stage who shouted out "Hello Philip!" to me from there, added that less tame and edgier angle that the event needed, and there was the usual charity auction to commendably raise funds for people suffering from this fatal disease, with ex- model and yet another image of physical perfection TV host Vernon Kay compering a large part of the proceedings.But nothing superseded Emma who embraced not fitting in, and which everybody should take note of in a regimented world where multitudes desperately strive to be normal, rather than accepting the fact that nobody's perfect, and to be proud of their imperfections.
Philip Sallon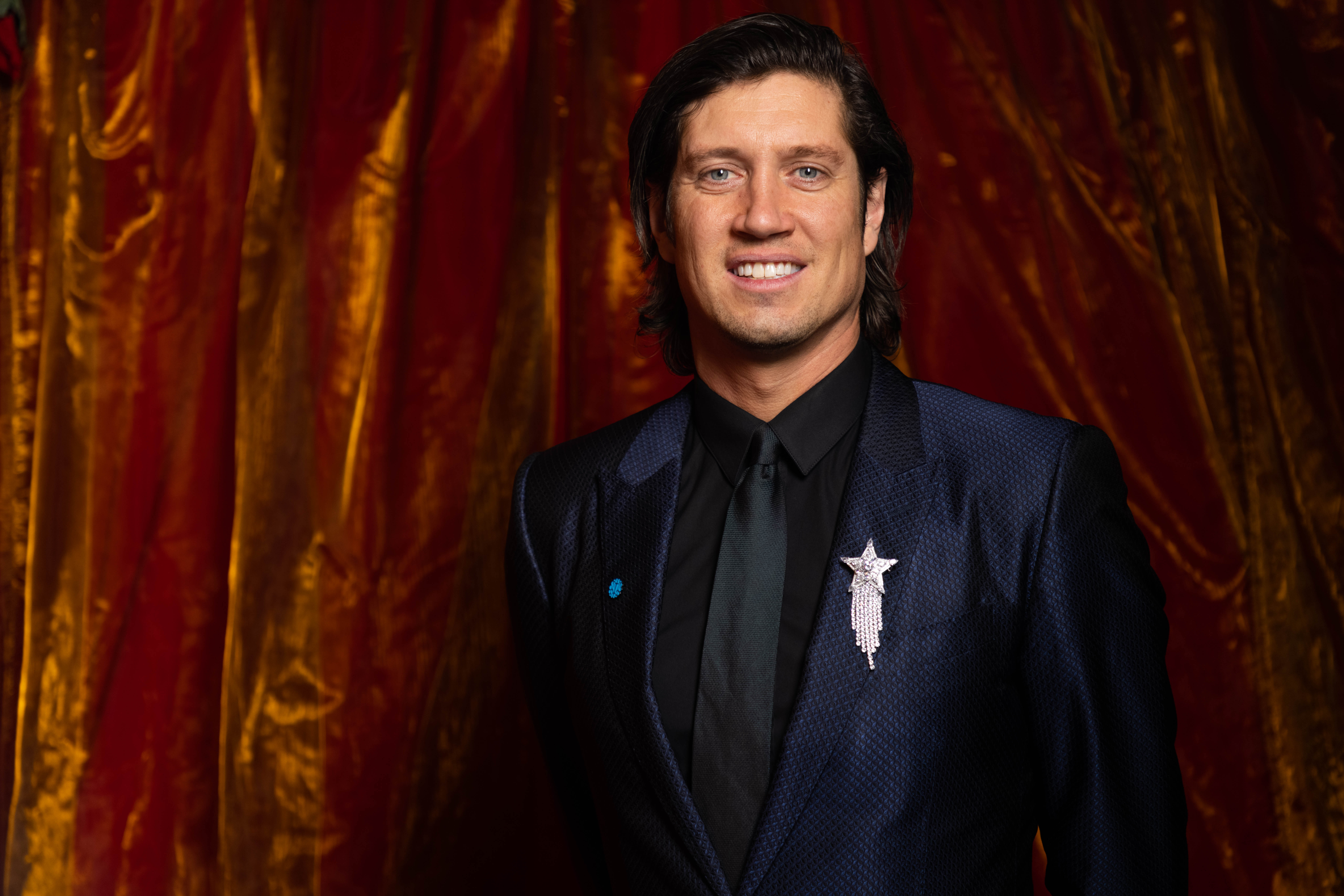 Vernon Kay MC of Catwalk to a Cure Photo David Parry/PA Wire
Event
'Catwalk to a Cure'
Curated by Rachel Edwards and hosted by Vernon Kay
A fundraiser for Parkinsons
Monday 29th November 2021
Parkinson's UK
215 Vauxhall Bridge Road
London
SW1V 1EJ
Tel: 020 7931 8080
https://www.parkinsons.org.uk/
https://www.facebook.com/parkinsonsuk/
https://www.youtube.com/parkinsonsUK
https://www.instagram.com/parkinsons.uk/?hl=en]
Copy and paste link to donate
https://www.parkinsons.org.uk/donate
Parkinson's is the fastest growing neurological condition in the world. It can lead to a lot of can'ts.

[R E S E T] is founded by sisters, Usha Dugar Baid and Monika Dugar. The inspiration came through their father, who was diagnosed with Parkinson. We became involved in researching the condition after our father was diagnosed with Parkinson's.
www.resetadaptive.com
Jewellery by Butler and Wilson
www.butlerandwilson.co.uk
'Catwalk to a Cure'
Location
Proud Embankment
Waterloo Bridge, 8 Victoria Embankment, London WC2R 2AB
www.proudcabaret.com