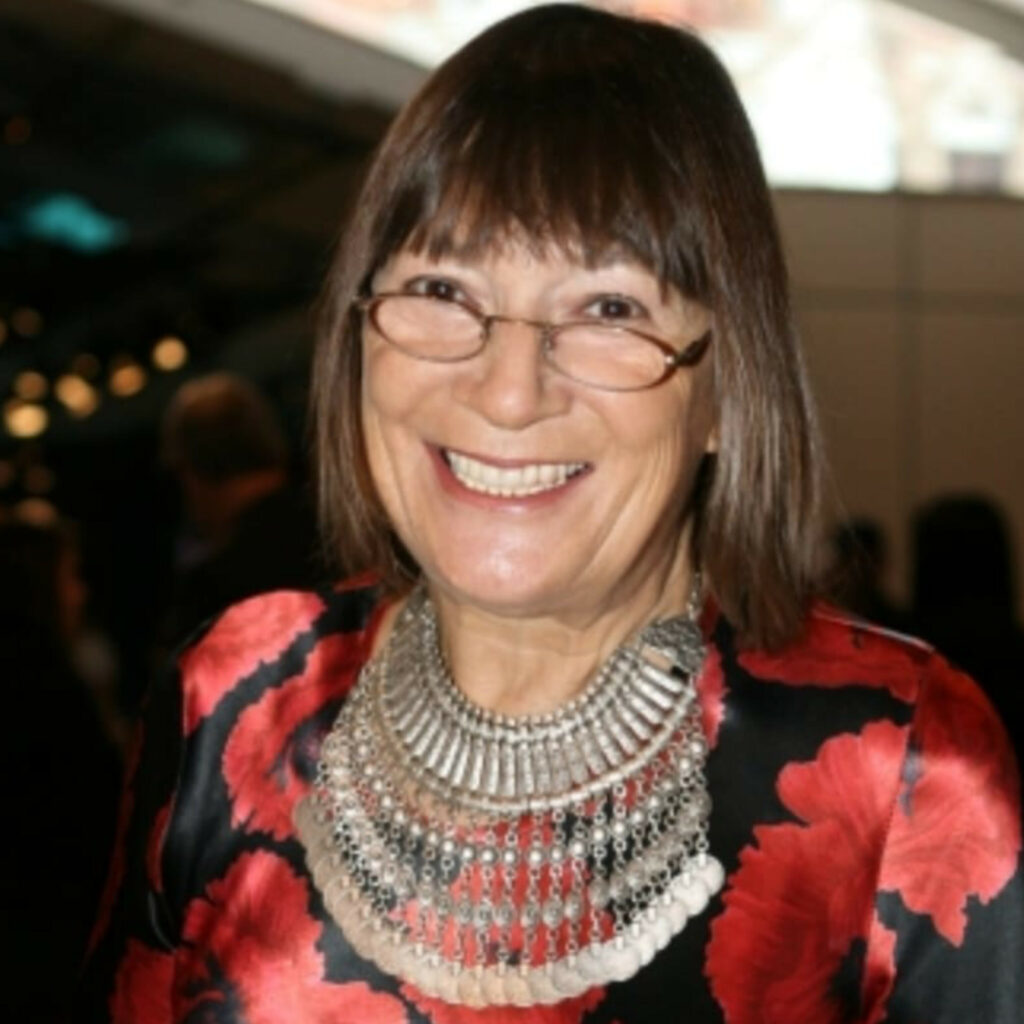 Dynamic and enthusiastic from the old-school world of journalism, Hilary Alexander was one of Fleet Street's original fashion journalists and
a much loved industry figure. The fashion world pays tribute to Hilary twice named British Fashion Journalist of the Year.
Born in New Zealand, Hilary Alexander started her career at the age of 16, as a trainee reporter before working for newspapers in New Zealand, Australia and Hong Kong. She became fashion editor of The Daily Telegraph in 1985 where she remained for 26 years.
She was then promoted to fashion director in 2003 and
the year she retired from the paper in 2011 she won the CFDA's special Eugenia Sheppard Media Award.
She went on to work with countless designers including Gianni Versace, Zandra Rhodes, Lee McQueen, Julien Macdonald and Richard Quinn. Hilary was a great mentor and remained proudest of starting the careers of those she felt had earned a place in the fashion industry.
In her description of Hilary, Zandra Rhodes commented, "The epitome of enthusiasm and hard work. I am proud to have been her friend. She never gave up, even when fashion was not taken as seriously as it is today. Hilary fought to have fashion taken into the mainstream and published within newspapers and broadsheets. She believed in it as a right.
She changed the face of fashion journalism as we know it today. She understood the underpinnings and cultural references and was a beacon of knowledge. Intelligent, funny and kind, we will never be able to fill the gap she has left."
Hilary Alexander was appointed OBE in 2013 for services to fashion and published her own book, Leopard, Fashion's Most Powerful Print, in 2018, with a personal dedication to her favourite print. Hilary Alexander, "I don't think that I will ever actually retire from the industry. I just love clothes and jewellery too much."
A bon viveur who was partial to champagne and cigarettes, she traveled the world in the name of fashion, reporting on shows, special events and, naturally, parties.
Fourty years a fashion journalist at the top of her game, Hilary was always thoughtful and intelligent in her approach to a story. Vibrant and warm, I first met her with Julius Just at The World Music Awards afterparty aboard Philip Green's super yacht 'Lionheart' in Monaco. Hilary approached me and asked about my necklace. Indeed it was unusual as it was a Celine chainbelt that I was wearing as a necklace. She loved 'statement necklaces' so we laughed and continued laughing from there. The balmy Monaco night aboard the yacht had an excited atmosphere with models, pop stars and an array of glamorous people. Despite the distractions of hypnotic music and celebs I was captivated by this enthusiatic, intelligent press hound. Thereafter I often saw Hilary mostly at LFW catwalks and afterparties. I feel privileged to have known Hilary and will miss her terribly. Hilary knew how to party with her endless energy. As a journalist she was one of the first who would naturally incorporate designer fashion and high street fashion in her articles. She ignored obvious fashion trends and instead pursued the current fashions that were happening in the clubs and on the street.
Hilary connected to everyone with warmth and enthusiasm,
she was a down to earth and genuine human being with an infectious love for fashion and life.
Hilary Alexander had a great passion for mentoring emerging young talent and held the title of visiting professor at University of the Arts London, which oversees Central Saint Martins and London College of Fashion and the Chelsea and Camberwell Art colleges.
After retiring from the Telegraph in June 2011 with a party hosted by the British Fashion Council at the fashionable St Pancras Hotel, Hilary focused on being the President of Graduate Fashion Week and her newly acquired position of editor-at-large of Hello! magazine.
As well as editor-at-large for Hello! Hilary freelanced as a stylist and broadcaster.
She later become the honorary president of Graduate Fashion Foundation in 2019. "Graduating fashion students enthralled her," Chairman Douglas MacLennan said in a statement. "Their innovation and their imagination always brought her back. While a fashion light has sadly now expired, the memory of Hilary's enthusiasm will continue within the work of the charity and its trustees."
A prolific fashion editor and TV personality
Hilary had an exuberance and energetic passion.
Her character, intelligence and vast knowledge of fashion made her a regular clothes broadcaster and commentator on international networks including CNN
and on the BBC and 'Lorraine'. She also appeared as herself on TV shows including The Clothes Show Live and
Style Challenge . Her passion for fashion was matched by her philanthropic efforts.
In her later years Hilary became an active supporter for charities including the Royal Osteoporosis Society,
Battersea Dogs and Cats home, Breast Cancer Care and Fashion for the Brave.
With her passion fashion and mentoring young talent
Hilary continued with her work as the honorary president of The Graduate Fashion Foundation and freelanced in the fashion industry until she died. Regarding what inspired her most about graduate talent and the next generation she commented, "It's always exciting because you have no idea what graduates are going to come up with next. It's a complete revelation because the way they approach design is so completely different to anything else you've seen before in terms of the fabrics, silhouettes, layering and accessorises. The completely new and novel approach is what I find more intriguing and inspiring."
Created to capture Hilary's vision,
Graduate Fashion Foundation launched the 'Hilary Alexander OBE Sustainability Trailblazer Award' in 2017.
"It's not frivolous …any industry that employs half a million people and generates billions a year is a serious news subject. " Hilary Alexander
Anna Wintour of Vogue, "Hilary was irrepressible in everything she did. She lived life to the fullest and her reporting on fashion was just as committed. I threw a party for her in Paris when she retired – except she never retired! Hilary could never quite leave an industry that she loved so much."
Lisa Armstrong of the Telegraph, "To sit next to Hilary at the shows to be treated to an experience that was a unique blend of massage and wrestling match. Bobbing to the music – whatever it was – she was always the first to bounce out of her seat as the models were still filing off the catwalks, the ears of Uncle Bulgaria's hat flopping away as she stormed the catwalk to get backstage before everyone else. She would do anything to get a story."
by Kim Grahame
Photos courtesy: Graduate Fashion Foundation, Nicola Topping , Arianna Bellagotti