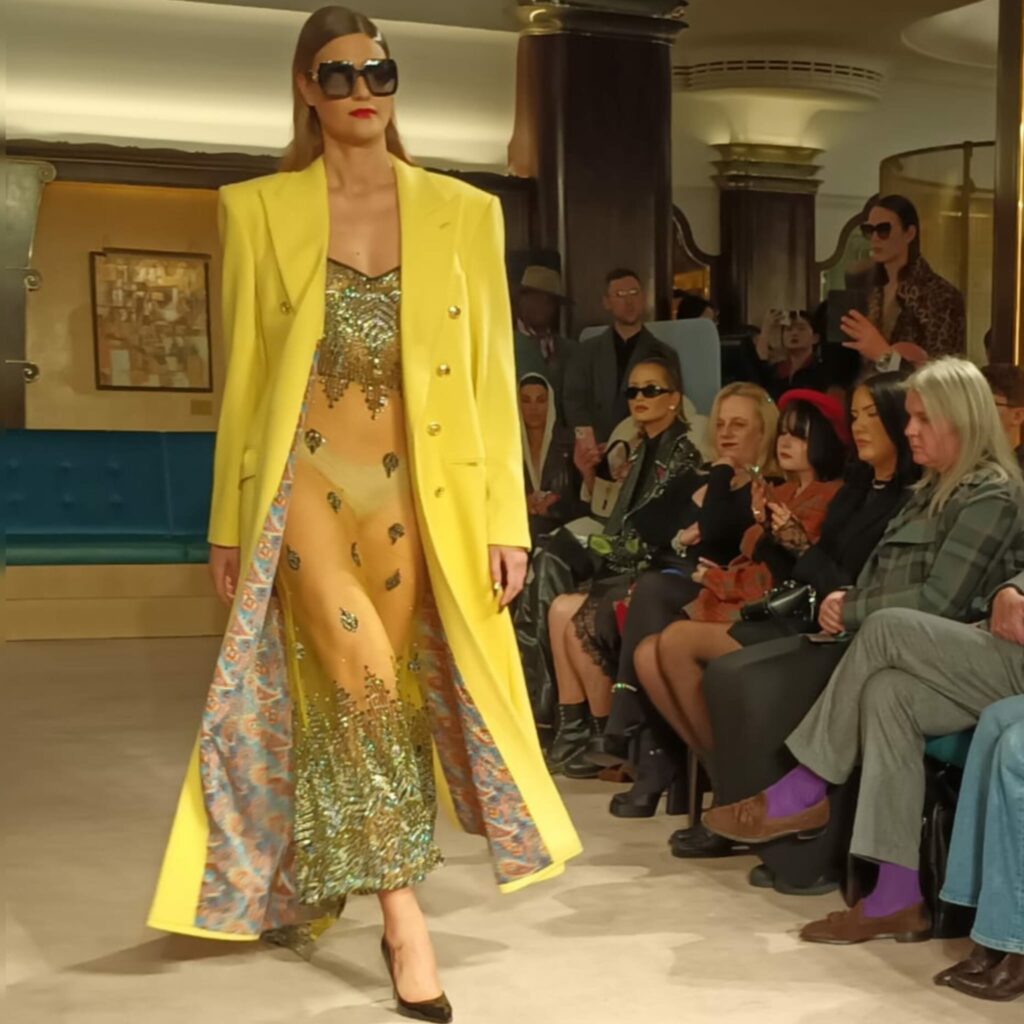 The Helen Anthony 'Structural Liberation Collection', was embolding, unique and chic this London Fashion Week Autumn Winter 2023. With this elegant collection, Naeem Anthony has created luxury garments with a creative style that empowers and yet embraces an air of freedom.
Naeem Anthony is the creative designer behind the 'Helen Anthony' brand.
Naeem Anthony's grandmother, Helen Thomas, who handed down her knowledge of craftsmanship and tailoring had a strong influence on his design process. Naeem embraces inclusivity with a showcase of diverse casting while showing a collection that banishes gender norms.
'Helen Anthony' prides itself on quality and incredibly well-structured innovative tailoring. These elegant and eccentric designs can be worn by all genders.
The distinctive 'Helen Anthony' look has a strong silhouette creating a playful mood with an air of empowerment. This look is created using power suits, tuxedos and floor length overcoats all made using the highest standards of craftsmanship. There is a combination of tailoring in various lengths, fabrics and colours with very broad shoulders. To this Naeem has added a playful twist to his well-structured British tailoring by playing with lengths as well as oversizing and superfitting. There is great attention to detail in quality handwork with crochet and hand embroidery on chunky over and undersized knitwear. Fine embroideries embellish shirts and long flowing dresses with distinctive style.
Naeem Anthony also designs and creates his own exclusive fabrics.
This season 'Helen Anthony' has collaborated with the British luxury textile company Scabal to create fabrics that reflect the brand. Using the finest fabrics the collection uses luxurious cashmere, wools, tartan, mesh and animal print sustainable leather.
In combination with a wonderful colour palette Naeem Anthony has created an elegant and avant-garde ' Helen Anthony ' collection with a fabulous bold creative mood. Helen Anthony is innovative with a reputation for excellence and has a creative style that is strong on character!
by Kim Grahame
photos courtesy Kim Grahame and Helen Anthony