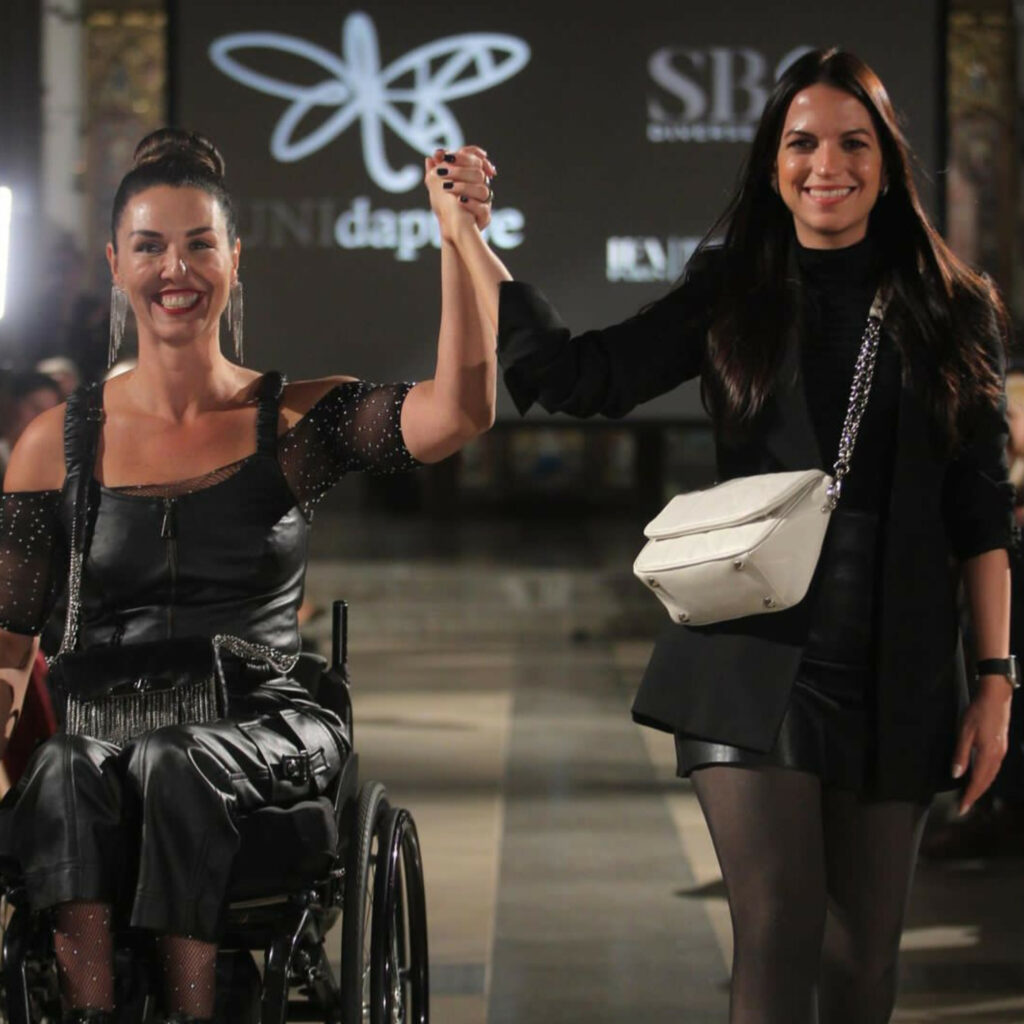 London Represents showcased a spectacular line-up of diverse models, including those with disabilities, different ethnic backgrounds, and a variety of body shapes. The show was a celebration of diversity, sustainability, innovation, and an eclectic mix of fashion conscious brands. The show was engaging from the start with host Michael Oladele @bagsyofficial asking the audience questions on their outfits and seeing what they knew about the designers.
London Represents is dedicated to breaking down barriers and promoting inclusivity within the fashion industry. "Our Catwalk embraces the rich diversity of London and challenges the audience to re-evaluate their concept of fashion, beauty and perfection. We are excited to be showcasing for the first time on the official London Fashion Week schedule, proving change within the industry is finally happening," said Gaia Beck – London Represents show co producer.
The panel was led by Caryn Franklin @franklinonfashion, a British commentator on fashion identity and a leader in individual diversity. Caryn Franklin was a former Fashion Editor, co-editor of I-D magazine. She has been a presenter in fashion and identity for over 40 years.
Amongst the other Zalando panelists were Jamie Gill @mrjamiegill a Fashion & Luxury Advisory, Chair of D&I Committee and Executive Board Member at British Fashion Council, Executive Director at Roksanda and founder of The Outsiders Perspective. Millie Flemington-Clare, founder of Human Beauty, a disability friendly make up brand. This included, founder of SB SHOP Samanta Bullock @samantabullock co-owner of London Represents, award winner, part of 100 most influential disabled people in UK, Diversity and Inclusion activist, wheelchair model and speaker.
Sponsor Zalando @zalando is the leading EU online platform for fashion and lifestyle. The clothing line has been adapted for people with disabilities. The collection consisted of designs which were accommodating to the diverse amongst us. Zalando is pioneering ahead in being a name that welcomes all people, proving that fashion can be both functional and stylish. Zalando sponsored a truly thought provoking show; encouraging us all to recognise the need for diversity in fashion and why different perspectives and different journeys add a new beauty to the industry.
Chamiah Dewey @chamiahdeweyfashion is an award winning designer and brand. She was the opening designer on the catwalk. Specifically designed for people under 4'11.Designed with adjustable fabrics to suit mobility. Bold blues and burnt oranges which could be worn during the day or dressed up at night. Some dresses and shirts with a splash of pale green really gave a good representation of a softer autumnal look.
Noemie Jouas is the designer behind @noedresses a French and Japanese sustainable brand based in London. There were dresses with frills and lace layers that were reminiscent of the Victorian era. Perhaps the designer loves the traditional English cuts, the more conservative layered coverage whilst adding her own modern twist, with a bold splash of yellow to brighten the autumn palette. It's interesting that the Japanese style dress 'harajuku' seems to be an inspiration in this case with top marks for cuteness. The exaggerated arms and the align stature is not itself a feminine cut yet the materials, frills make the dress seem overly feminine. The designer demonstrates that femininity is subjective, appealing to some of us, all of us and in different ways. The energy of this dress resembles a cartoon or kids tv show – bold, fun and dramatic.
La Inspiracion brand @ropa.adaptada is the number one Costa Rican brand for people with disabilities. A dress that embodies the strength of a goddess, the woman who wears it with pride, resembles strength and perseverance in challenging environments. The dress and the model remind us of the courage needed to fight for diversity, the strength it takes to speak up for all people and the beauty we can find in doing so. The khaki green, a deeper yet softer autumnal shade matched with a metallic belt, is a simple cut but a powerpiece with a goddess vibe. La Inspiracion's elegant designs had embroidered embellishments with a dash of daring. For the dreamy, the diverse and the adaptable. The dress and the designer's creative vision show us that although fashion is what sets our style and our tribes apart, fashion is also what brings our tribes together. Our collective voice is stronger if we speak up for those less able to. These designs were collective in elegance, positivity and demonstrated fashion forward thinking. Showing fashion consciousness; fashion statements can be elegant as well as bold.
Jemma Garner, Business Developer and Initiative Project Owner for inclusive assortment at Zalando, is proud to be one of the panelists: "At Calando, we're committed to advancing inclusion and diversity in fashion through our holistic do. BETTER strategy. Introducing the Adaptive Fashion collections is part of our commitment to offer a truly diverse assortment for underrepresented groups across price, size, and style. We are very excited to collaborate with London Represents as we believe it will send a powerful message across the industry that people of all abilities should be seen and included in fashion."
The panel, 'How to design with the disability community in mind'. There was an open discussion about the importance of building inclusivity.
There were deluxe designs by Byzantium Boutique @byzantiumboutique_ with embellished details, hues of gold, bronze, orange and blue created a smooth beach look for the autumnal sun. The second piece was more flamboyant, somewhat extroverted, yet magenta yellow in the mix of fuchsia pink set an energetic, vibrant tone. Present were leaf prints symbolizing autumn. Once again a designer not afraid to showcase the autumnal sun, this dress can be worn boldly, worn confidently, by those leading by example in the face of adversity.
UNIdaptive showed first in the second half of the London Represents Catwalk Show. The designs from this brand showed great movement and style. This social project was created by Bullock Inclusion bringing inclusive fashion to universities.
Thank you London Represents @londonrepresents for an engaging, immersive show which made us question why diversity is still a fight within the fashion industry. Our challenges make us stronger and more beautiful. Diverse perspectives, challenges and harder lifestyles need be made known, to make us all aware and make our understanding of other's human experience more advanced and truthful. The designs showcased demonstrated that we all have the right to feel stylish and reflect our personality. To feel strong and empowered in our fashion decisions which helps us to show up each day as our authentic selves, whatever the challenge we may face.
by Rebecca Lilley
Photos courtesy of Rebecca Lilley, Marceloq Photography, Ian Bozic, Splash Pictures, Daniela Luquini, Ang Har, Marcelo Saez and @londonrepresents