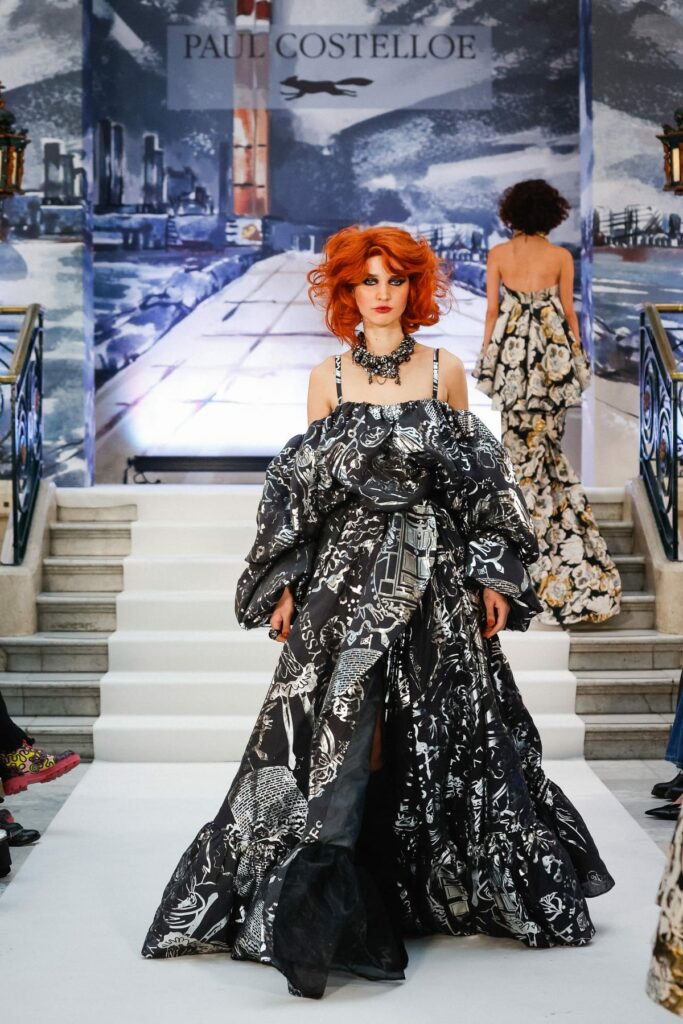 Paul Costelloe kicked off the official London Fashion Week ( LFW ) schedule with a stunning show inspired by landmarks in James Joyce's novel 'Ulysses' and his love of his native city Dublin.
This novel, along with Poolbeg Chimneys, are an important heritage of Dublin's past and present.
The collection is very much a modern rendering of this heritage using the most beautiful fabrics of Ireland and Italy.
Paul used local motifs
when developing a bespoke linen fabric.
There were stunning metallic gowns made from woven cloth of silver crafted by William Clarke of Derry, one of which was perfectly styled with a traditional top hat. The woven cloth of silver is presented in narrative prints festooned
with scenes from 'Ulysses'. There were long tailored coats, skirts and highly structured fitted
jackets from Magees in Donegal, and Emblem
Weavers in Wexford.
Fabrics differed in weights, textures and patterns in wool cloth.
Twisted yarn knitwear mixed in with rich velvets and lush brocades brought an opulence and
vitality to this exceptional collection.
The mood of the collection was dramatic with bold silhouettes, strong yet feminine with mostly dark colours. Dramatic puff sleeves on dresses and voluminous gowns along with Paul's impeccable sculptured tailoring were evident throughout.
There were wide leg trousers, checks, braces and ties. Chunky knits,
heavy woollen blazers and tartans were present along with tweed, quilted garments, fishtails, capes, lace trimmings, supersharp shoulders and dramatic sleeves.
Paul Costelloe is a designer with values and philosophies that he holds dear. Quality, youthfulness and a positivity are always evident in his designs and in his character as a person. Paul has given his time and effort to charity events which is where I first met him at the home of Bee Gee Robin Gibb and wife Dwina to stage a fashion show in aid of the 'Against Breast Cancer' charity in September 2010. Paul was showcasing his collection and I was working on the PR for the fashion show and for Robin Gibb. I have seen Paul often since and have covered many of his shows. I have a great fondness for Paul Costelloe as a person and his incredible talent. It was inevitable that he became a highly established and respected name in fashion.
Paul Costelloe's LFW AW23 collection, styling and
music transported the London Fashion Week buyers, influencers, press and celebrities to his moving romantic vision of Dublin with a background of the sweet haunting sound of The Pogues,
Enya and Sinead O'Connor.
The accessories complimented the collection perfectly. There were Paul Costelloe Bags and jewellery from
three outstanding jewellery houses Pebble of London, Bláithín Ennis of Ireland and Angela Brady. All three houses presented masterpieces that evoked this celebration of
Irish creativity.
There was a strong Celtic mood throughout with many sashaying vibrant redheads and a smokey make up palette that completed the look.
"This is a celebration of Dublin that was, Dublin that is, and the city I love."
Most definitely a celebration that I very much enjoyed!
By Kim Grahame
Photos Everynight