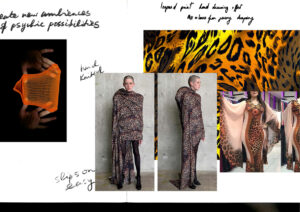 The British Fashion Council (BFC) announces the recipients of its 2021/2022 BFC Foundation MA Scholarship schemes. The scholarships provide funding to those who have an offer from, or are currently studying for an MA at a BFC Colleges Council member college. Six new MA students will be awarded this year, joining six current MA recipients. All applications are assessed based on talent and financial need, using information given in the application, the portfolio, the applicant's financial circumstances and references received. Shortlisted applications are reviewed by a panel of industry representatives.
This year's MA scholarships recipients are:
MA Scholarship –
The MA Scholarship is available to students accepted on an MA Fashion Design course in the UK. The scholarship helps towards course tuition fees with a contribution to course costs or living expenses. Ifeanyi Okwuadi, Latifa Neyazi and Jacob Yakubu Stapleton, all from Central Saint Martins, are the 2021/2022 recipients.
MA Final Year Scholarship –
The MA Final Year Scholarship is offered to students in their final year of an MA Fashion Design course in the UK to cover production costs for their final collections. Chalukya Samarawickrama, Kazna Asker and Mehmet, all from Central Saint Martins, are the 2021/2022 recipients.
The six current MA scholars are Brandon Choi, MA Chanel, Central Saint Martins; Edward Mendoza, MA, Central Saint Martins; Jessan Macatangay, MA, Central Saint Martins; Joe Pearson, Dior MA Men, Central Saint Martins; Pearl Quist, MA, University of Salford and Shanti Bell, MA, Royal College of Art.
For 2021/2022 the BFC Foundation (Registered Charity Number: 1185152) made £240,000 available to its twenty-six MA and BA scholars. The BFC Foundation brings all the BFC charitable initiatives under one umbrella; supporting the future growth and success of the British fashion industry by focusing on three areas: Education, Grant-Giving and Business Mentoring. The BFC has been awarding students MA scholarships since 1998. Ten BA BFC scholarships have also been awarded, joining four current BA recipients, from Buckinghamshire New University, Central Saint Martins, London College of Fashion, Manchester Metropolitan University and University of Westminster. BA BFC Scholarship graduating recipients will be announced in June.
Caroline Rush, BFC Chief Executive commented, "Being able to support creative talent financially is one of the most important missions of the BFC Foundation. The past 18 months have been extremely challenging and the support of upcoming talent establishing pathways through education is more critical than ever. We strongly believe that these scholars have the ability and potential to make an exceptional contribution to the fashion industry, supporting us in the mission to maintain the UK's position as the birthplace of global talent."
Applications were open from Monday 6th June to Monday 5th July 2021. The panel was chaired by Sarah Mower, BFC Ambassador for Emerging Talent and was made up of: Amanda Johnston, Curator and Educational Consultant, The Sustainable Angle; Ashish Gupta, Designer, Ashish; Ida Petersson, Buying Director, BROWNS; James Theseus Buck, Designer, Rottingdean Bazaar; Karen Binns, Creative Director, Stylist and Fashion Consultant; Lee Goldup, Menswear Buyer, BROWNS; Luke Brooks, Designer, Rottingdean Bazaar; Matty Bovan, Designer and Founder, Matty Bovan; Mimma Viglezio, Creative Consultant, Editor and Broadcaster; Rebecca Jeffs, Designer, Loewe; Stavros Karelis, Founder & Buying Director,
MACHINE-A;  Tamsin Blanchard, Fashion Journalist, Editor and Author and Zadrian Smith, International Fashion Director and Journalist.
photo of Mehmet designs courtesy of BFC