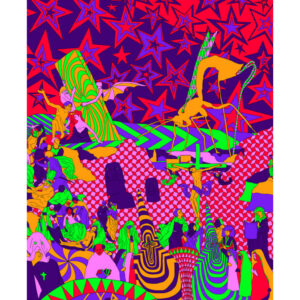 Artist, sustainable fashion designer, philosopher and musician Dr.Death in partnership with Marcel Art & Multeez bring co-ownership art availability to NFT investors and collectors on the 17th December at Rarible Marketplace.
Dr.Death will be minting five high end fine art digital illustrations as NFT's. As part of the exclusive NFT drop Dr.Death has partnered with Marcel Art & Multeez to explore the co-ownership of NFT's. This partnership will allow the NFTs to be 'fractionalised'. This means that a group of individuals can come together and co-own a piece of art, each of them owning a percentage of the asset and with the ability to trade their percentage independently as they please. The ability to co-own luxury assets will soon be common place, Dr.Death states "I am very excited to be at the front line of the merger of art, technology and finance. The ability to have on-chain easily verifiable certification of a percentage of an asset will revolutionise other facets of commercial life too: real estate, car ownership, family owned assets, it will be huge, and this is only the beginning."
NFT's are a form of digital asset that is stored on a block-chain. They're a way of verifying authentication of ownership and are becoming increasingly popular as a way to buy and sell digital artwork. Each NFT is a one of a kind which makes it also easy to verify whether its an original or a fake. The unique coding and 'metadata' of each NFT means that it is easily traced back to the original owner and each transfer is also publicly available.
Dr.Death, a pink skeleton, is a 32,000 year old ancient shamanic spirit living in the digital realm; guiding people across the bridge between conscious and subconscious. Dr.Death was summoned by Tighe-Mearns-Smith; who are an art duo and romantic couple known for starting the artistic and social movement 'Redemptionism'. You can read the manifesto of 'Redemptionism' over at Dr.Death's website:
https://www.drdeathcultclub.co.uk/manifesto
Dr.Death specialises in sustainable fashion, animation, illustration, music, philosophy & fine art. Together with Tighe-Mearns-Smith, their highlights include 2 fashion shows at London Fashion Week, animations shown at 7 film festivals world wide, fine art exhibited at Saatchi Gallery, one of their albums played at a Mixcloud Festival and their most recent venture was entering the metaverse fully as the digital spirit guide Dr.Death. It is from this point that all the duo's work is created as Dr.Death in full representation of their psychological transformation into masculofeminine sapiens, "For it is in the realm of abstraction, of maths, art & metaphysics that we can truly connect with the self. As the rational minds works in tandem with the depths of the subconscious we walk through a place in which logic collides with emotion, driven by the vehemence of the powerhouse of the sapien. It is from here we can truly grow and reach our potential." – Dr.Death
Multeez is on a mission to empower communities of creators and owners by introducing a new model of co-ownership,
"In our partnership with Marcel, we will provide a smooth, safe and social entry into the NFT space.
In addition, our closed alpha platform will offer FAD Magazine readers the ability to co-own digital assets.
Users will be able to collaborate, bid and purchase artwork as a group.
We provide live support and a tutorial explaining more about this process.
Once users purchase an NFT, they can sell a portion of their ownership or collaborate with others to sell the NFT as a secondary sale.
..we even support credit card transactions, so no need to mess around with digital wallets." – Multeez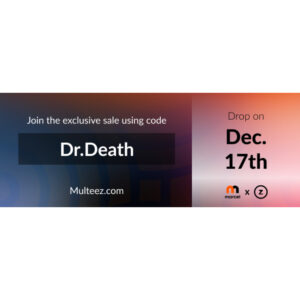 The sign up for the event over at: https://multeez.com
Thumbnail Art: Aperture' – Dr.Death – £3,500 (one of the pieces that will be available on the 17th)
twitter: @drdeathcultclub
@mar_cell_nft @multeez