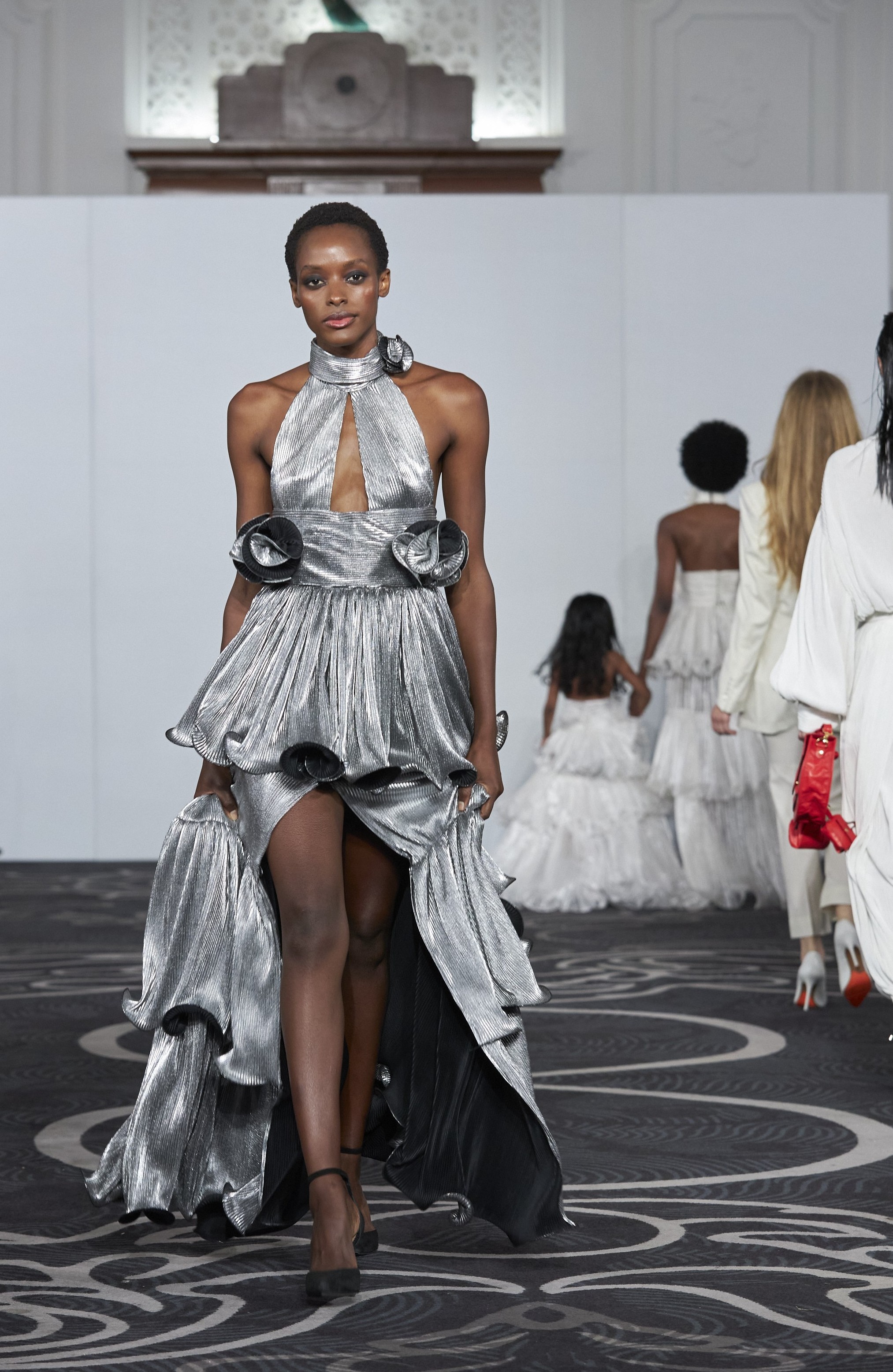 Under the creative direction of Naeem Anthony, designer brand Helen Anthony launch their Spring/Summer 2022 collection during London Fashion Week, reflecting the diverse mixture of cultures that London represents.
Looking back throughout the decades, Helen Anthony delivers a collection strongly inspired by the '70s, featuring an array of vivid colours, eye-catching patent leather and his renowned tailoring skills showing through with striking silhouettes. With a calculated attitude both strong and seductive, he emphasises the importance of being one's authentic self.
Diversity of all genders and ages strut down the runway with the inclusion of unisex designs that blur the lines between existing menswear and womenswear collections.
Breaking these traditional conventions, featured on the catwalk were oversized trench coats, three-piece suits, and boxy blazers whilst playful prints and beautiful flowy fabrics danced along the catwalk. Cut-outs, crops and slits ruled the runway and dazzling disco ball framed sunglasses radiated with the collection's energy.
Helen Anthony's ethos has always focused on the individual's desire for unhindered self-expression, and as a result, the values of inclusivity and social diversity are woven into the brand's expressive designs and philosophy.
While proud of its British heritage, Helen Anthony is a brand that also looks outwards and represents the diversity of global fashion. Helen Anthony's philosophy is about bringing people together and emphasising equality, diversity, and harmony. Each piece from the collection represents the brand's vision, with a style and wardrobe that empowers the individual to express and celebrate their individual identities on their terms, free from stereotypes and pigeon-holing. Helen Anthony looks forward to a brighter future where people can openly celebrate who they are, interpret and express their own style and come together.
"We believe that when people come together, great things come to fruition."
article by David Totterdale
photos by DARREN BRADE PHOTOGRAPHY
email: darren@darrenbrade.com
CREDITS:
STYLING
GRAHAM CRUZ
AT A + R CREATIVE
@GRAHAMCRUZSTYLIST
@AANDRCREATIVEAGENCY
HAIR
BRADY LEA
AT PREMIER HAIR AND MAKE-UP
@THEBRADYLEA
@PREMIERHAIRANDMAKEUP
MAKE UP AND SKIN
MARIA COMPARETTO
AT THE ONLY AGENCY USING SUQQU
@THEONLY.AGENCY
@MARIACOMPARETTOMUA
@SUQQU_EUROPE
JEWELLERY
JOANNA LAURA CONSTANTINE
TIANA JEWELL
RUDDOCK
EYEWEAR
ANNA-KARIN KARLSSON
SHOES
JEFFERY WEST
DUNE
TIGHTS
GIPSY TIGHTS
SOCKS
BURLINGTON SOCKS