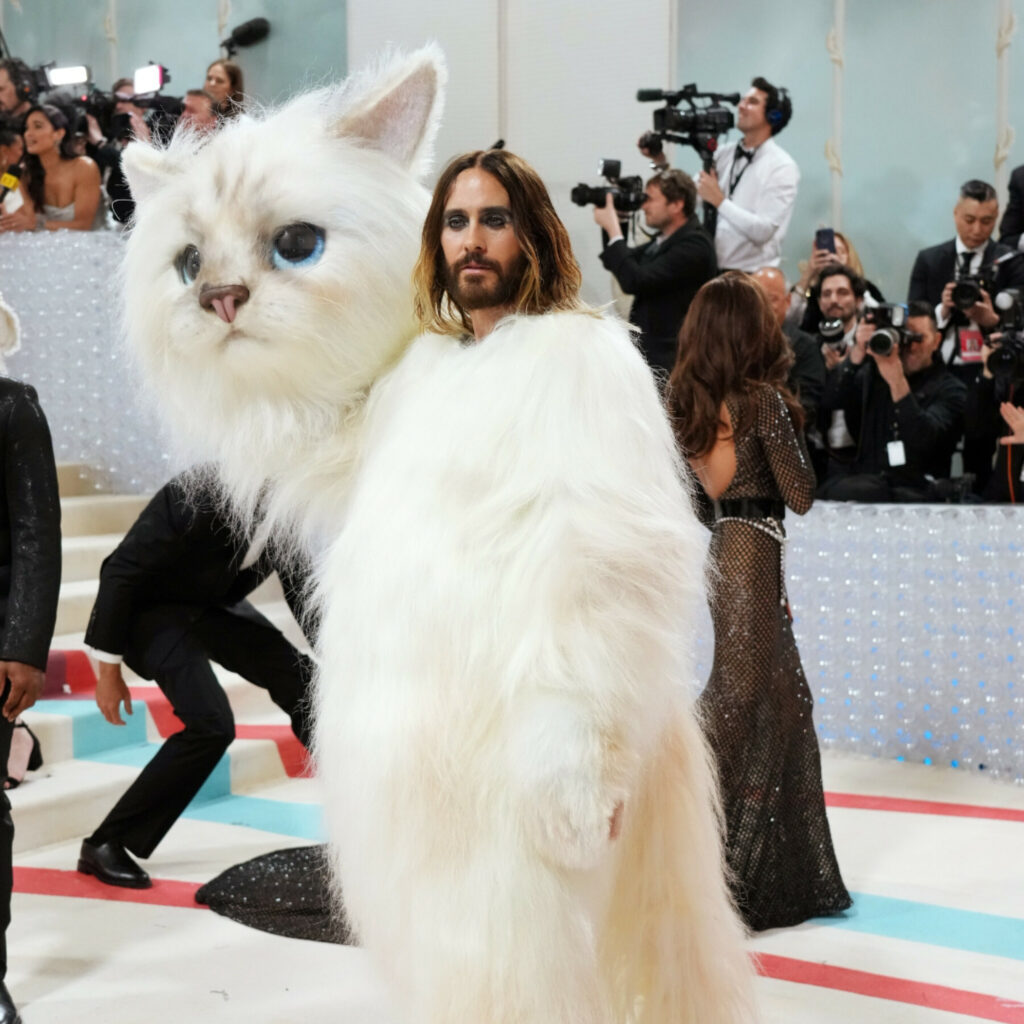 The Metropolitan Museum of Art, New York City hosts the fashion world's biggest night of the year The Met Gala. This year's Met Gala is a tribute to one of the longest careers in contemporary fashion history Karl Lagerfeld.
Karl Lagerfeld died in 2019 at the age of 85 after a phenomenal 65 year career. Lagerfeld was at the helm of some of the biggest names in fashion houses including Fendi and Chanel. He was often pictured alongside Choupette, his famously pampered pet.
Invited to be this year's co-chairs, alongside Vogue editor-in-chief Anna Wintour were Grammy-winning songstress Dua Lipa, retired tennis star Roger Federer, actress Penélope Cruz and actor, producer and writer Michaela Coel.
This year the Met Gala individual tickets were priced at $50,000, with table prices starting at $300,000.
Kardashian kept to the Karl Lagerfeld theme with a Schiaparelli design dripping in pearls,

"I just wanted to feel glamorous," she told Vogue on the red carpet. "I wanted pearls – what is more Karl."
Rapper Lil Nas X arrived clad in pearls and painted silver resembling a mythical creature. Unfortunately Choupette Lagerfeld's beloved feline was not in attendance nevertheless Jared Leto and pop star Doja Cat both dressed like Choupette. Later Jared Leto changed into an all-black ensemble that included a floor-length cape. The array of costumes were stunning, some of which could deconstruct on the red carpet such as Janelle Monáe's Thom Browne hoop skirt which transformed into a sequined bikini. Rihanna with ASAP Rocky were red carpet ready with Rihanna in a bold white gown with a large white jacket and hood festooned in coutured white roses. Her dark white-rimmed glasses completed the look. Actresses Priyanka Chopra and Elle Fanning, Nicola Peltz-Beckham and Brooklyn, and singer Rita Ora and her husband Taika Waititi also attended amongst many other A-list celebrities.
by Kim Grahame
Main photo Jutharat Pinyodoonyachet NYT/Jared Leto in costume of Choupette ( Karl Lagerfeld's cat )/