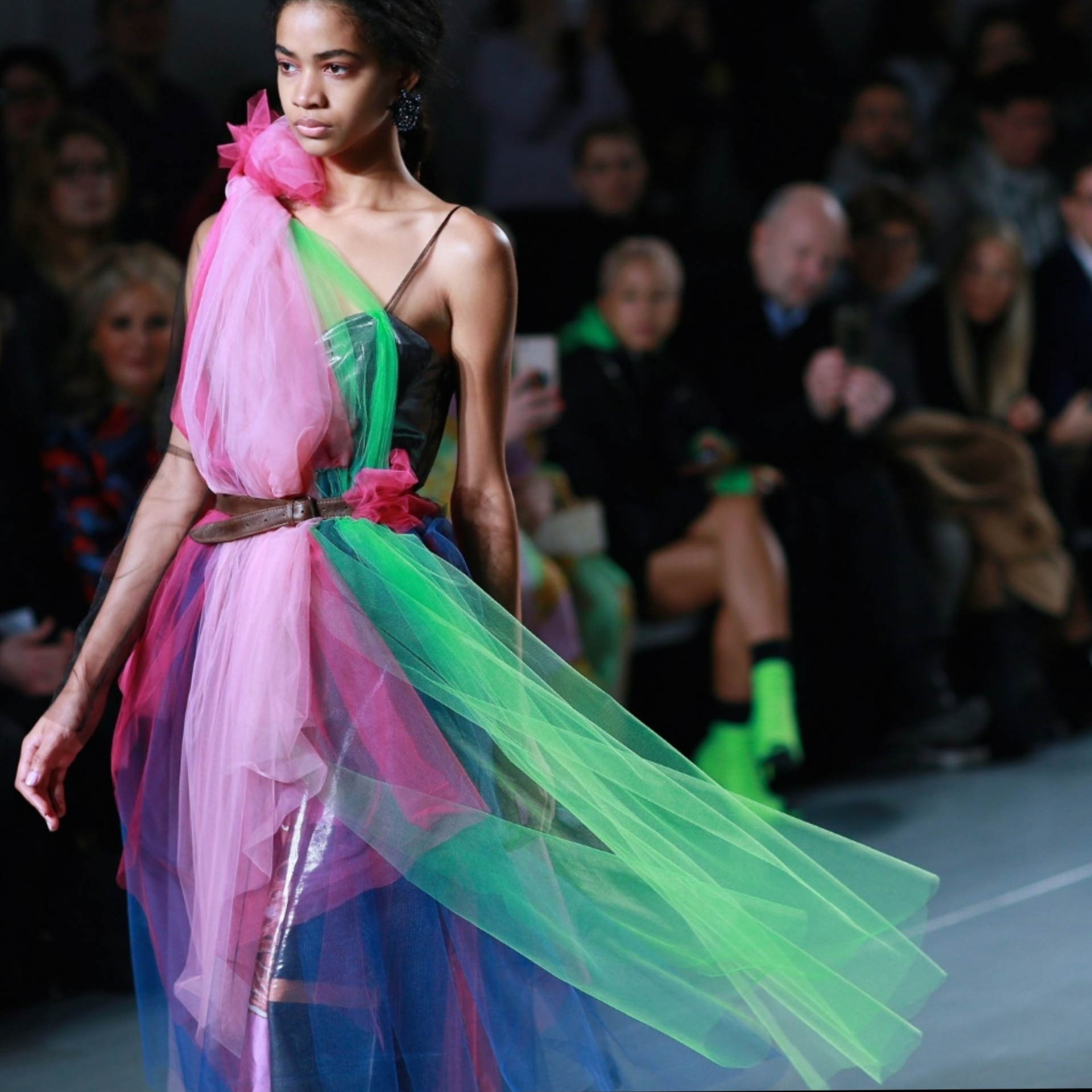 London Fashion Week ( LFW ) goes ahead showcasing a hybrid schedule with some big names placing their bets on physical shows, despite Omricon.
Amongst the designers showing are Erdem, 16Arlington, Richard Quinn, Halpern, Paul Costelloe including talented up-and-coming brands London Fashion Week is famous for such as Kaushik Velendra, Ahluwalia and Nensi Dojaka.
The British Fashion Council (BFC) have just announced the launch of London Fashion Week presented by Clearpay. This LFW will run from Friday 18th to Tuesday 22nd February 2022, as a digital / physical hybrid event. The event bring together an incredible line-up of 129 brands into one schedule, with 86 physical activations and 61 digital activations. This season will once again bring together fashion, culture, and technology in a 5-day celebration of the creativity and innovation London is known for. The event will curate excellence and empower growth, showcasing exceptional designer fashion talent with a mix of emerging designers and international luxury brands on schedule.
LFW DESIGNERS
The schedule currently includes over 129 confirmed participating designers/organisations and 37
catwalk shows, 8 presentations, 4 appointments, 37 events and 61 digital activations available on
the Official Digital Hub, londonfashionweek.co.uk. The LFW digital platform is freely accessible to
everyone, industry professionals and global fashion consumers alike, showcasing digital content from the designers, enabling collaboration and bringing together fashion, culture and technology.
A further 90 designers will activate through their LFW profiles, with a total of over 250 profiles live on the platform.
Established designers on schedule this season include David Koma; Emilia Wickstead; ERDEM;
FASHION EAST; MARQUES ' ALMEIDA; Molly Goddard; palmer//harding; Preen by Thornton
Bregazzi; Rejina Pyo; ROKSANDA; Simone Rocha; Stephen Jones Millinery; Temperley London;
TOGA; Vivienne Westwood
The NEWGEN in partnership with Clearpay designers on schedule include Conner Ives; EFTYCHIA;
FEBEN; HELEN KIRKUM; Labrum London; Matty Bovan; Nensi Dojaka; Per Götesson; Richard Quinn;
ROBYN LYNCH; ROKER; S.S.DALEY; SAUL NASH; Stefan Cooke; SUPRIYA LELE; yuhan wang.
Additional BFC initiative designers to highlight include Ahluwalia (GQDFF); Bethany Williams
(VDFF); Completedworks (FT); HALPERN (FT); NICHOLAS DALEY (FT). Additional names to highlights include 16Arlington; DANIEL w. FLETCHER; EDWARD CRUTCHLEY; Feng Chen Wang; Richard Malone; RIXO.
New names on schedule include Banshee of Savile Row, Johan Ku, KWK by KAY KWOK,
Mainline:RUS/Fr.CA/DE, oqLiq, POSTER GIRL, SEOKWOON YOON, SOHUMAN & U.Mi-1.
The DiscoveryLAB will continue to be digital, with the aim to support very emerging designers who
do not yet meet the main schedule criteria. There are 15 designers activating as part of the digital
DiscoveryLAB this season including 6 womenswear, 4 menswear, 3 menswear & womenswear,
and 2 accessories brands. Confirmed designers include ABIGAIL AJOBI, Anciela, CHRISTOPH
RITTER STUDIO, DJOKIC, DREAMING ELI by Elisa, Ester Kubisz, EX-A STUDIO, Florentina Leitner, J E
CAI, Margn, SASKIA, Sól Hansdóttir, Strongthe, VeniceW and Westernaffair.
The LONDON show ROOMS will continue to support designers with a dedicated stream on the Explore page and inclusion in a dedicated sales campaign to buyers, alongside additional promotion on JOOR.
ADDITIONAL HIGHLIGHTS
BFC NEWGEN Show Space: The BFC NEWGEN Show Space will be located at The Old Selfridges
Hotel, 400 Oxford Street. NEWGEN's official partners are Clearpay and TikTok. NEWGEN designers showing as part of the schedule this season are Conner Ives; EFTYCHIA; FEBEN; HELEN KIRKUM; Labrum London; Matty Bovan; Nensi Dojaka; Per Götesson; Richard Quinn; ROBYN LYNCH; ROKER; S.S.DALEY; SAUL NASH; Stefan Cooke; SUPRIYA LELE; yuhan wang.
Clearpay: Clearpay has partnered this season with ready-to-wear label ROKSANDA to bring digitisation, accessibility and innovation to fashion lovers everywhere. Together, the duo will bring demi couture look from ROKSANDA'S FW22 collection to life in the form of an exclusive NFT, created by the Institute of Digital Fashion, the first of its kind to give consumers access to haute fashion, via Web 3.0. The NFTs will be available for purchase on roksanda.com, and shoppers can pay for them in four interest-free instalments, using their own money, over the course of time through Clearpay. The physical finale look will debut on the runway at ROKSANDA's LFW showcase taking place on Monday 21st February, with the digital version giving the public tangible access to high-end fashion that they previously wouldn't have been able to. Through the creation of the NFT, Clearpay and ROKSANDA are making fashion available to all, while still featuring all the same intricate details and design excellence expected from a physical piece. There will also be an AR component which allows consumers to interact and engage with the piece.
City Wide Celebration: Returning this season is the City-Wide Celebration, a full programme of events and activations open to the public over LFW. Running from Friday 18th to Tuesday 22nd February 2022 alongside the LFW show schedule, City-Wide Celebration unites London in a festival of creativity and innovation. The programme consists of parties, new collection previews, intimate designer Q&As, exclusive fashion week menus, promotions, complimentary gifts and workshops from brands including Browns, Erdem, Gaucho, Lacoste, London College of Fashion,
MATCHESFASHION, Saatchi Gallery, Samsung, Shangri-La the Shard and TONI&GUY. The full
programme can be found on https://justnewsinternational.com/2022/02/11/launch-of-lfw-february-2022-city-wide-celebration/
London City of Circularity: This new film, created by the British Fashion Council, will highlight London as a leader in circular fashion through four key themes: Designing Thoughtfully, Maximising Utilisation, Optimised Sorting & Materials, Reducing Volume. It will promote a collective conscience with a rallying call to action encouraging everyone to get involved and contribute towards positive change. Participants include Edward Crutchley, The Glass Onion, Labrum London, Preen by Thornton Bregazzi and Di Petsa.
The Asahi Shimbun: The BFC has partnered for the second consecutive season with leading Japanese publication The Asahi Shimbun to amplify the LFW digital content to a local audience in Japan and bring the creativity and innovation of British designers part of the LFW schedule to a wider Japanese audience. The Asahi Shimbun will become the London Fashion Week Exclusive Media Partner in Japan and will host a dedicated LFW digital schedule on
www.asahi.com/special/fashion/lfw2022ss/ (to be launched).
The BFC is working closely with the UK Government to ensure that LFW can go ahead safely, according to relevant guidelines. The safety of those working at the event and of all guests is of paramount importance. It is therefore important that the guidelines are adhered to. The latest guidelines can be found on the LFW website and are regularly updated and communicated to the relevant stakeholders.
British Fashion Council and Just News International
acknowledge the support for London Fashion Week. Principal Partner: Clearpay. Official
Partners: Evening Standard, IBM, JD.COM, INC, JOOR, The Londoner, Royal Salute. Official
Suppliers: DHL, Fora, Getty Images. Official Supporters: Department for International Trade, European Regional Development Fund and Mayor of London.
photo courtesy of BFC
@britishfashioncouncil | @londonfashionweek l @clearpay_uk
Kim Grahame