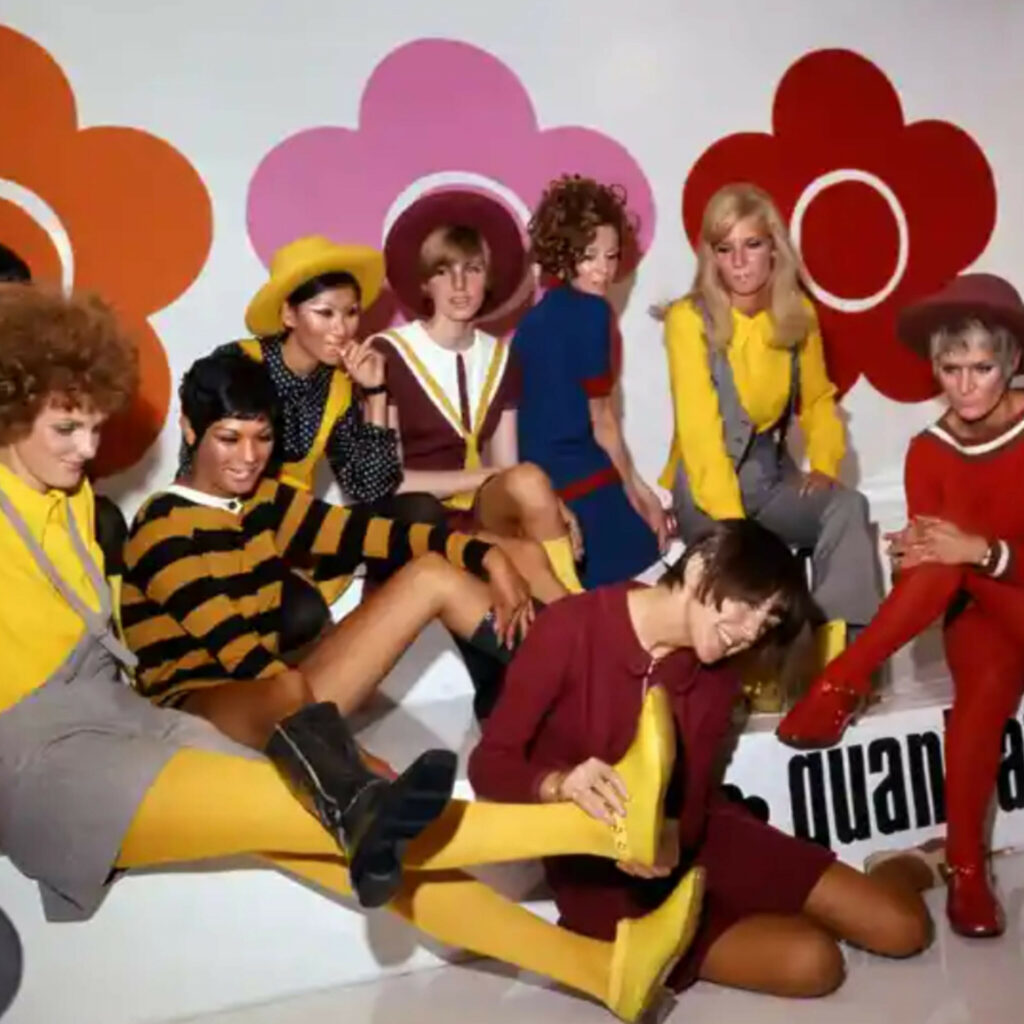 Dame Mary Quant, the pioneering British fashion designer, died aged 93 peacefully at home in Surrey.
Awarded an OBE and Damehood, Mary Quant made a tremendous contribution to fashion helping to define a British identity internationally. She provided a new type of role model for young women which represented the joy and freedom of the 'Swinging Sixties'.
Dame Mary Quant, one of the most internationally recognised and influential fashion designers of the 20th century, opened her first store Bazaar on King's Road, Chelsea in 1955. She spoke of Bazaar as, "…a sophisticated candy store for grown-ups…snobbery has gone out of fashion, and in our shops, you will find duchesses jostling with typists to buy the same dress."
Bazaar was a rare radical London shopping experience with free drinks, loud music and late opening hours.
Former editor-in-chief of British Vogue Alexandra Shulman paid tribute to Dame Mary Quant, writing on Twitter: "RIP Dame Mary Quant. A leader of fashion but also in female entrepreneurship – a visionary who was much more than a great haircut."
The curator of the Dame Mary Quant exhibition at the V&A Museum, Jenny Lister commented that the fashion designer "blasted through barriers of snobbery and tradition….always representing the joyful freedom of fashion in the 1960s… unique sense of humour, style and determination to democratise and share the fun and creativity of her designs….She helped to define Britain's global identity as a centre of street style and innovation, with signature looks such as PVC macs, colourful tights, and the skinny-rib sweater."
The V&A Museum tweeted: "It's impossible to overstate Quant's contribution to fashion.
..She represented the joyful freedom of 1960s fashion and provided a new role model for young women. Fashion today owes so much to her trailblazing vision."
Dame Mary Quant had revolutionised the high street with trousers for women, A line dresses, hot pants, mini skirts and dresses, skinny-ribs, PVC clothing, colourful tights, accessories and make-up. Her daisy brand design became synonymous with the brand.
When discussing the mini-skirt Dame Mary explained that she had named it after her favourite make of car, recalling its "feeling of freedom and liberation".
"It was the girls on King's Road who invented the mini. I was making clothes which would let you run and dance and we would make them the length the customer wanted. ..I wore them very short and the customers would say, 'shorter, shorter'."
In 1930 Mary Quant was born in Blackheath, London. In the 1950s she won a scholarship to the prestigious Goldsmith's College. She met Alexander Plunket Greene at Goldsmiths who she later married. He went on to help her establish her brand and she was married to him until his death in 1990. They had a son, Orlando, who was born in 1970.
Like many of her generation, Dame Mary Quant believed that the hardships endured during the war years helped spark the movement that became the swinging 60s.
"Before, there were 10 years of gloom and despair, when London was a bomb site," she told The Sunday Telegraph. "Nothing moved, nothing happened. And then suddenly the next lot of young people said, 'Enough of this, we're going to do it,' and they did it themselves."
In 2014, Mary Quant was made a dame for services to British fashion in the Queen's New Year Honours list.
Jean Shrimpton, Twiggy, Pattie Boyd and singer Cilla Back were the models that helped to popularise the Mary Quant look. The heady mixture of positive creative music and fashion was at the right time and in the right place and made an indelible imprint on the Sixties.
"I think it was a happy confluence of events, which is really what fashion is so often all about," said Hamish Bowles, international editor at large for American Vogue magazine. "She was the right person with the right sensibility in the right place at the right time. She appeared on the scene at the exact cusp of the '60s."
Fashion designer Jasper Conran pays tribute to his godmother Mary Quant. On his Instagram Jasper comments,
'When my mother was pregnant with me Mary made her maternity dresses herself and so throughout my life and before Mary has been a part of it along with her fabulous husband Alexander Plunkett Greene. They were kind generous Godparents…We would holiday together in the South of France and Mary would come to my shows. Mary.. was conspiratorial FUN and hilarious.. which was reflected in her work…responsible for the liberation of women in the 60s and for that alone she deserves immortality. Goodbye, beloved friend.'
In the Daily Mail, his mother Shirley Conran writes, ' I was 22 when Mary and I met in 1954 in London's boho Chelsea before it became fashionable. Our soon-to-be husbands had been friends at school and all four of us had been to art college. …Mary was naturally in advance of the zeitgeist: she knew when women were about to dump stockings for tights and had a range of colours and patterns waiting. When women wanted to ditch high heels for smart, low shoes, Mary had a terrific range waiting. She seemed to know just what women wanted. '
When asked in an interview in 2012 whether she was ever surprised by her great success she responded,
"I mostly felt, my God, what a marvellous life you had, you are very fortunate,' she said. "I think to myself, you lucky woman, how did you have all this fun?"
' Quant ' directed by Sadie Frost, produced by Kirsty Bell and Ben Charles Edwards is the first official feature documentary celebrating the incredible life of this influential icon. The film features contributions from Kate Moss, Vivienne Westwood, Edward Enninful, Pete Townshend, Dave Davies, Jasper Conran, Charlotte Tilbury and Zandra Rhodes as well as Mary's family and peers.
' Quant ' is streaming on https://www.flicks.co.uk/movie/quant/
by Kim Grahame
Images courtesy PA , WSGN