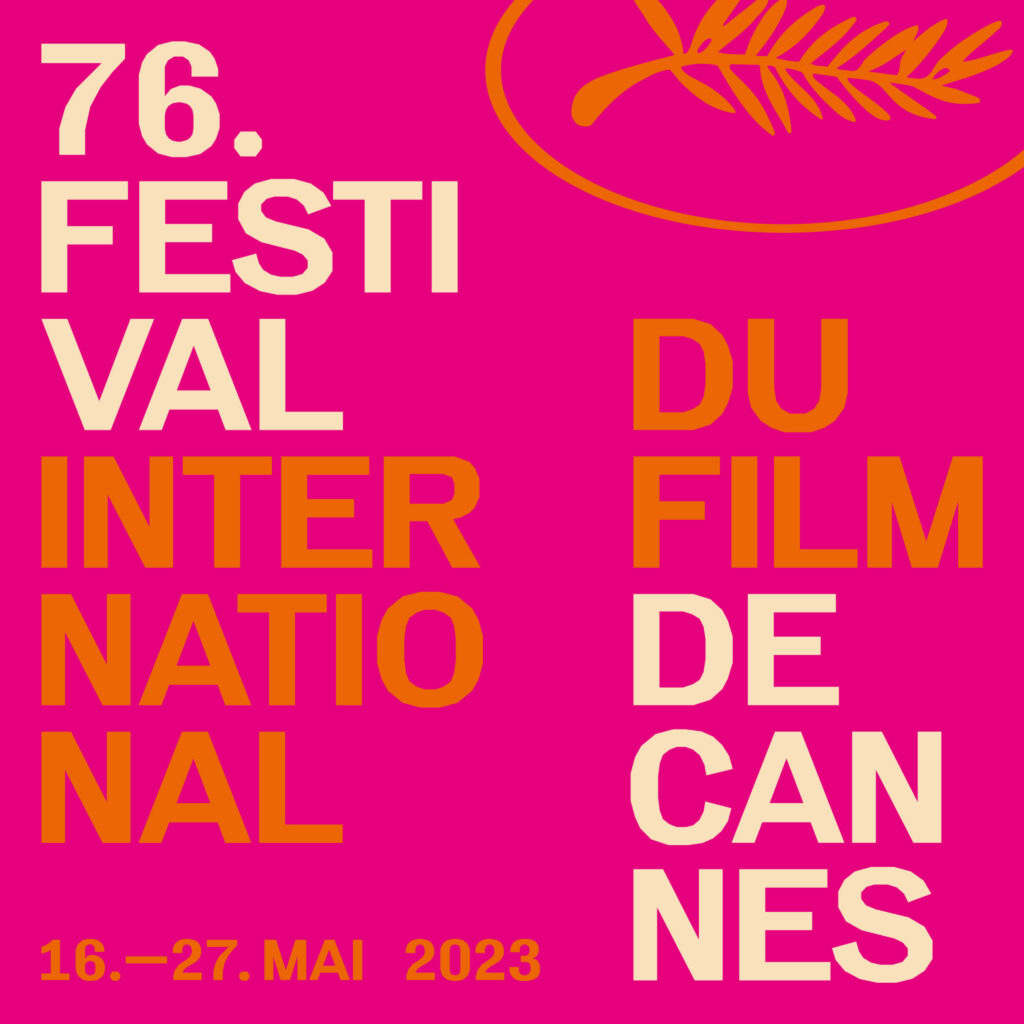 To have a film screening at the Cannes Film Festival is an honour unto itself and to receive an award is highly prestigious, the most sought-after being the best picture award the Palme d'Or.
A celebration of the year's finest films, here is the official selection of the film screenings at the Cannes Film Festival in their categories 'In Competition', 'Out of Competition', 'Un Certain Regard', 'Cannes Premiere', 'Midnight Screening', 'Special Screenings', 'Directors Fortnight' and 'International Critics Week'.
IN COMPETITION
Official Selection of films showing in the competition.
The Festival's main event, films in this category are referred to as being 'in competition' and compete for a variety of awards the most prestigious being the Palme d'Or (Golden Palm) for best picture.
Opening film
JEANNE DU BARRY MAÏWENN Out of Comp
Selection
CLUB ZERO Jessica HAUSNER;
THE ZONE OF INTEREST Jonathan GLAZER;
FALLEN LEAVES Aki KAURISMAKI;
LES FILLES D'OLFA Kaouther BEN HANIA
(FOUR DAUGHTERS);
ASTEROID CITY Wes ANDERSON;
ANATOMIE D'UNE CHUTE Justine TRIET;
MONSTER KORE-EDA Hirokazu;
IL SOL DELL'AVVENIRE Nanni MORETTI;
L'ÉTÉ DERNIER Catherine BREILLAT;
KURU OTLAR USTUNE Nuri Bilge CEYLAN
(ABOUT DRY GRASSES);
LA CHIMERA Alice ROHRWACHER;
LA PASSION DE DODIN BOUFFANT TRAN ANH Hùng;
RAPITO Marco BELLOCCHIO;
MAY DECEMBER Todd HAYNES;
JEUNESSE WANG Bing;
THE OLD OAK Ken LOACH;
BANEL E ADAMA Ramata-Toulaye SY 1st film;
PERFECT DAYS Wim WENDERS;
FIREBRAND Karim AÏNOUZ
OUT OF COMPETITION:
This category of films the Festival feels deserves the honour of screening at Cannes but does not justify a position in the official program as they may not meet the selection criteria.
Films shown here generally do not fit into any other section of the festival and are usually special events.
INDIANA JONES AND THE DIAL OF DESTINY James MANGOLD;
COBWEB KIM Jee-woon;
THE IDOL Sam LEVINSON;
KILLERS OF THE FLOWER MOON Martin SCORSESE
UN CERTAIN REGARD
'Un Certain Regard' is the main showcase section of the Festival and was created to represent certain festival sidebars. There are no awards or prizes as it is intended to be a survey of current world cinema. The festival has announced its intention to return the focus of 'Un Certain Regard' to its roots and bring the work of newer filmmakers to the Cannes audience.
Films that achieve 'official selection' are screened in this section.
Opening Film
LE RÈGNE ANIMAL Thomas CAILLEY Out of Comp;
Selection:
LOS DELINCUENTES Rodrigo MORENO (THE DELINQUENTS);
HOW TO HAVE SEX Molly MANNING WALKER 1st film;
GOODBYE JULIA Mohamed KORDOFANI 1st film;
KADIB ABYAD Asmae EL MOUDIR
(THE MOTHER OF ALL LIES);
SIMPLE COMME SYLVAIN Monia CHOKRI;
CROWRÃ João SALAVIZA, Renée NADER MESSORA
(THE BURITI FLOWER);
LOS COLONOS Felipe GÁLVEZ 1st film (THE SETTLERS);
OMEN Baloji TSHIANI 1st film
(AUGURE);
THE BREAKING ICE Anthony CHEN;
ROSALIE Stéphanie DI GIUSTO;
THE NEW BOY Warwick THORNTON;
IF ONLY I COULD HIBERNATE Zoljargal PUREVDASH 1st film;
HOPELESS KIM Chang-hoon;
TERRESTRIAL VERSES Ali ASGARI, Alireza KHATAMI 1st film;
RIEN À PERDRE Delphine DELOGET 1st film;
LES MEUTES Kamal LAZRAQ 1st film
CANNES PREMIERE
Cannes Premiere is a new section of the festival added in 2021 with the intention of providing a screening opportunity for films that didn't make it into 'Competition' due to the limited number of films allowed in that category.
KUBI Takeshi KITANO
BONNARD; PIERRE ET MARTHE Martin PROVOST;
CERRAR LOS OJOS Victor ERICE ;
LE TEMPS D'AIMER Katell QUILLÉVÉRÉ
MIDNIGHT SCREENING
These are world premieres and the Festival de Cannes reserves several Midnight Screening slots for
cult or genre films.
KENNEDY Anurag KASHYAP;
OMAR LA FRAISE Elias BELKEDDAR;
ACIDE Just PHILIPPOT
SPECIAL SCREENINGS
Special Screenings are for films that do not fit into any of the other categories providing a screening opportunity for these films in the official selection. In the past, this has included feature animated films, documentaries, and at times long-form television content.
MAN IN BLACK WANG Bing;
OCCUPIED CITY Steve MCQUEEN:
ANSELM (DAS RAUSCHEN DER ZEIT) Wim WENDERS;
RETRATOS FANTASMAS Kleber MENDONÇA FILHO
(PICTURES OF GHOSTS)
DIRECTORS FORTNIGHT
The Directors Fortnight category was created with the intention of opening up the Cannes Festival to relatively unknown filmmakers and national cinemas, without concern for budgets or shooting formats.
This category is marking the first edition under the leadership of Julien Rejl as artistic director. Rejl was previously in charge of distribution, international co-productions, and international sales at Capricci, an arthouse French cinema company based in Paris.
This is the most radical of the festival categories.
Opening film
THE GOLDMAN'S CASE Cedric KAHN
Closing Film
IN OUR DAY Hong SANG-SOO
Selection
IN FLAMES Zarrar KAHN;
LEGUA Filipa REIS, Joao MILLER GUERRA;
THE BOOK OF SOLUTIONS Michel GONDRY;
MAMBAR PIERRETTE Rosine MBAKAM;
RIDDLE OF FIRE Weston RAZOOLI ;
THE FEELING THAT THE TIME FOR DOING SOMETHING HAS PASSED Joanna ARNOW;
THE SWEET EAST Sean PRICE WILLIAMS;
A PRINCE Pierre CRETON;
A SONG SUNG BLUE Zihan GENG ;
ABRAHAM'S VALLEY Manoel DE OLIVEIRA ;
AGRA Kanu BEHL ;
THE OTHER LAURENS Claude SCHMITZ ;
INSIDE THE YELLOW COCOON SHELL Thien AN PHAM ;
BLACKBIRD BLACKBIRD BLACKBERRY Elene NAVERIANI ;
GRACE IIya POVOLOTOSKY ;
SHE IS CONANN Bertrand MANDICO ;
CREATURA Elena MARTIN GIMENO ;
DESERTS Faouzi BENSAIDI
INTERNATIONAL CRITICS WEEK
The International Critics Week category is devoted to first and second-time filmmakers. Around a dozen films are selected by a panel of international critics.
Founded by the Syndicat Français de la Critique de Cinéma (Union of French Film Critics), Critics Week is the oldest of the festival sidebars. The International Critic's Week lineup is not yet announced.
By Julius Just