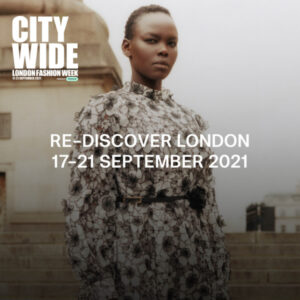 A welcome return for LFW CITY-WIDE CELEBRATION which will run from Friday 17th to Tuesday 22nd February alongside the LFW show schedule and is
open to the public over London Fashion Week.
LFW City-Wide Celebration is launched with a programme of events and promotions taking place throughout London over London Fashion Week. The British Fashion Council announced its launch today and it is presented by Clearpay.
Events, which include parties, new collection previews, intimate designer Q&As, exclusive fashion week menus, promotions, complimentary gifts and workshops, will continue to be
added to the schedule in the run up to LFW. The programme brings together over 150 brands and 350 events, from key
retailers, cultural institutions, designers, restaurants and bars.
Look out for City-Wide activations throughout the city in renowned shopping destinations including Carnaby, Marylebone Village, Seven Dials and Soho.
BOSS
BOSS Store, 178 – 180 Regent Street, W1B 5TW
Friday 18th
-22nd February, 10am – 9pm
BOSS is back and bolder than ever. To celebrate the launch of the Spring / Summer 22
collection, customers will receive a complimentary gift when making a purchase at the
BOSS Store. Terms and conditions apply; ask in store for details.
BRORA
Brora, 81 Marylebone High Street, W1U 4Q
Brora, 6 Symons St, SW3 2TJ
Friday 18th
– Saturday 19th February, 11am – 4pm
Breathe some new life into your well-loved Brora jumpers with the talented seamstress
Shelley from @_sewingsmith_ showing you how to 'stitch it rather than ditch it', bringing a
new lease of life to your favourite knitted garments. Brora are also offering cashmere
recycling for garments that are beyond repair. Bring your old Brora cashmere in and
exchange it for a £25 voucher to be used in-store or online.
BROWNS
Browns Brook Street
17th February – 5th April 2022
Arcade Collection At Browns Brook Street
For LFW, we are showcasing Arcade Collection, a curation of unique and limited-edition
furniture commissioned by Relay Design Agency. Championing Charlotte Kidger, Jochen
Holz, Altrock, Rebar and Silo, we've reunited with old friends and welcomed new ones to
showcase this season's shoes and accessories from some of our favourite brands.
Browns East
16th February – 22nd March 2022
The Back of My Eyelids By Lucy Gregory At Browns East
In celebration of LFW, we commissioned emerging London-based artist Lucy Gregory to
create a sculpture which encourages a moment of meditative calm and contemplation
during one of the busiest times of the year.
ERDEM
Erdem, 70 South Audley Street, W1K 2RA
Friday 18th February – Tuesday 22nd February, 9am – 6pm
Visit the Erdem store on South Audley Street throughout LFW to discover the first Men's
Collection and shop the Pre-Spring 2022 collection. Customers can enjoy a complimentary
gift with purchase.
FASHION SCHOOL
Fashion School, Atlantic Court Floor 2, 73 – 77 Kings Road, SW3 4NX
Saturday 19th February, 10.30 am – 12.30 pm and 1.30 pm – 3.30 pm
Fashion School students, alongside expert tutors, are hosting two customisation workshops
for children aged 10 – 15 years. Bring along a pre-loved garment such as a hoodie, t-shirts,
sweatshirt or denim and learn skills to revamp them into something uniquely you.
FOOT LOCKER
Foot Locker, 544-550 Oxford Street, W1C 1XL
Saturday 19th February, 1pm – 6pm; Sunday 20th February, 1pm – 5pm
During the LFW City-Wide Celebration, Foot Locker is proud to be partnering with FRE
Customs to provide exclusive sneaker customisation, sponsored by Clearpay. Drop by their
Marble Arch store on 19th and 20th of February for the chance to get your kicks
customised.
FRENCH CONNECTION
French Connection, 55 Duke Street, W1K 5NR
Saturday 19th February, 12pm – 4pm
Celebrate LFW by joining the French Connection SS22 Shopping Event and enjoy some
retail therapy with complimentary treats and drinks in hand. The event will include
complimentary manicures with Pamper Puff, candle painting workshops with Bable, drinks,
live DJ, competitions and goody bags.
GAUCHO
Gaucho, 60A Charlotte Street, W1T 2NU.
Friday 18th – 22nd February, 12pm – 9pm
Gaucho Charlotte Street are celebrating LFW in style by offering an exclusive menu with
virtual shows being screened throughout the week. Guests are invited to relax and sample
tailor-made offerings with a delectable selection of cocktails to round off the celebrations.
LACOSTE
Lacoste, 233 Regent St., London W1B 2EQ
Lacoste 6 James St, London WC2E 8BH
Lacoste, 44 Brompton Rd, London SW3 1BW
Friday 18th – 22nd February, 9am – 6pm
Visit LACOSTE this LFW for late night shopping and you will receive 20% off plus a
complimentary gift with purchase on the new womenswear collection. Enter a prize draw
to win a £500 voucher to spend on the Fashion Show SS2022 collection.
LONDON COLLEGE OF FASHION
London College of Fashion, Victoria House Basement, WCQ
Saturday 19th February, 12pm – 6pm
London College of Fashion presents LCFMA22 an exhibition and showroom which presents
world class postgraduate students showcasing work from across LCF's portfolio of
postgraduate courses. Featured work from Menswear and Womenswear designers, with
live models. Access the exhibition to see the latest footwear, artefacts, fashion film, fashion
photography and more.
MATCHESFASHION
MATCHESFASHION, 5 Carlos Place, W1K 3AP
Friday 18th
– Tuesday 22nd February, 10am – 5pm
Raey is partnering with the world's first zero waste restaurant Silo for LFW. The pop-up is
a collaboration between Rachael Proud and founder of the Silo, chef Douglas McMaster
and celebrates their aligned environmental values. Come down to Raey café by Silo to
enjoy an offer a zero waste breakfast, lunch and afternoon menu.
PARK CHINOIS
Park Chinois, 17 Berkeley Street, W1J 8EA
Friday 18th
– Tuesday 22nd February, See website for timings
Enjoy 10% off food as Park Chinois brings its vibrant and convivial world alive with the
very best in Chinese dining and experiential moments from chef to show.
PUMA
Puma, 52-55 Carnaby Street, W1F 9QE
Friday 18th
– Tuesday 22nd February, 10am – 7pm
Arriving this LFW, join Puma at their London Carnaby Street store for the launch of the
exclusive PUMA High court collection, coached and designed by iconic stylist and Creative Director, June Ambrose. The PUMA High Court collection is the embodiment of women's
bold energy and refusal at being treated anything less than equal. Enjoy 20% off in-store.
SAATCHI GALLERY
Saatchi Gallery, Duke of York's HQ, King's Rd, SW34RY
Friday 18th – Tuesday 22nd February, 10am – 6pm
Bob Marley: One Love Produced by Terrapin Station Entertainment, the Marley family &
Senbla.
This first of its kind exhibition will honour the legacy of Bob Marley in his second home of
London. The exhibition will showcase unseen Marley photographs & memorabilia whilst
immersing visitors on a journey through his lifestyle, passions, influences, & enduring
legacy. Venture through the One Love Forest, visit the Soul Shakedown Studio & delve into
the multi-sensory experience celebrating one of the world's most beloved & unifying
musical figures.
SALVATORE FERRAGAMO
Salvatore Feragamo, 24 Old Bond Street, W1S 4AL
Friday 18th – Saturday 19th February, 10am – 6pm
Salvatore Ferragamo welcomes you to enjoy a special moment based on Italian
elegance, creative innovation and saviour-faire commitment to craftsmanship. Join the in-
store cocktail party celebrating the new SS22 collection, with a photographer capturing
souvenir pictures for you to take away and remember the moment. Enjoy a live
performance by Italian jazz musician Noemi followed by a DJ set and Mediterranean
inspired food, sweet treats and an Italian aperitivo served at Bar Splendid. Customers
will receive an exclusive personalised bag with a special gift inside.
SAMSUNG
Samsung KX Coal Drops Yard, London N1C 4DQ
Friday 18th
– Tuesday 22nd February, 11am – 7pm
Official Partner of LFW, Samsung will be showcasing LFW highlights in their KX store. They
will also be showing exclusive behind the scenes content from an exciting new partnership
with Charles Jeffrey.
SHANGRI-LA THE SHARD
Shangri-La The Shard, 31 St Thomas Street, SE1 9QU
Friday 18th
– Tuesday 22nd February, 6am – 9pm
Relax amongst the clouds and escape from the city with a Sky Pool Pass, providing you
with access to the highest hotel Sky Pool in Western Europe. Compliment your Spa Day
with lunch at TING Restaurant on level 35 with a £50 complimentary credit voucher.
SOPHIA WEBSTER
Sophia Webster, 86 Sloane Avenue, Chelsea, SW3 3DZ
Friday 18th February, 11am – 6pm
Attend a VIP Preview of the Sophia Webster x Loveshack Fancy SS22 collection taking
place at the Sloane Avenue Boutique on the Friday of LFW.
THE LONDONER
The Londoner, 38 Leicester Square, WC2H 7DX
Friday 18th – Tuesday 22nd February
As the official hotel of LFW February 2022, The Londoner is the perfect place to stay during
the event. From design details to works of art, the fashion motif has found may expressions
at The Londoner. Intimate and eclectic experiences come to life across 16 storeys at this
super boutique hotel – a place where people from around the world come together to
enjoy the enduring allure of the West End. This fashion week, guests will receive 10% off
stays at The Londoner, with access to The Retreat and The Residence – three beautifully
designed spaces for residents only. Discover The Londoner.
TOAST
Toast, 2 Newburgh Street, Carnaby, London W1F 7RD
Friday 18th – Tuesday 22nd February, 11am – 6pm
Repair specialists will be available in your local TOAST Shop for drop-in consultations.
They will suggest a variety of creative mending options to repair and renew a cherished
TOAST item. Each visitor on the day will have the opportunity to enter a prize draw to win
a copy of Sofi Thanhauser's new book, Worn, which explores how everyday garments
have transformed our lives, societies, and planet.
TONI&GUY
See website for participating stores
Friday 18th
– Tuesday 22nd February, 9am – 8pm
Visit TONI&GUY for a catwalk ready blow-dry, a new trend cut and colour or a fashion
week up-do and receive a free label.m styling product prescribed by your hairdresser.
TRACEY NEULS
Tracey Neuls, 29 Marylebone Lane, W1U 2NQ
Friday 18th – Tuesday 22nd February, 10am – 6pm
To mark the brands 20th-anniversary celebrations, iconic footwear designer Tracey Neuls
invited fellow shoe aficionados to submit designs to adorn her signature, long standing
Geek Sneaker. One lucky winner was offered the chance to have their design printed and
produced into` a collectable Limited Edition series. The winning entry was submitted by
artist Keira Rathbone – outstanding due to her innovative use of a manual typewriter as a drawing tool. Creating a retro office mis on scene, Tracey Neuls' original boutique will display the final shoe whilst offering iconic office drinks of tea, coffee and whiskey all day long. Step into a world of typewriters, shoes, and the office as it used to be.
The BFC acknowledge Marylebone Village and The Shaftesbury Estate for their involvement in this initiative.
BFC and Just News International acknowledge the support of the BFC partners for London Fashion Week. Principal Partner: Clearpay.
Official Partners: Evening Standard, JD.COM, INC, JOOR, Royal Salute, Samsung, The
Londoner, TONI&GUY. Official Suppliers: DHL, Fora, Getty Images. Official Supporters:
Department for International Trade, European Regional Development Fund and Mayor of
London.
CARNABY
Carnaby is a central London destination spread across 14 streets with an incredible atmosphere that boasts a diverse and eclectic
collection of retailers, bars, pubs, and restaurants, all within walking distance of Oxford Circus and Piccadilly tube stations. With over 100
independent and worldwide retailers alongside more than 70 restaurants which spans across 30 different cuisines. Carnaby includes the
creative shopping hub, the Newburgh Quarter parallel to Carnaby Street with an exclusive and independent restaurant and retail offering
and famed foodie courtyard Kingly Court, where you can explore 25 foodie concepts. Expect to discover a series of promotions, in store
activations and discounts from Carnaby brands throughout the LFW City wide campaign.
Carnaby.co.uk / @CarnabyLondon
MARYLEBONE VILLAGE
Marylebone Village is located in the heart of central London. It is a true urban village, where culture and businesses thrive, and the
community blossoms. Marylebone Village boasts a diverse and impressive collection of retailers, galleries, bars, pubs and restaurants all set within a grid of Georgian streets. For the first time this year, Marylebone Village will become an official partner of London Fashion
Week's LFW City Wide Celebration & to help celebrate a selection of Marylebone Village's most coveted boutiques and brands will be
taking part with in-store events and panel talks, discounts, gifts with purchase, new collection previews and more.
www.marylebonevillage.com / @MaryleboneVillage
SEVEN DIALS
Seven Dials is proud to support LFW's City Wide campaign bringing a range of exclusive events and offers to the area to celebrate the rich
creativity and culture of London's most loved brands. In the heart of London's West End, SevenDials is home to a curate line up of British
independent and international flagship fashion brands including Emin + Paul, Colorful Standard, L'Estrange, Nudie Jeans, Billi London,
Diesel and Rains. Expect everything from SS22 and AW22 previews to one-of-a kind concept stores, alongside too-good-to-miss discounts
dotted around our seven streets this London Fashion Week, all whilst discovering finely curated menus from award-winning chefs and
cuisines from all over the world.
www.sevendials.co.uk / @sevendials
SOHO
Soho is the creative hub of London's West End with a vibrant mix of independent and concept fashion stores, tailors, record stores,
restaurants and bars. The area is bustling with one-off concepts, exciting nightlife, unique restaurants and exclusive retailers. Soho has
always been a firm favourite for fashion lovers and foodies across the world. Throughout the LFW City wide campaign discover a range of
experiences, promotions, gift with purchase and in-store activations in some of Soho's most sought after retailers and restaurants.
ThisIsSoho.co.uk / @ThisIsSoho
With thanks to:
Anglo-Italian, Anya Hindmarch, Aubin, Aubaine, Bar Crispin, Belmond, Bloobloom, BOSS, Boux Avenue, Brora, Browns, Byredo, Diesel, Dinny Hall, Dirty
Bones, Dune, Duck&Dry, Dunno Curated, EMIN + Paul, Erdem, ES Magazine, Escada, Eskander, Fabric Floor, Fashion School, Flesh and Buns, FRE
Customs, Folie, Footlocker, Footpatrol, Free People, French Connection, French Sole, Fresh, GANNI, Gaucho, Gladstn, Han Kjobenhavn, Hanna Fiedler,
Isabel Manns, Jessie Western, Jinjuu Soho, JW Anderson, John Bell & Croyden, John Lewis and Partners, Just Hype, Kastur Jewels, Kricket Soho,
Lacoste, LIVY, LN-CC, London College of Fashion, Luca Faloni, LUMAS galleries, Mannette Street Gallery, Matches, MC Overalls, Michael Kors,
Mulberry, Monsoon, MUHLE, My Wardrobe, Nobody's Child, Ollie Quinn, Park Chinois, Pastaio, Preen by Thornton Bregazzi, Polpo, Puma, Raeburn,
Raffles, Rachael Proud, Really Wild Clothing, River Island, Rixo, Rosewood London, Raey, Ron Dorff, RS No 9 Carnaby, Saatchi Gallery, Salvatorre
Feragamo, Sevda, Seven Park Place by William Drabble, Shangri-La The Shard, London, Silo, SOMA soho, Sophia Webster, Steamroom, Stork, Sweaty
Betty, Tamman, Tatty. Devine, The Berkeley, The Cadogan, a Belmond Hotel, London, The Londoner, Toast, Toni and Guy, Too Faced, Tracey Neuls,
Vivienne Westwood, War Paint for Men, WatchHouse, Whistles, WYSE London, Woodwood, Yogi-Bare.
Kim Grahame