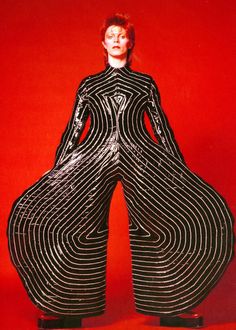 Kansai Yamamoto was an internationally renowned avant-garde Japanese fashion designer with numerous awards to his name including the Tokyo Fashion Editors award and the Good Design Award. He is one of my favourite designers and will be greatly missed. Kansai has been such a major influence on so many creatives including David Bowie.
Kansai was renowned for his stunning designs and has toured the world showcasing his work at fashion collections in London, New York, Paris and Tokyo. He was a founding board member of the Tokyo Fashion Designer Committee.
Kansai debuted in London in 1971 as the first Japanese designer to present a fashion show outside of Japan, which brought him great international acclaim. His models would do kabuki-inspired moves in Kansai's designs that were exciting and original.
Kansai had long-lasting friendships with some of the world's most successful and influential musicians, including Elton John, Stevie Wonder and the late English singer-songwriter David Bowie, whose alter-ego Ziggy Stardust wore Yamamoto's bold and futuristic outfits for his 1972-73 Aladdin Insane Tour.
Kansai Yamamoto devised some of Bowie's most iconic stage outfits, and in the 1960s the singer studied dance with Lindsay Kemp, a UK performance artist who was influenced by kabuki theater with its exaggerated gestures, elaborate costumes and makeup, and onnagata actors—men playing female roles.
This training with Kemp inspired Bowie's love of Japanese fashion, theatre, music and art as he explored ideas of masculinity, exoticism, and alienation.
The androgynous rocker himself has acknowledged that his friendship with Lindsay Kemp was a turning point that changed his life.
Costuming by Kansai in a V&A retrospective of Bowie's career reflected the postwar period of rapprochement between Japan and the West. "Space Samurai" is a satin-and-sequin jumpsuit complete with hakama, the split-skirt associated more with martial arts practitioners than rock stars. The wearing of exotic, spacey, Japan-inspired outfits by Bowie-as-alien Ziggy Stardust put Japonism center stage in the fashion scene of the West, placing a seal of approval on inspirations from Japan, which in the early '70s was still considered an indecipherable, alien nation.
Some of Kansai's most distinctive designs were the iconic sculptural taylorings that enveloped the body.
'In Japan the word BASARA means to dress freely, with a stylish extravagance. BASARA is the opposite of the Japanese wabi-sabi aesthetic, which is underplayed and modest; it is colourful and flamboyant and it lies at the heart of my design.'
Kansai Yamamoto
"He left this world peacefully, surrounded by loved ones," his daughter and actress Mirai Yamamoto said on Instagram.
"In my eyes, my father was not only the electric and energetic soul that the world knew him as but someone who was also thoughtful, kind-hearted, and affectionate," she said.
"As he fought his illness, he remained always positive, never lost his passion towards creation, and was strongly determined to recover and come back with fully-charged energy to see you again," his company said in a statement. "'Human energy is limitless' was his motto he would never let go, and he bravely kept challenging no matter how hard the situation."
His office said a public farewell will be held in the future after close discussion with his family and taking the coronavirus situation into account.
written by Kim Grahame
@kansai_yamamoto_official
@miraiyamamoto_official
@lindsaykempco
@jpflondon