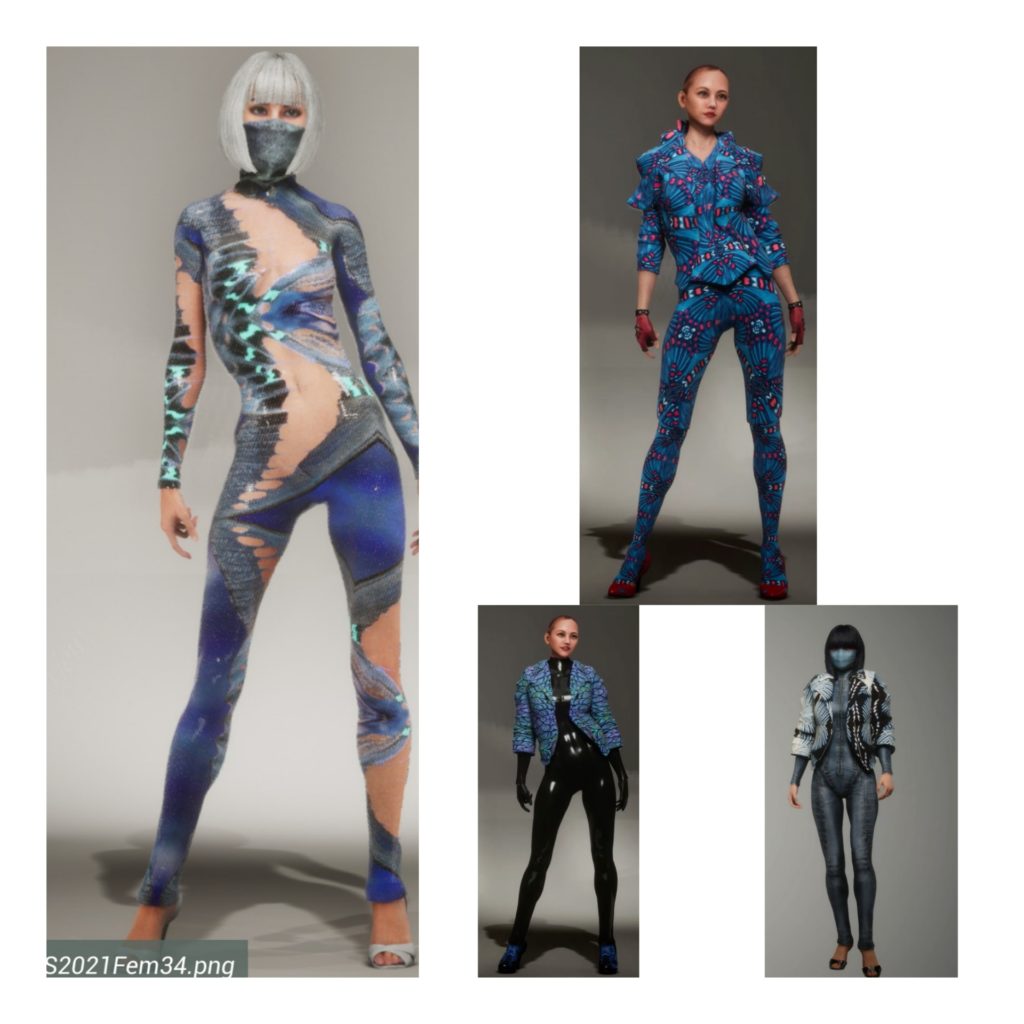 Malan Breton celebrates June's 'Virtual Fashion Week' during the pandemic, with his CGI avatar models, created for his stunning global runway show from London, on 11 June 2020.
Malan Breton's digitally generated collection looks to the past and future of aerospace whilst incorporating his traditional chiffons, leathers, brocades, organza's and summer weight wools. The fabrics are woven using textures of butterfly wings and flowers of the earth such as artichoke flower, plumeria and ginger. These are plants and insects that are related to health, ascension and immortality. There are bold and imaginative prints that flatter and tease the eye. Malan's signature colour, Breton Blue features heavily throughout the 'Immortal' collection, a colour symbolic of peace.
Separates with clean lines combined with easy-to-wear tailoring are designed meticulously to incorporate into your pre-existing wardrobe. Sexy catsuits with figure flattering prints show a strong presence with masks that seamlessly accessorize.
Malan Breton is one of fashions brightest lights and is well known for highlighting humanity and diversity. This season Malan Breton partners with Asian, African, European and American fashion weeks and media outlets.
Known for sending large ornate collections down the runways of the world multiple times a year, Malan Breton has never shied away from putting on glamourous events filled with a sea of familiar names from the fashion and entertainment industries. In this period of isolation, Breton turned inward to reminisce on things that inspired him through his life: music, art and nature. Breton says, "In moments of solitude I would listen to the ethereal music of Efisio Cross, and meditate, and sketch". The music for this VR show was written by this French composer (video below ). All looks virtually generated for the show will be available to purchase off the virtual runway through the on-screen boutique.
This global outing for SS 2021 is his soliloquy to a new world, a world of new hope, new ideas and inner beauty.
www.malanbreton.com
photos courtesy of POP PR
@malanbreton
@lordbreton @londonfashionweek
@pop_pr_ @dnablock.ai @jia.model
written by Kim Grahame