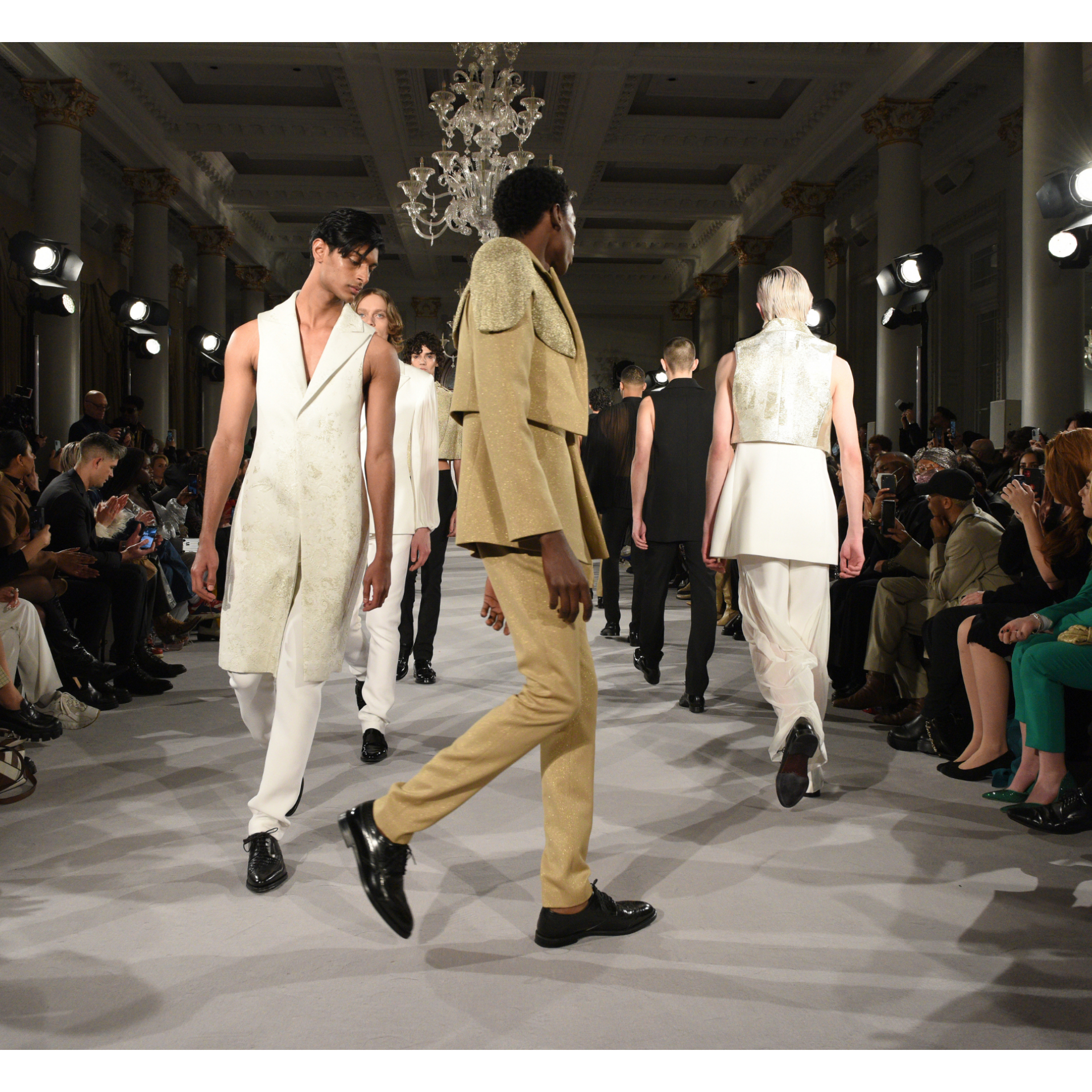 Kaushik Velendra is a cutting-edge luxury menswear fashion designer based in Mayfair, London. Kaushik Velendra has an instinctive appreciation for impactful clothing. 'Power dressing for the people and tailoring for the future' is how Velendra describes his brand's DNA.
For his Autumn Winter 2022 collection, Kaushik invited everyone 'to dream and be part of a loving, inclusive and diverse future'. His collection is created to celebrate all the special moments in life.
Kaushik continues to draw inspiration from all walks of life, all ethnicities, all genders keeping diversity and inclusion at the core of his collection. Kaushik opened his show with a non-binary model wearing one of the statement pieces from the collection. This season thirty different nationalities were represented in his showcase.
Kaushik's signature silhouette was present throughout with voluminous rounded power shoulders and romantic draping. His strong tailoring and clean lines using traditional tailoring and the latest innovation in fabric and construction, make for a red-carpet ready collection. The fabrics, silhouettes and techniques used in Kaushik's collections continue to draw inspiration from all over the world, from Indian brocades and French embroidered brocades to Italian worsted wools. The collection pays homage to diverse cultures and celebrates Indian craftsmanship.
The look of the collection included sharp suits, jackets with gathered chiffon sleeves, gathered chiffon panels in matching trouser legs and sleeves of jackets, gold velvet pants with a sharp tailored coat, a heavily embellished armour-shape moulded top, armour- shape moulded decorative short tops and a French brocade suit comprising of ample shaped trousers, sleeveless knee length white coat and a short waistcoat with wide lapels worn on top.
Forging a new paradigm of traditional tailoring combined with innovative construction, Velendra continues to showcase a refreshing and inclusive vision. His trailblazing collections are reshaping modern menswear.
Having founded his label in October 2019, Velendra presented his first collection the following January and was a finalist for the LVMH prize soon after. He recently had his Mayfair Atelier launch party after relocating from Hoxton Square in a studio previously occupied by Alexander McQueen. The Atelier in Brook Street, Mayfair is in an area well suited to his clientele.
"It's a creative safe space," the designer says, revealing that the label plans to hold monthly events to educate students on comprehensive brand operations, including plans to run mentorship programmes with the involvement of celebrity clients, who will be invited to speak.
Kaushik Velendra decided during the pandemic, to expand his brand into ready-to-wear affordable and accessible garments. Nevertheless, they are predominantly a couture power dressing brand.
Kaushik Velendra after showcasing his collection during London Fashion Week at The Langham Hotel hosted an after party with music provided by DJ Fat Tony. Guests in attendance included Ajak Deng, Zinnia Kumar, Anjali Torvi, Brett and Scott Staniland, Donel, Callum Mullin, Reece Clarke, Cinderella Balthazar, Rahi Chadda, Danielle Marcan.
Kaushik Velendra was the first Indian-born graduate from the prestigious MA Fashion program at Central Saint Martins and has since dressed for the BAFTAs, Grammys, and Bollywood Filmfare. He has dressed many celebrities including Daphne Guinness, Tom Daley, Priyanka Chopra, Ranveer Singh, Karen Elson, Kelly Rutherford, Daniel Lismore, the first non-binary artist Blu Del Barrio from Star Trek and Jeremie Irvine.
Kaushik Velendra has talent, humanity, and a world vision. He is definitely a designer I shall continue to watch out for.
by Kim Grahame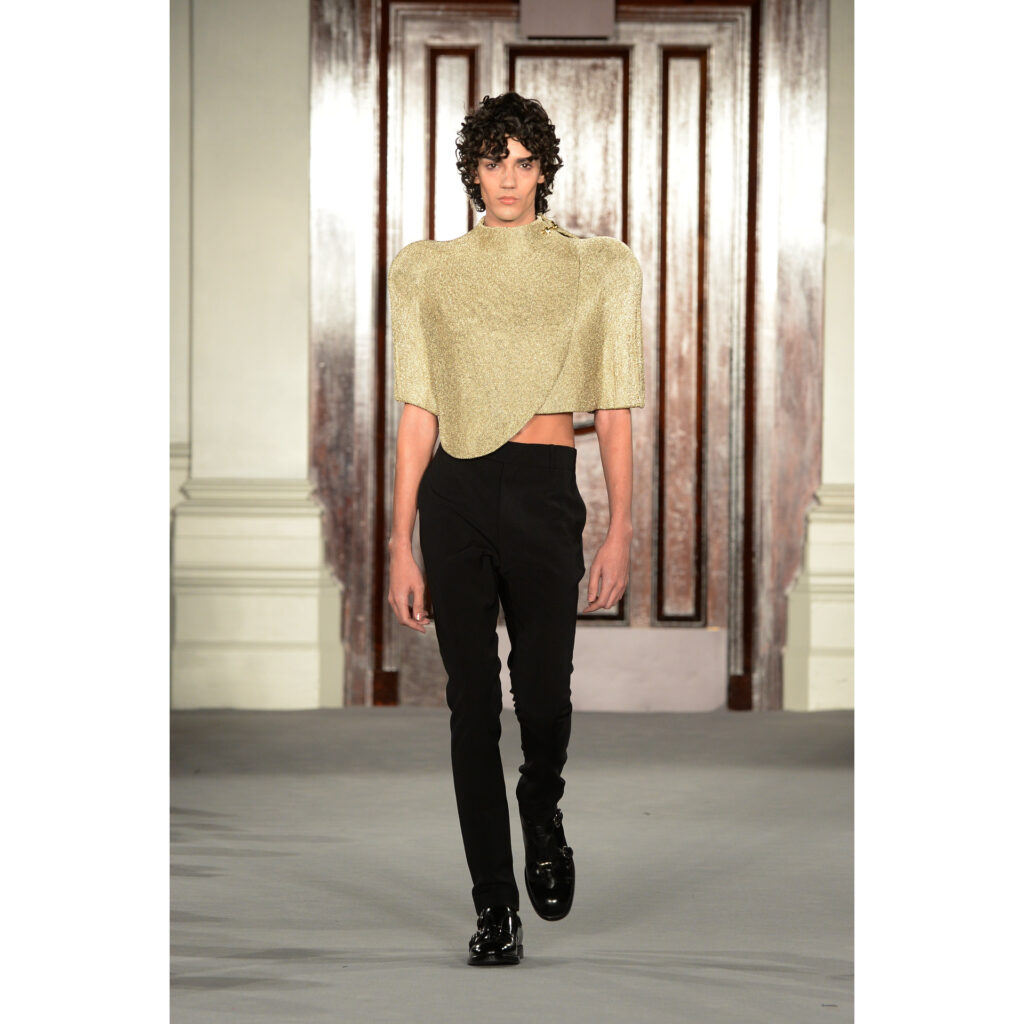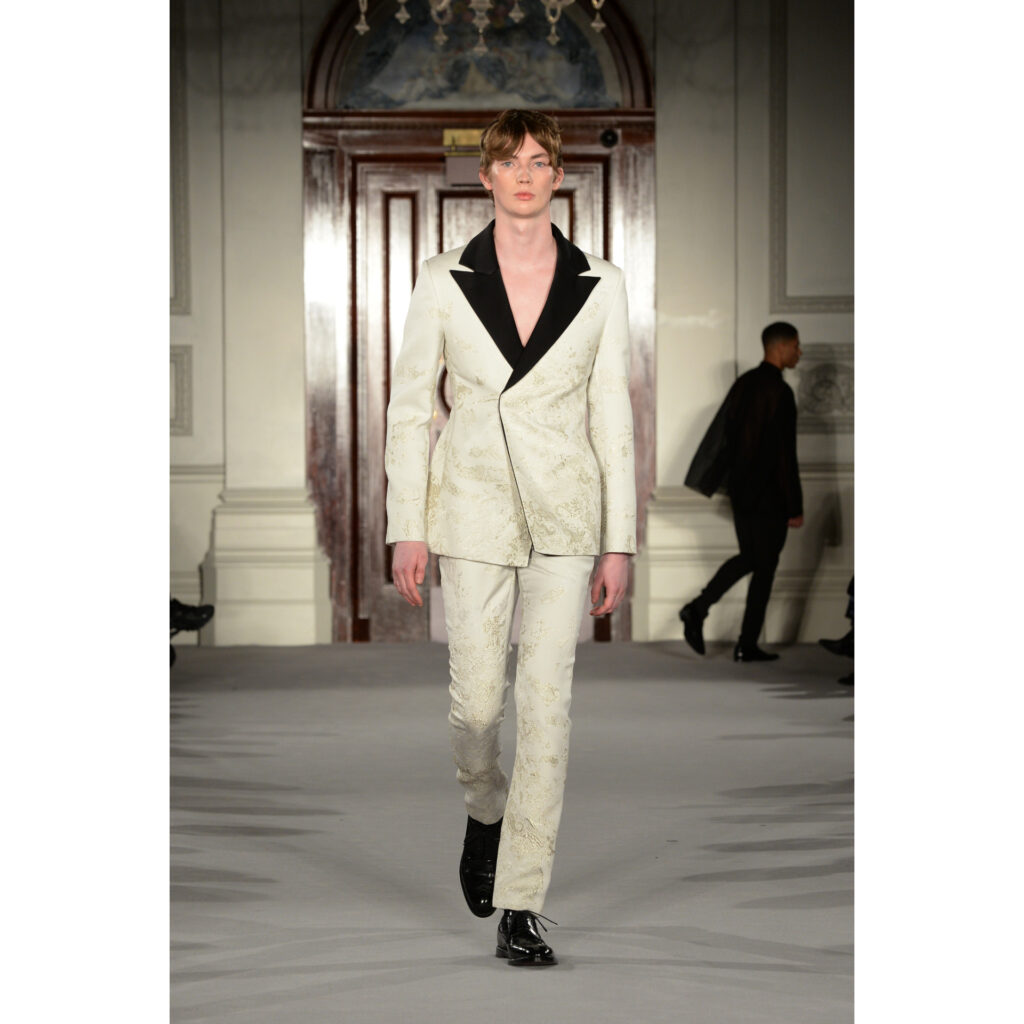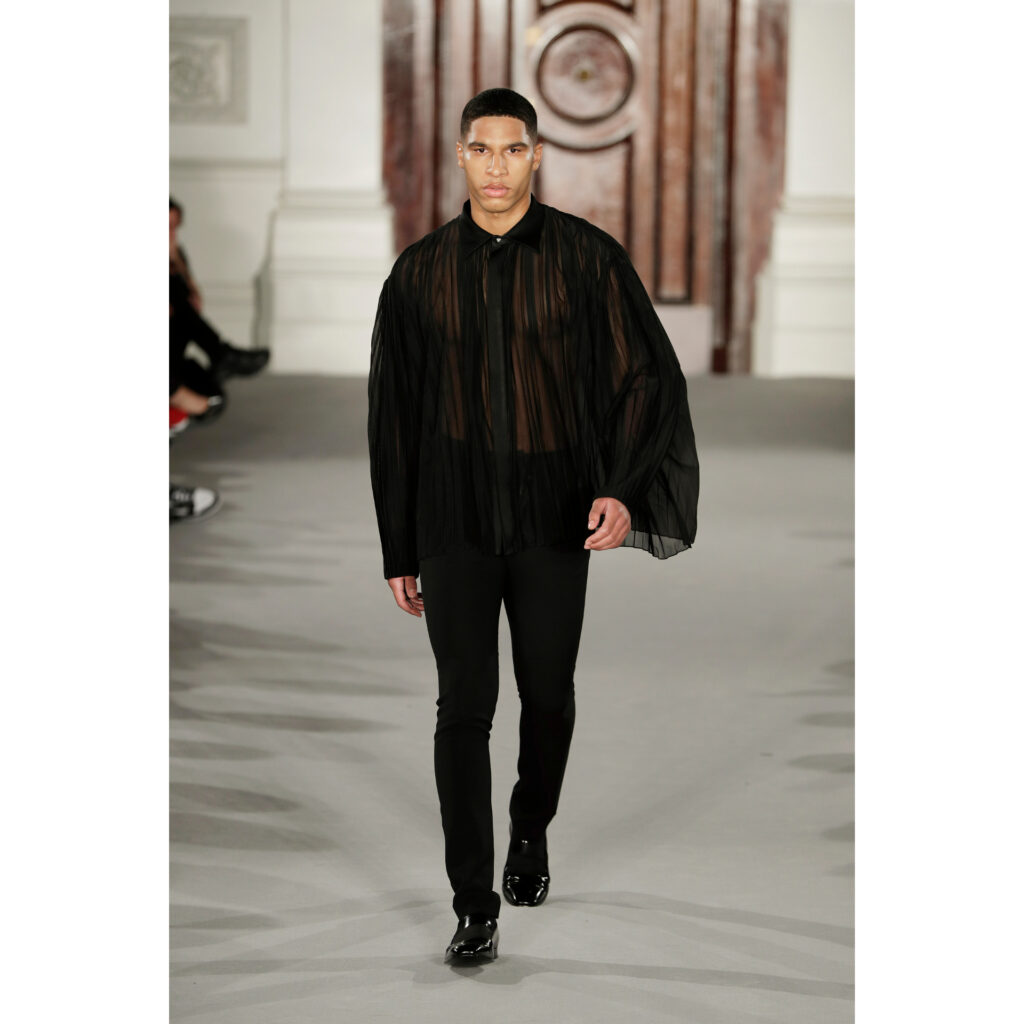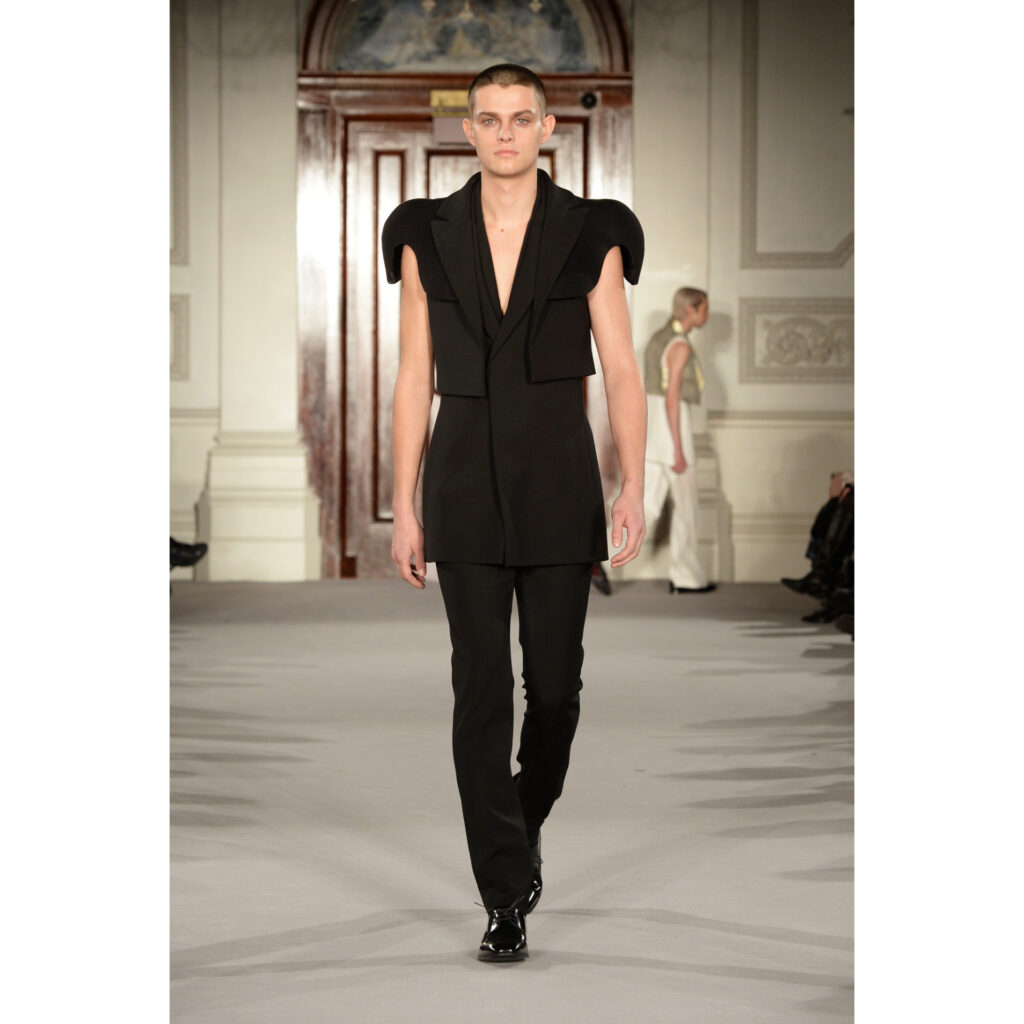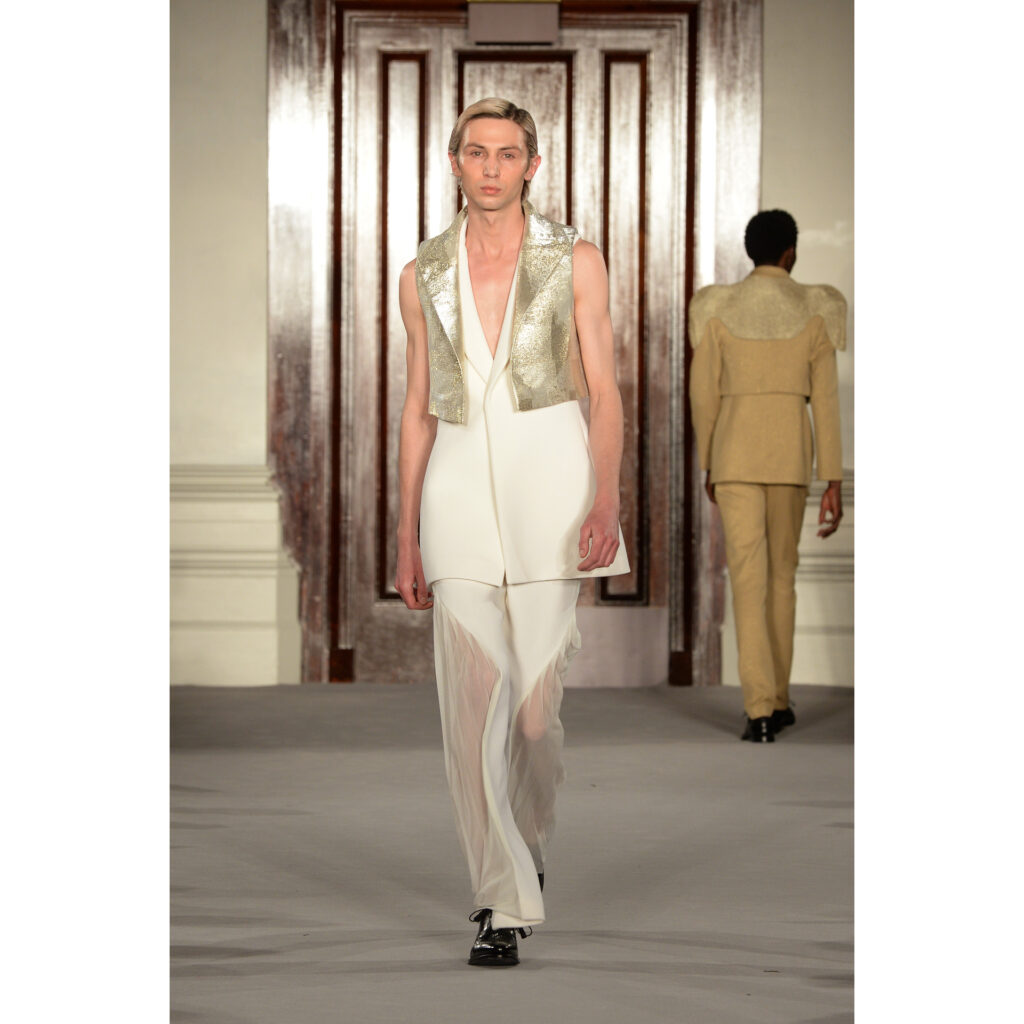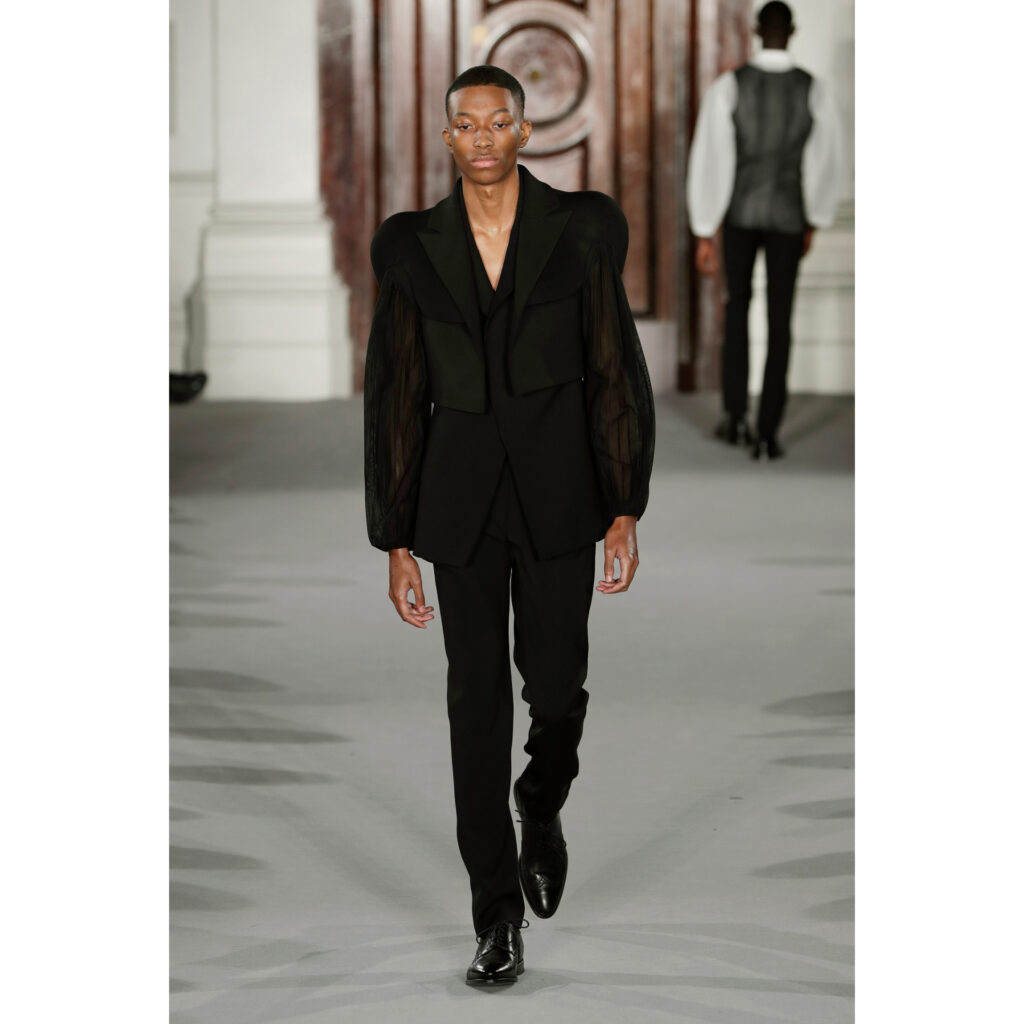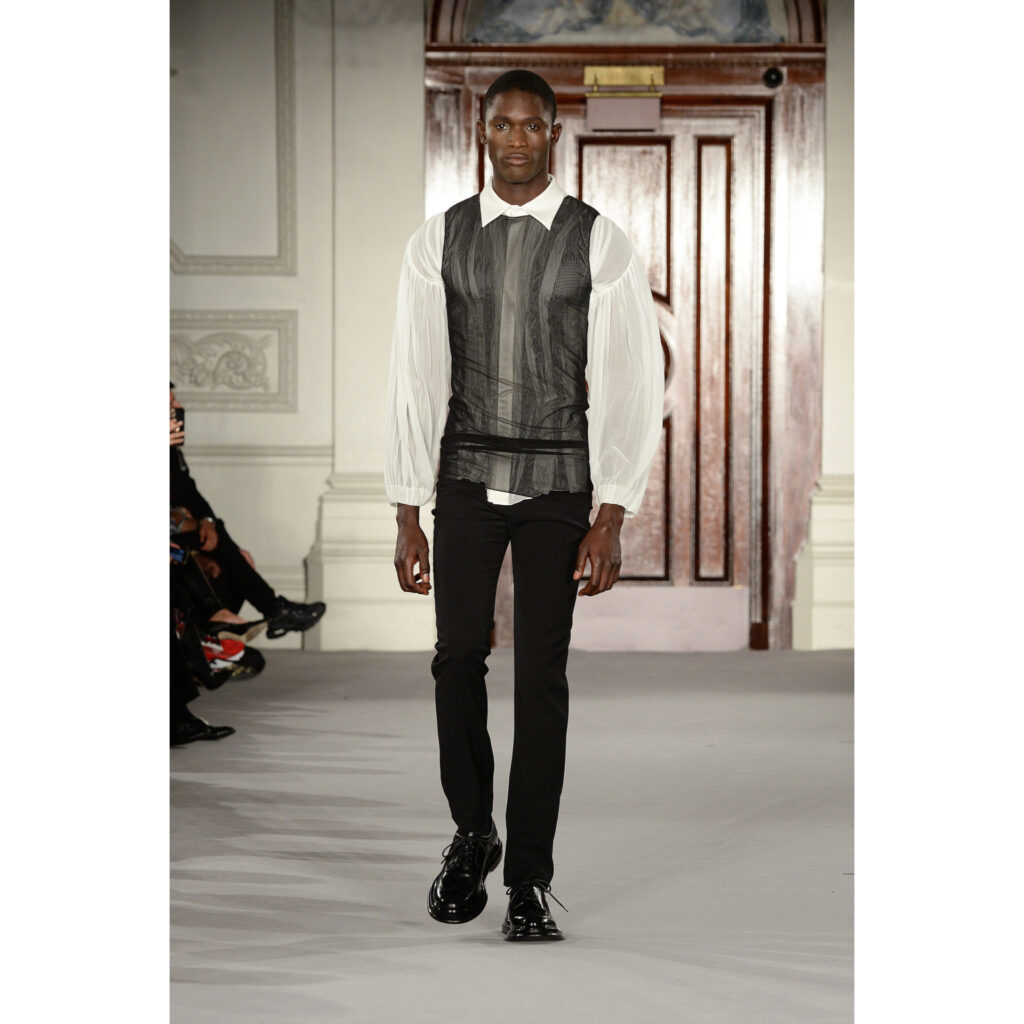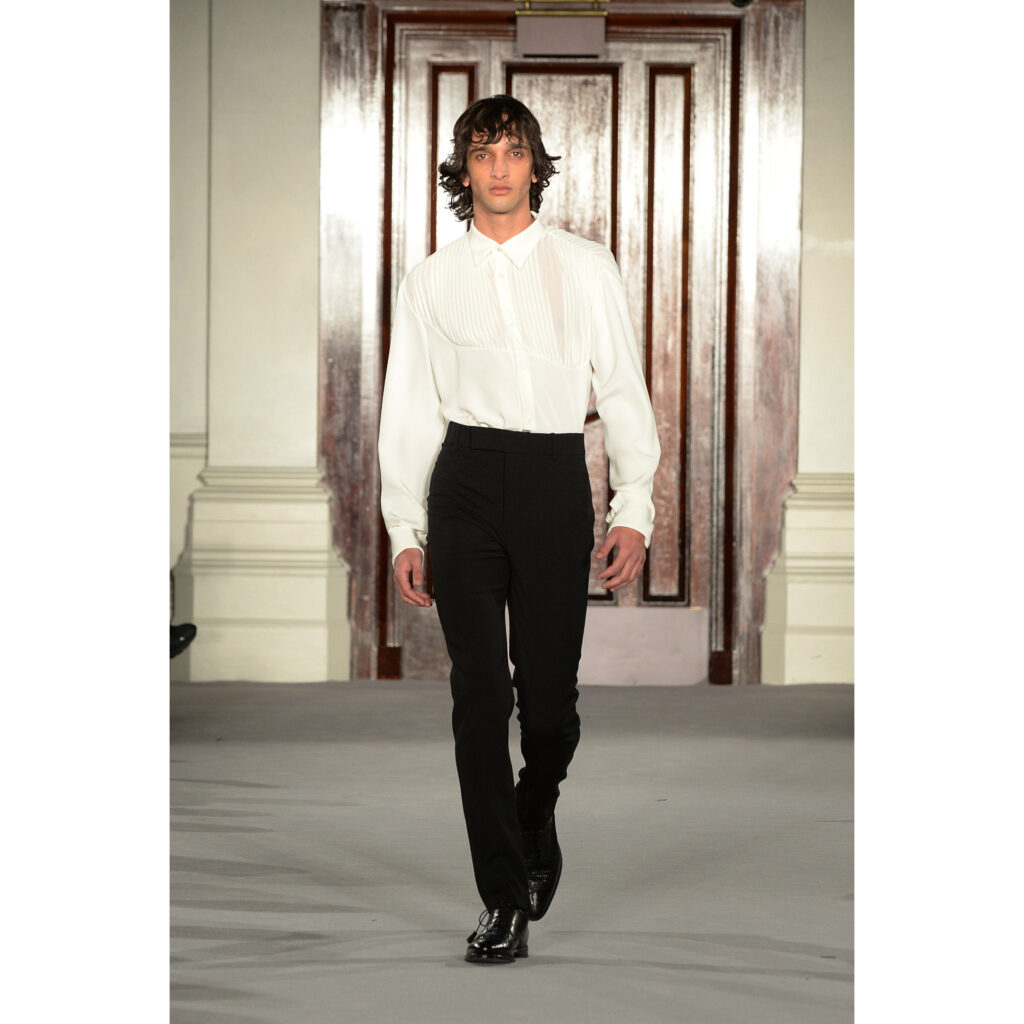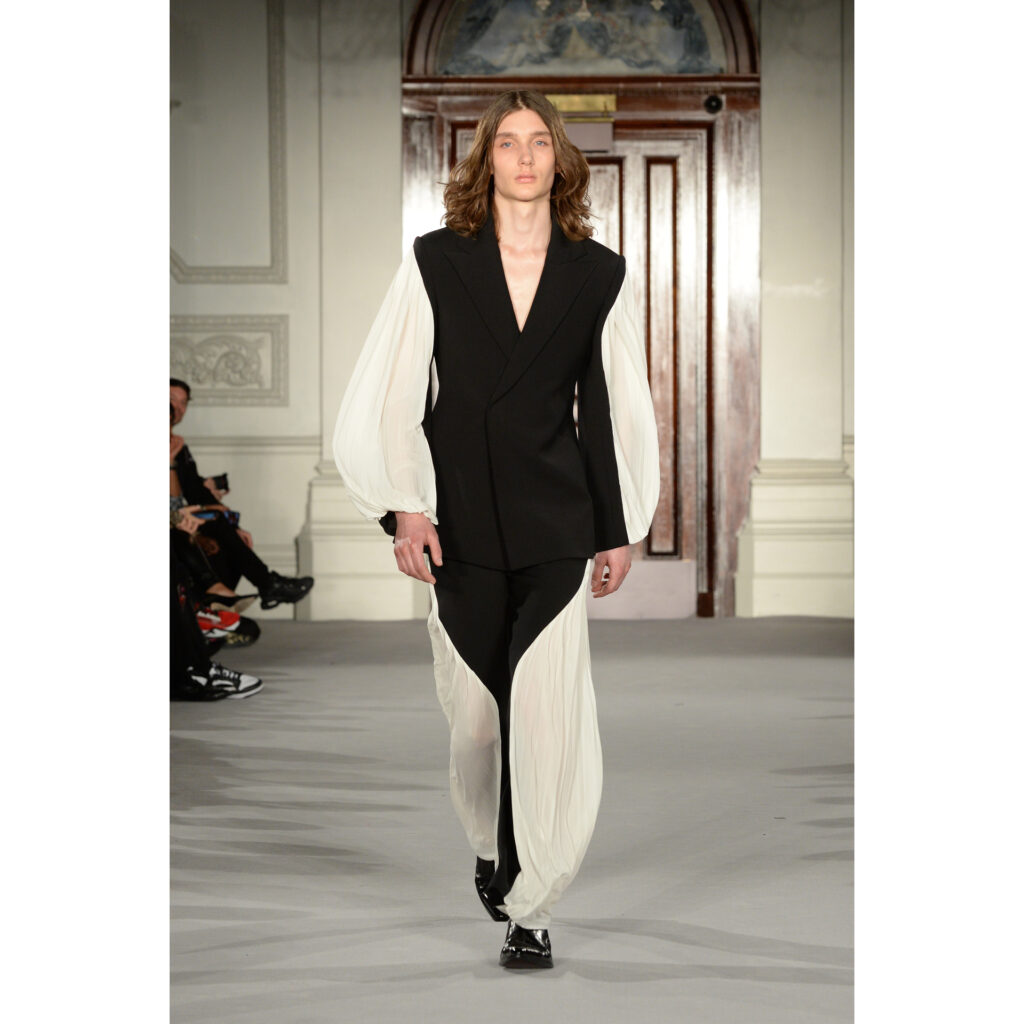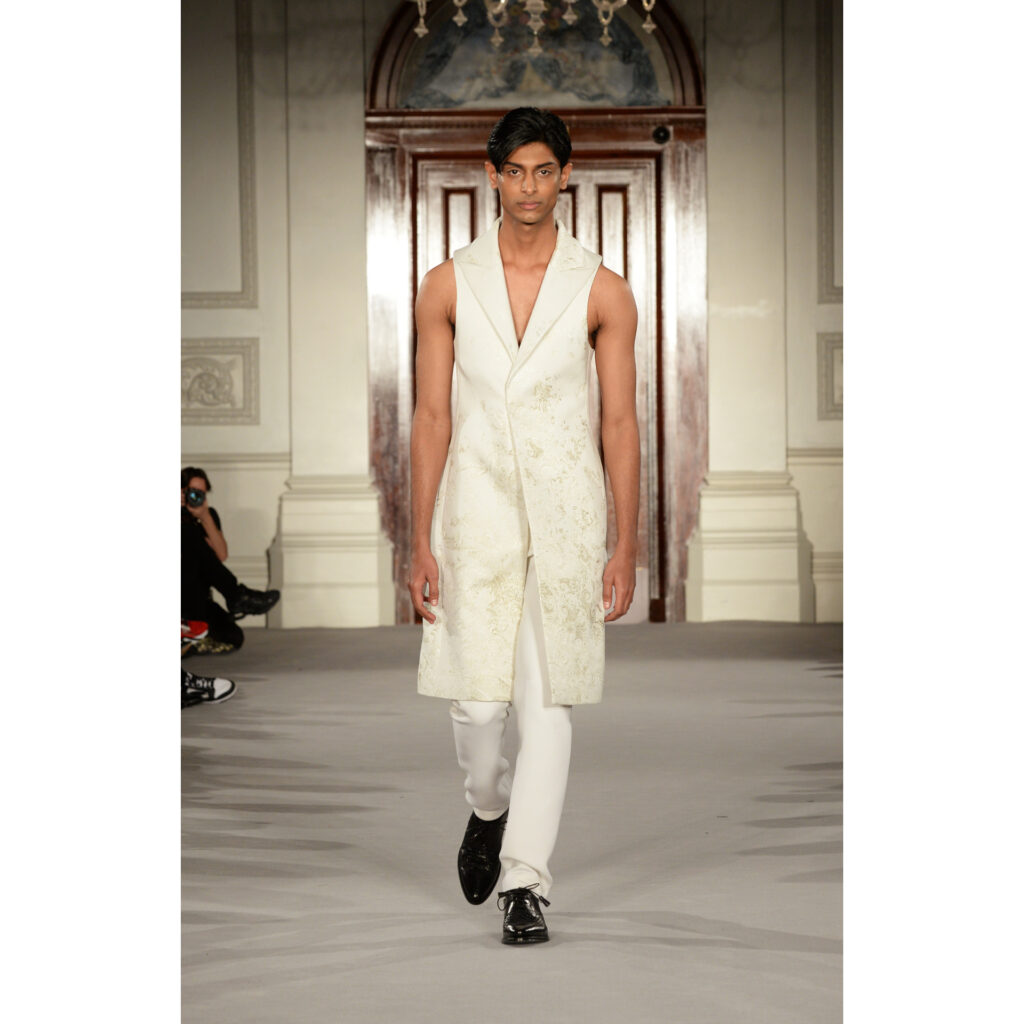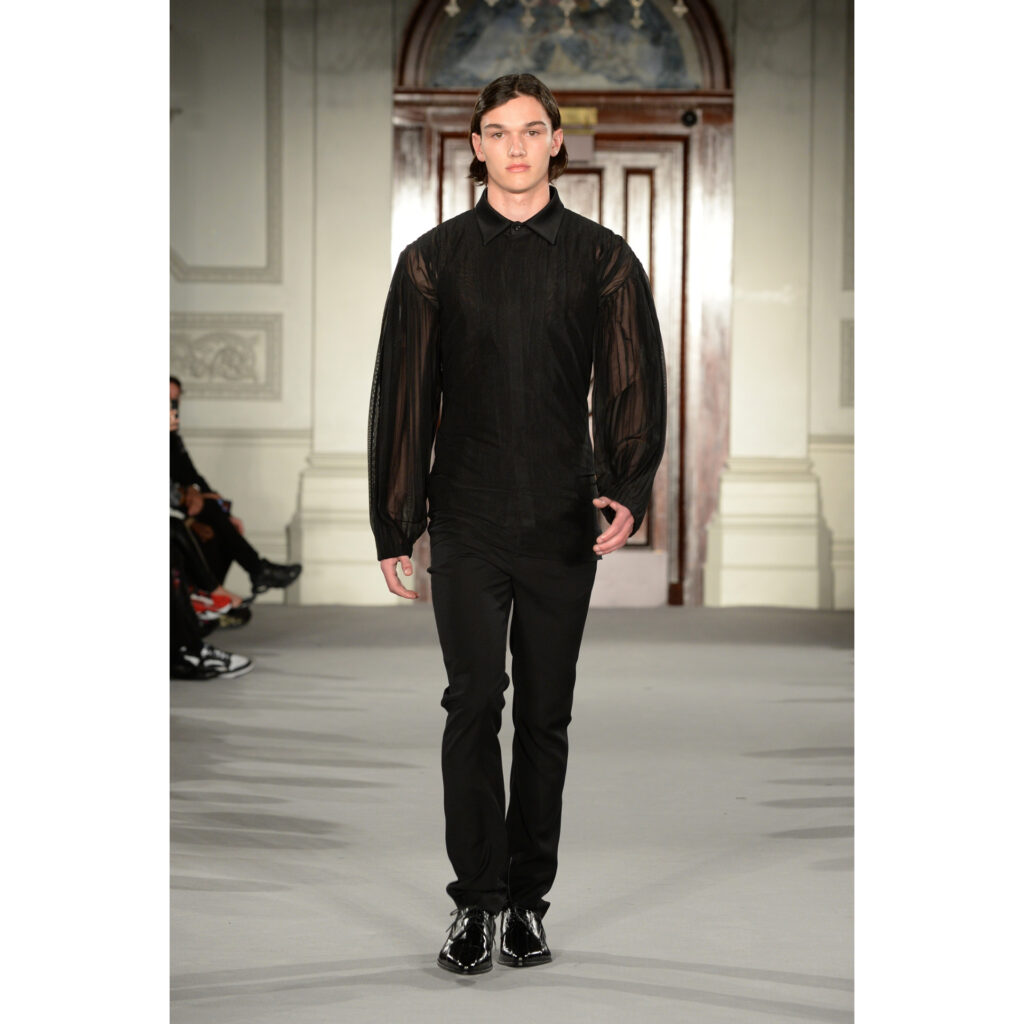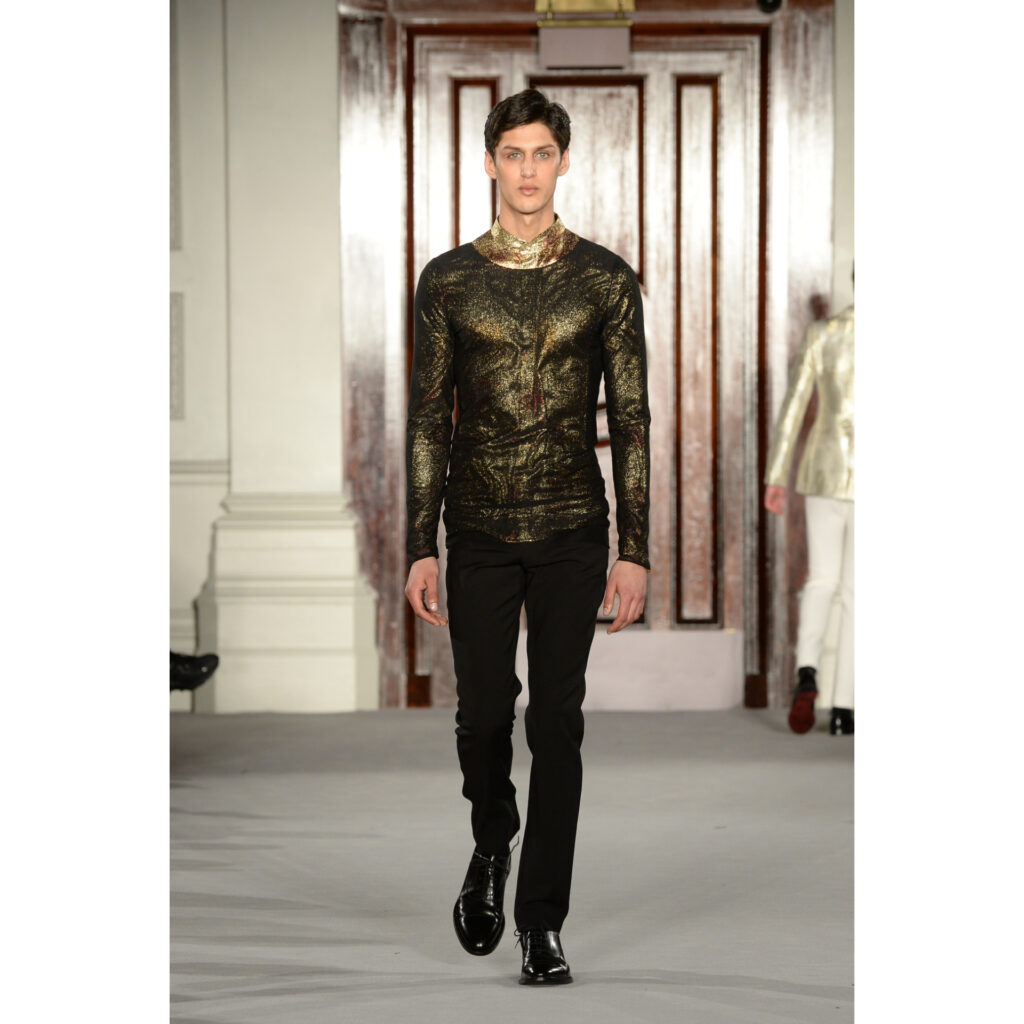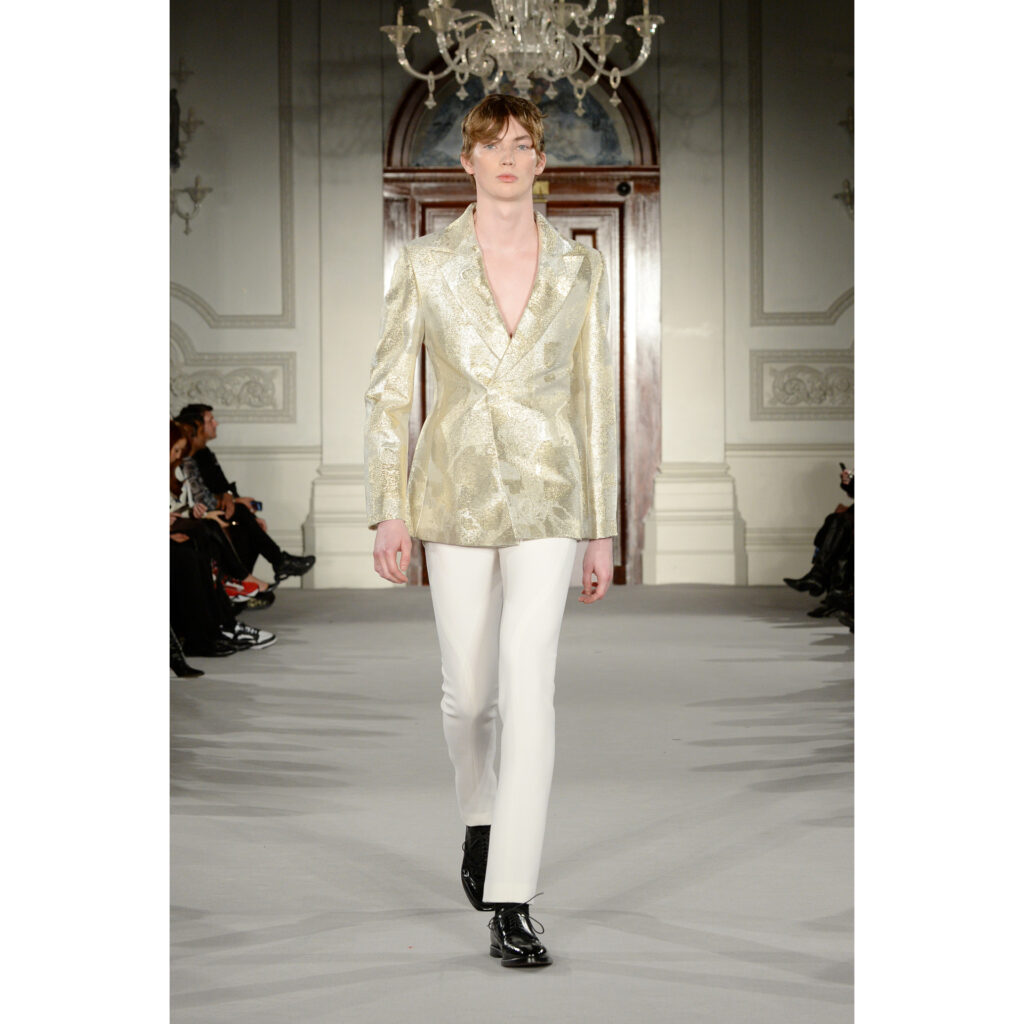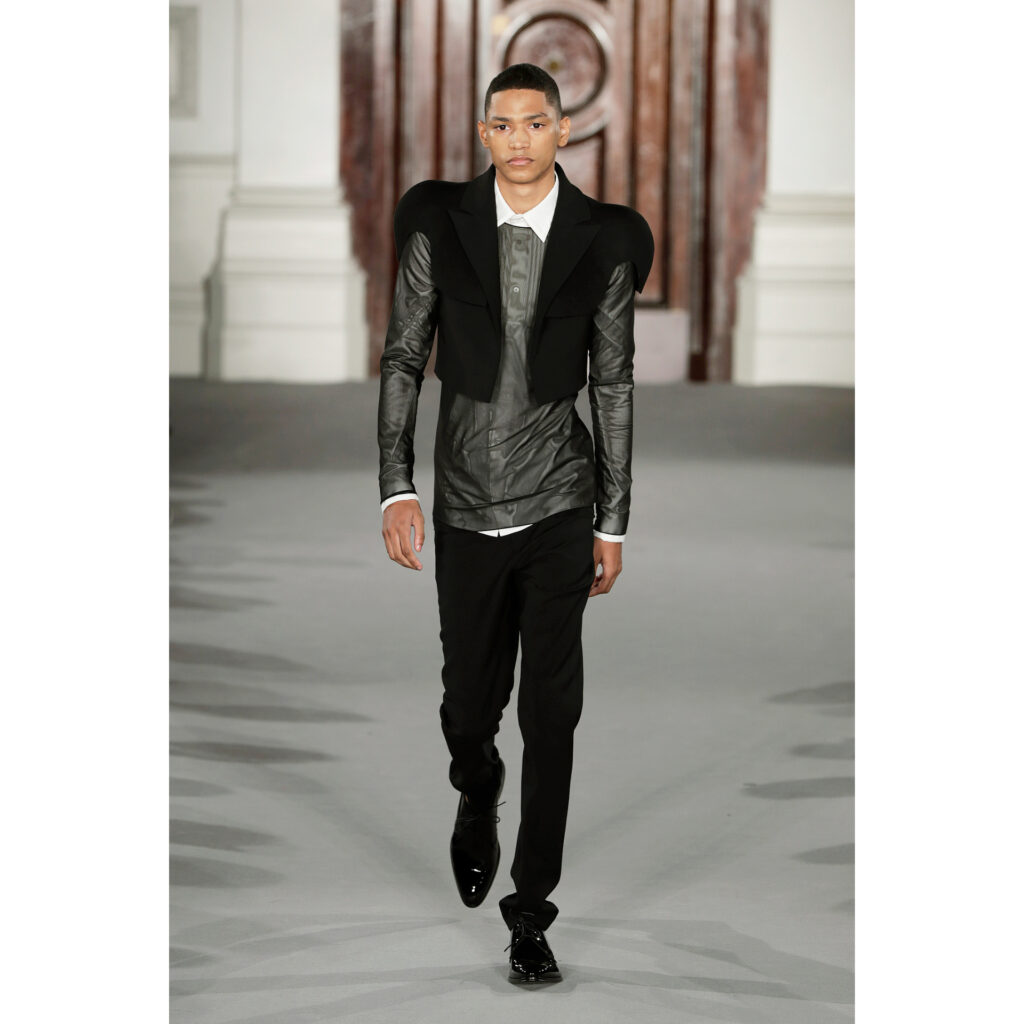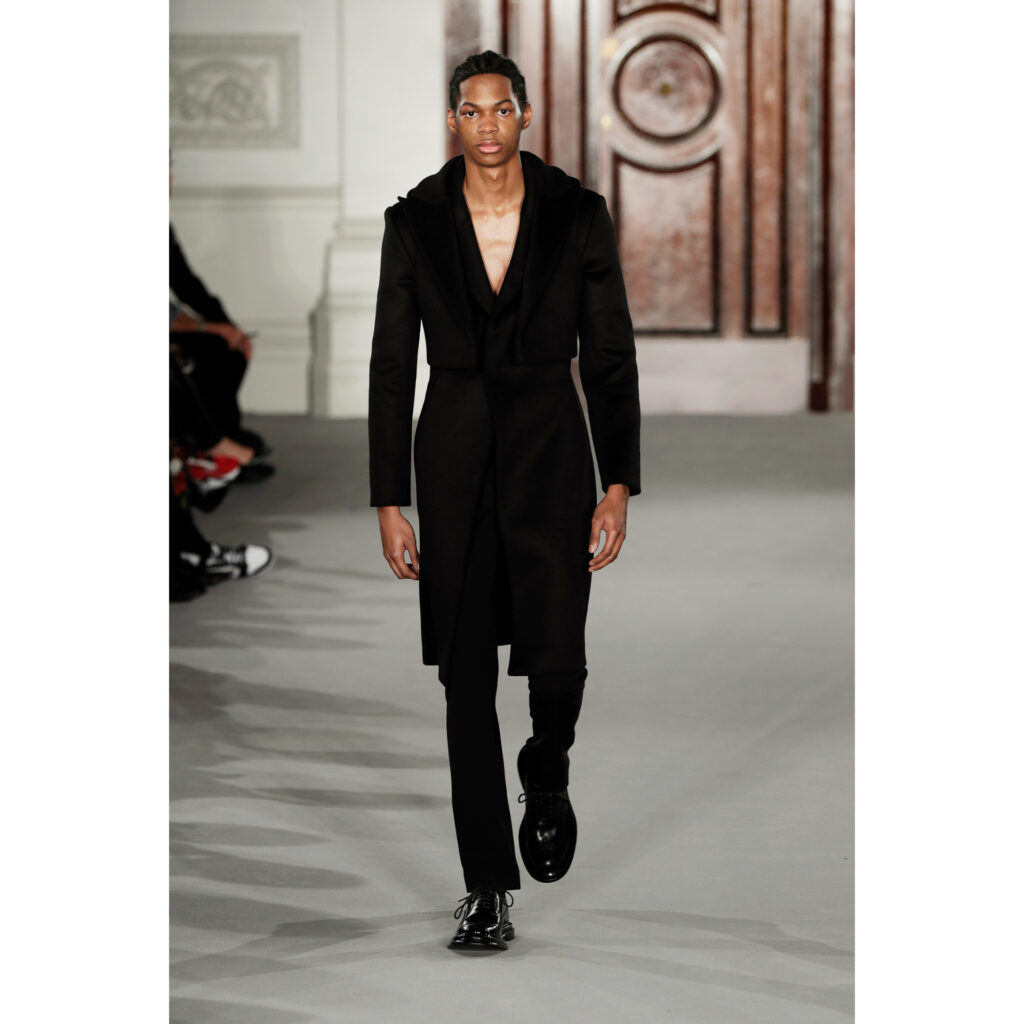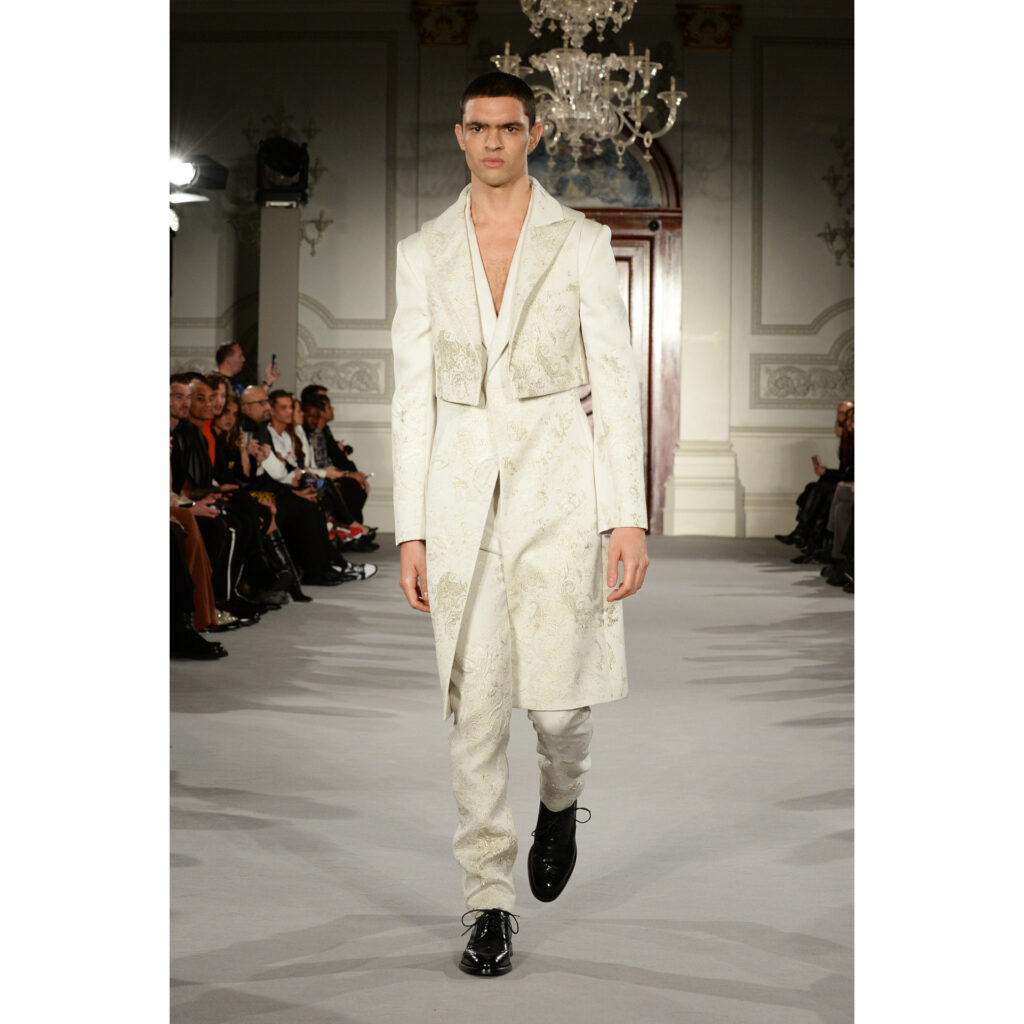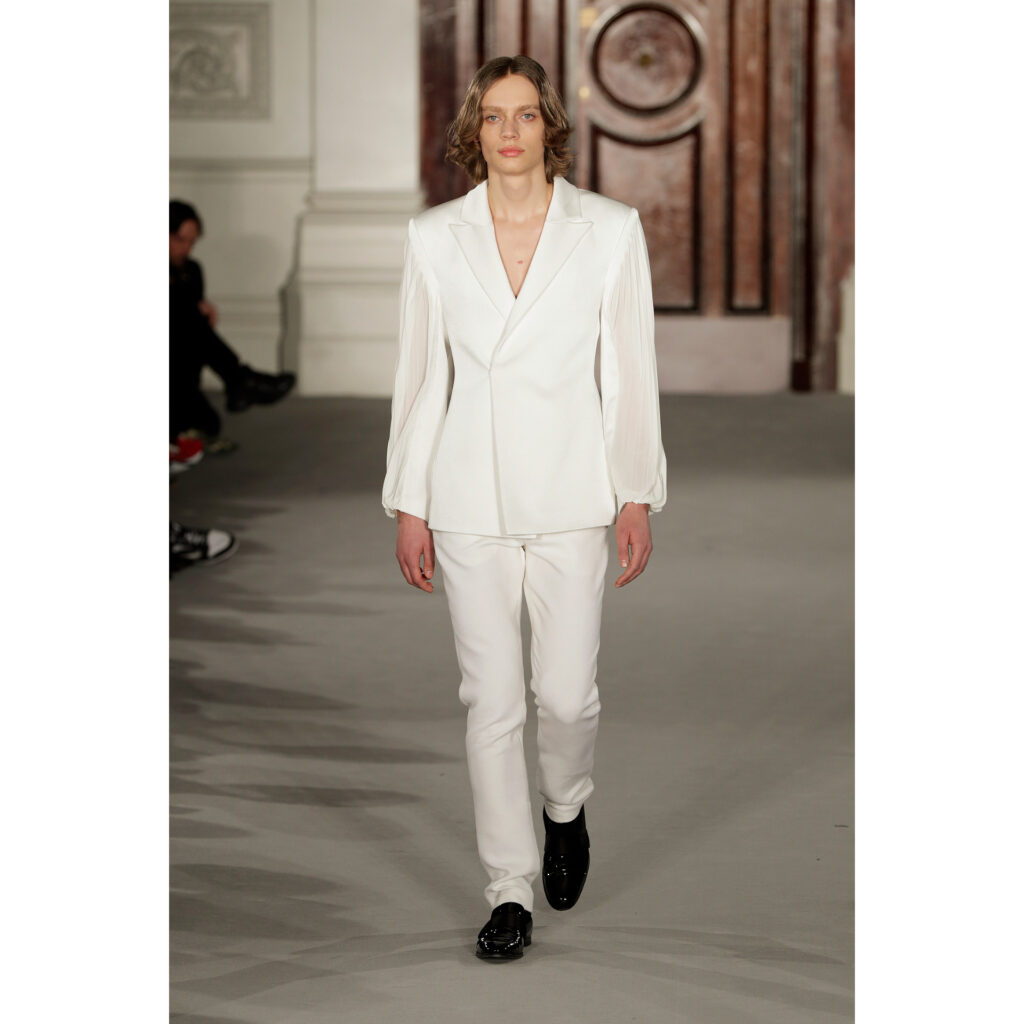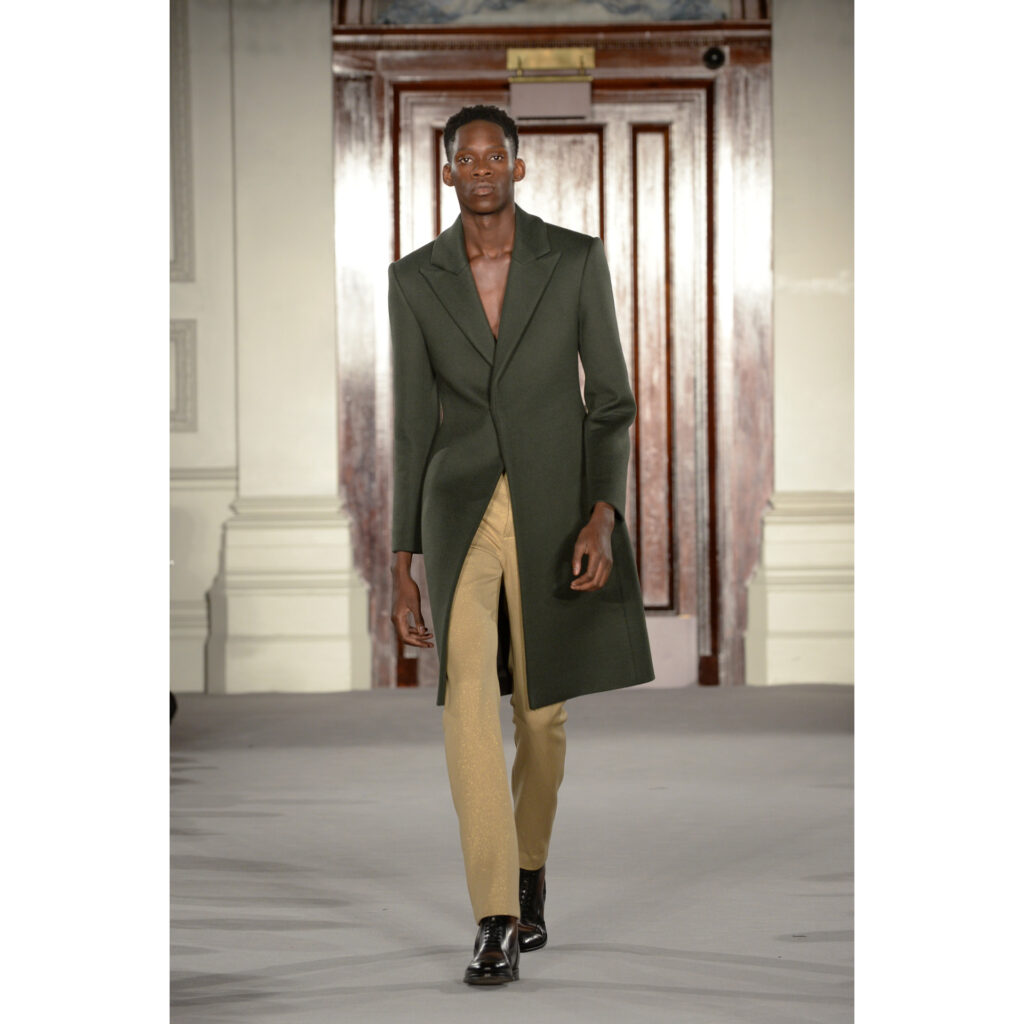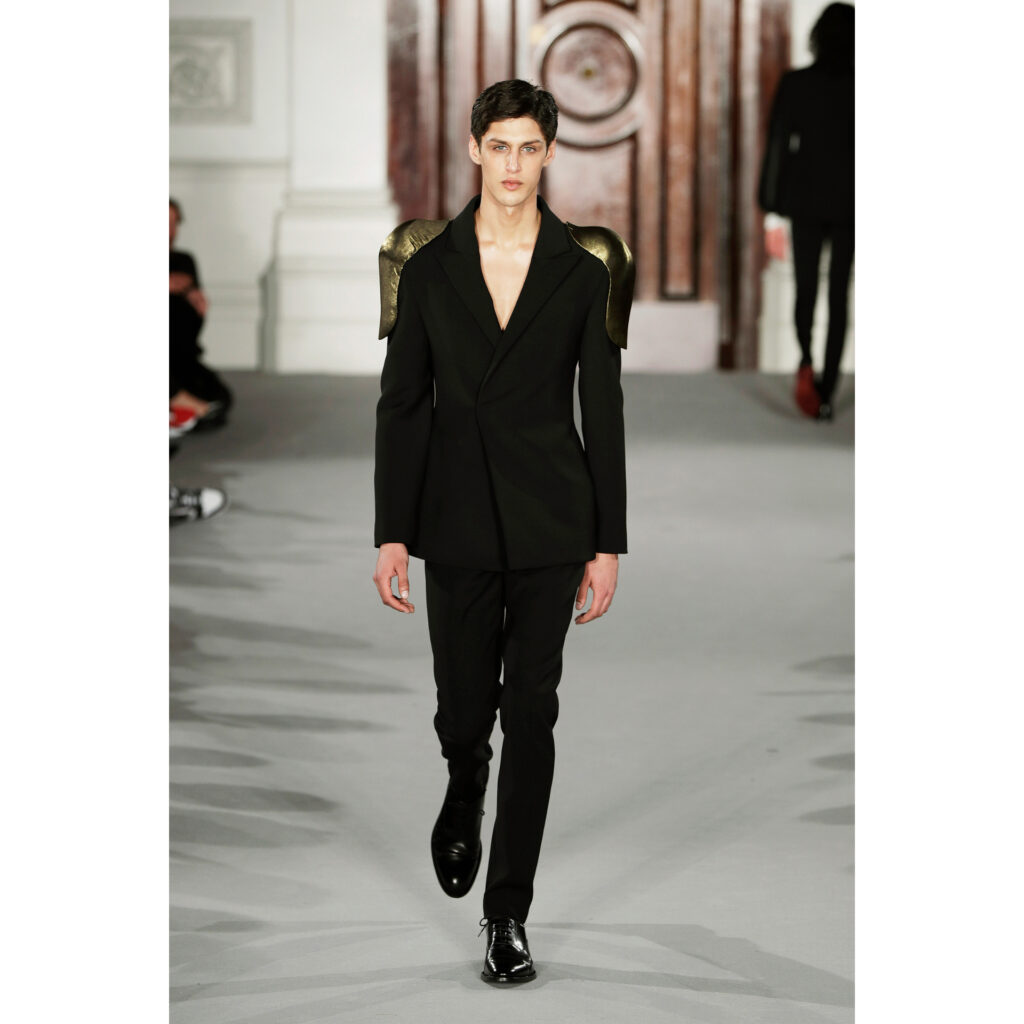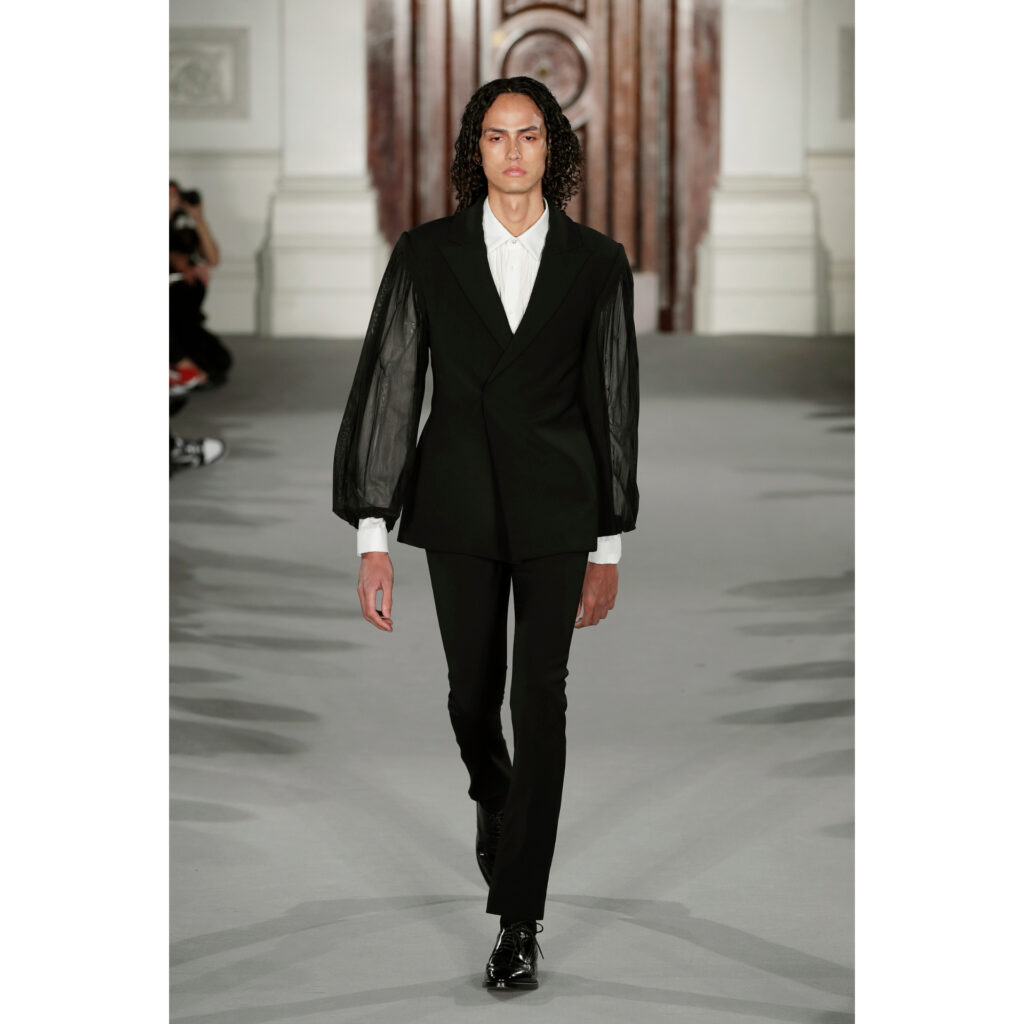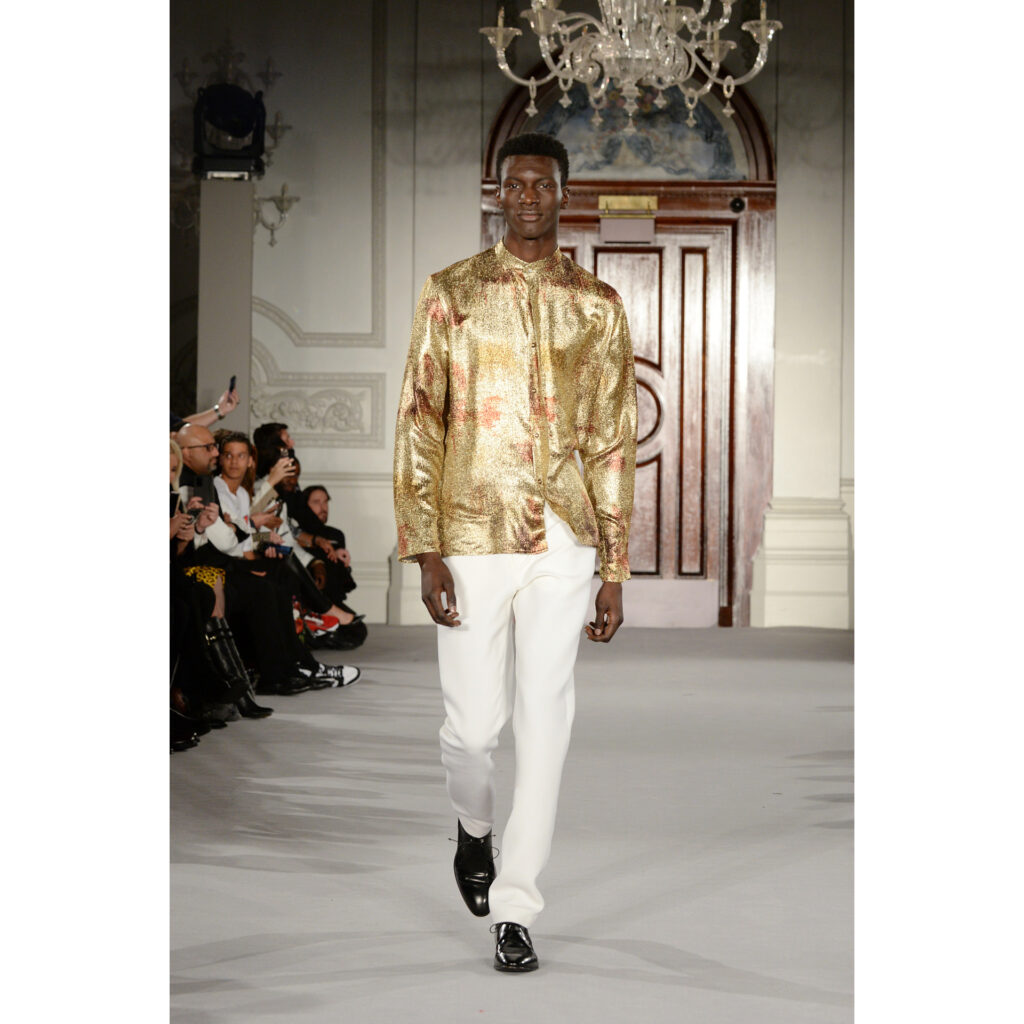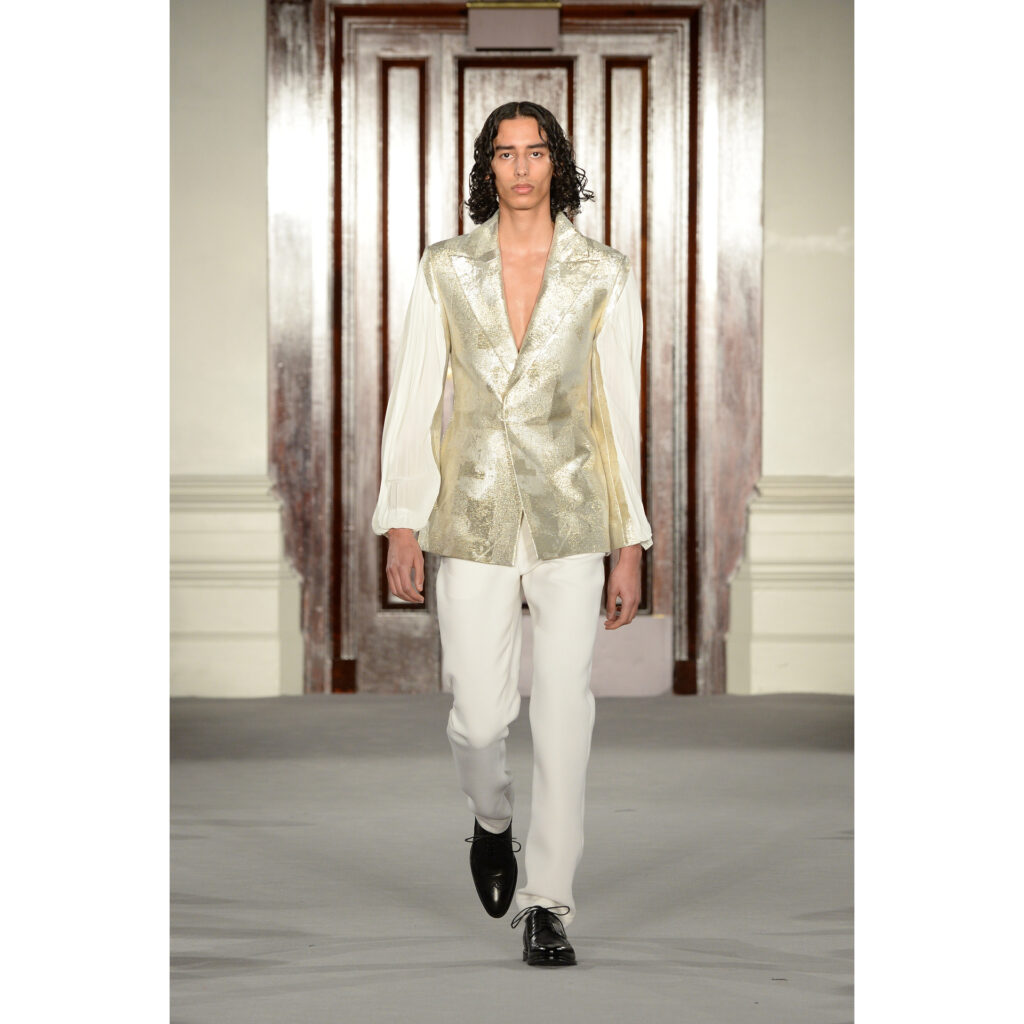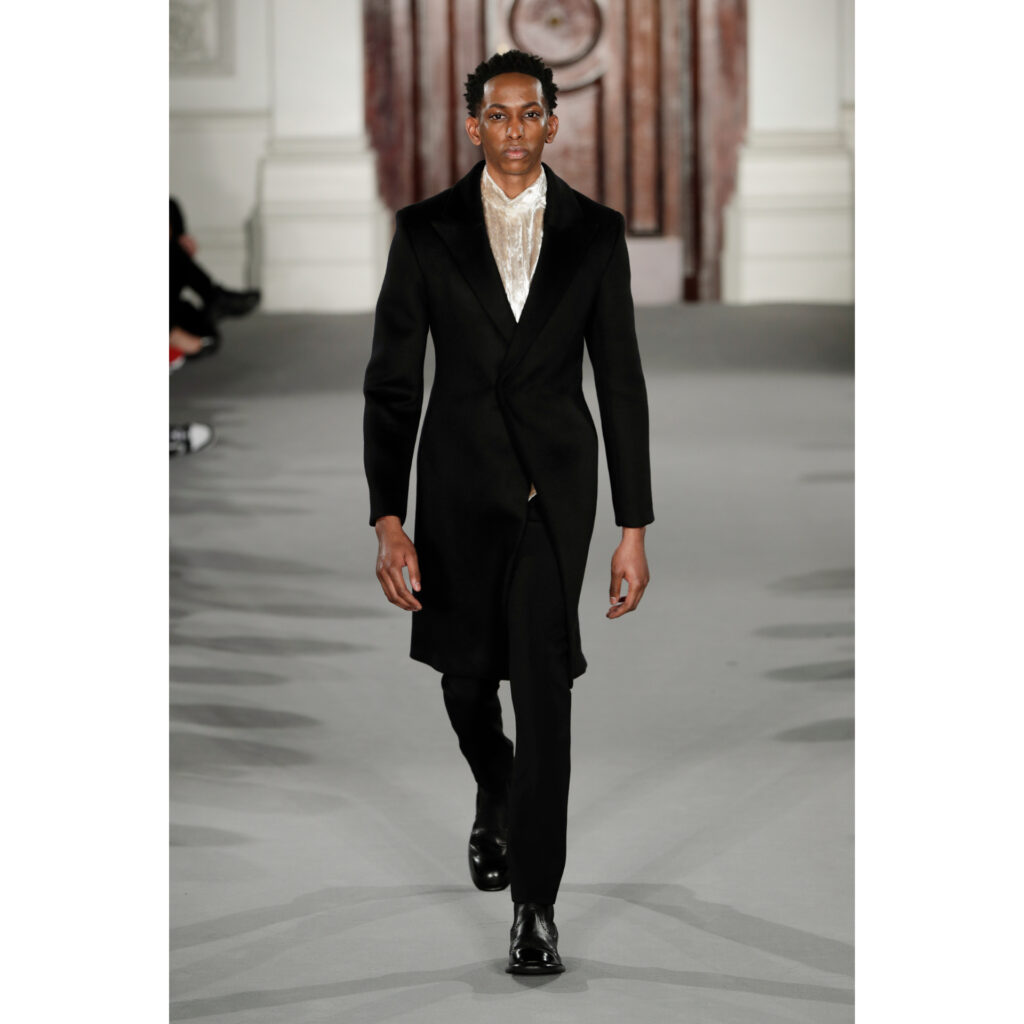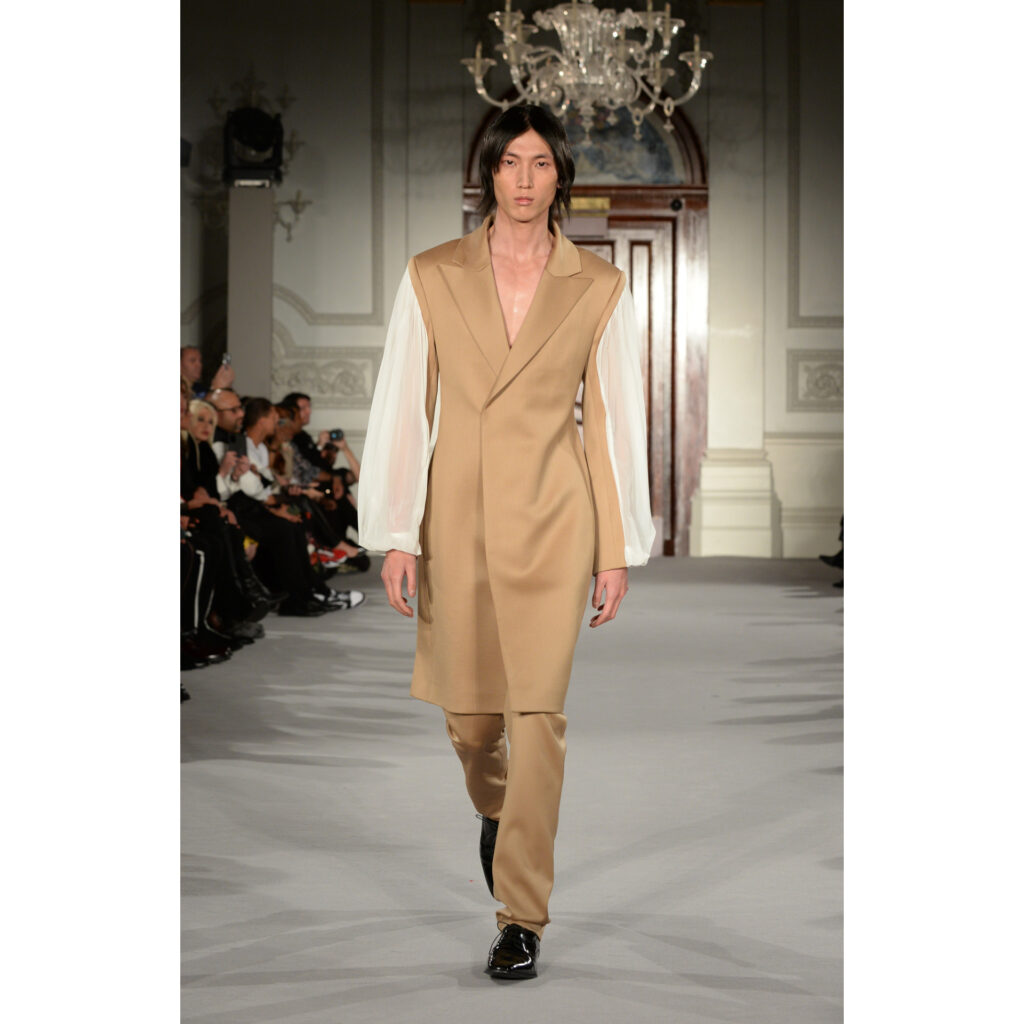 Casting | Henry Thomas
Hair | Dexter Johnson for Toni & Guy
Make-up | Maria Comparetto with Suqqu
Music | Frankmusik
Choreographer | Ryan Chappell
Location | The Langham Hotel
Production | INCA Productions
After Show DJ | Fat Tony
Global PR & Communications | Purple PR Photographs courtesy of Purple PR