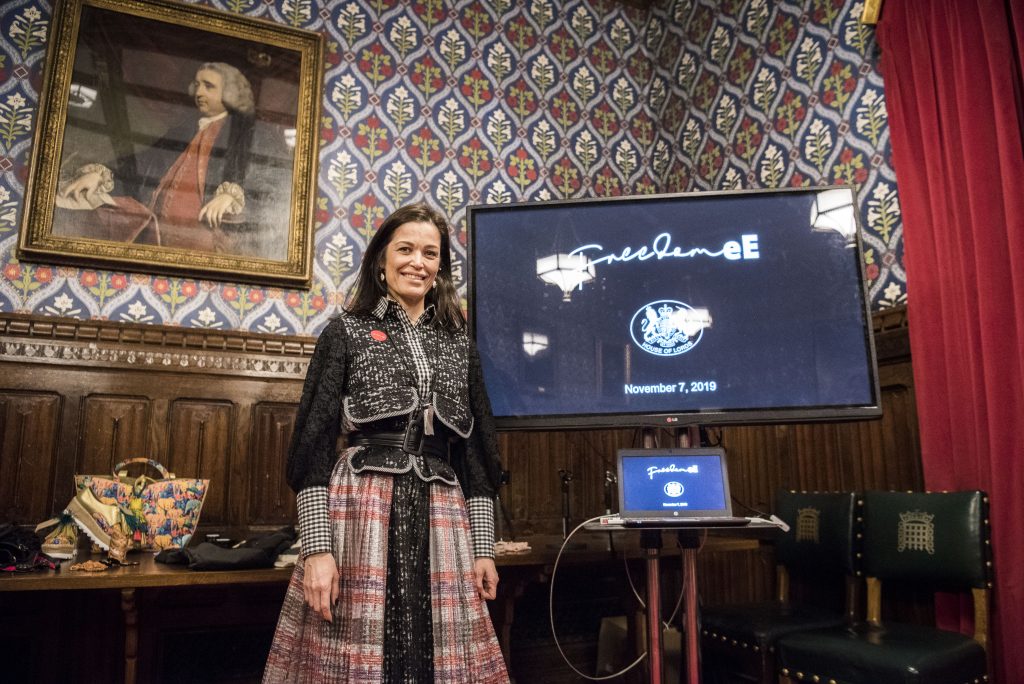 FreedomeE launches to empower positive impact fashion designers and champion ethical production and consumption, by disrupting the industry supply chain.
LONDON, 7 NOVEMBER saw the formal launch of FreedomeE, a global community of fashion brands, suppliers, artisans, creatives and industry professionals committed to driving positive behaviour in both the production and consumption of fashion.
Celebrated fashion designer Francesca Giobbi founded Freedomee. Francesca studied at Milan European Institute of Design, before working with global personalities and brands including Bjork, Penelope Cruz, Versace, Prada, Gucci, Armani, and Sergio Rossi.  She launched her luxury shoe brand Giobbi in her native Brazil in 2009, with the aim of making beautiful and ethical products.  Francesca has spent the last 5 years travelling the world to meet fashion producers,studying their manufacturing processes and supply chains to inform the establishment of FreedomeE and  is supported by the Portuguese Embassy.
Francesca Giobbi's says, "In my 27 years as a designer, and specifically in my last 5 years travelling the globe, I have learned that the fashion industry is losing values, losing talent and losing the battle for the planet.  The motivation for the fashion industry to unite and fix its ecosystem has never been higher, so the time is ripe for a platform such as FreedomeE to lead the way."
The focus is on responsible producers, who can benefit from FreedomeE's production, marketing and distribution centres, starting with: Portugal, Brazil, USA, El Salvador, Panama, UK, South Africa, Bangladesh and Hong Kong.   FreedomeE will promote its members, offering a platform for them to showcase and sell their products and services direct to the public, cutting out the expense of the sales and marketing effort that so often restricts progress for these emerging brands.
A stringent selection procedure will ensure that members comply with FreedomeE's proprietary
5-pillar metric for positive impact and sustainability, which align with the UN SDG directives: Social responsibility; Quality of output; Environmental accountability; and Technological and Economical efficiency.
The FreedomeE programme will accompany its members from initial garment design right through to the point of sale, mentoring and assisting them where possible to reduce unnecessary waste in the system and ensure ethical practice throughout.   The platform will become a marketplace for this highly refined group of brands to sell items from their collections direct to the public, a recognized space for a community of trusted brands that will be promoted by FreedomeE's opinion former group.
Giobbi says: "We believe in leading by example.  That's why we created 'FreedomeE – Made4Better'.  By empowering key players in the fashion cycle – from models to salespeople and, crucially, consumers – we can build entrepreneurship at all levels, creating more freedom (the inspiration behind our name) for all those in the system to maximise their potential.  We're here to disrupt, making a bold move to get fashion fixed."
www.freedomee.com
FreedomeE brands include:
Angela Brito, Brazil
Arte Tejido, Colombia
Dear Ocean, Portugal
Hamethop, South Africa
Ifele, South Africa
Katty Xiomara, Portugal
Lula Mena, El Salvador
Mulieri, El Salvador
Toliva, Brazil
Samanta Bullock was present during Freedomee and her inclusivity, diversity and eco friendly SB Womenswear Collection Winter 2019/20 with its designers were officially welcomed during the Freedomee Launch.
Rua Luja
AmaElla
London Organic Beauty
Caroline London
Peter Twiss
Gunda Hafner
Contessina London
BeKoffee
The new SB Winter 2019/20 Women's Collection continues to focus on comfort and practicality, such as organic fabrics, items with more practical zippers, waist-high trousers and cropped jackets with vegan leather details on the sleeves, among other details. This collection is classic and stylish for disabled and non-disabled people.
Following the slow fashion movement, 'buy less, buy better". SB will launch two collections a year, the men's line will be added next year, in 2020.
www.samantabullock.com
photos courtesy © Sean Pollock