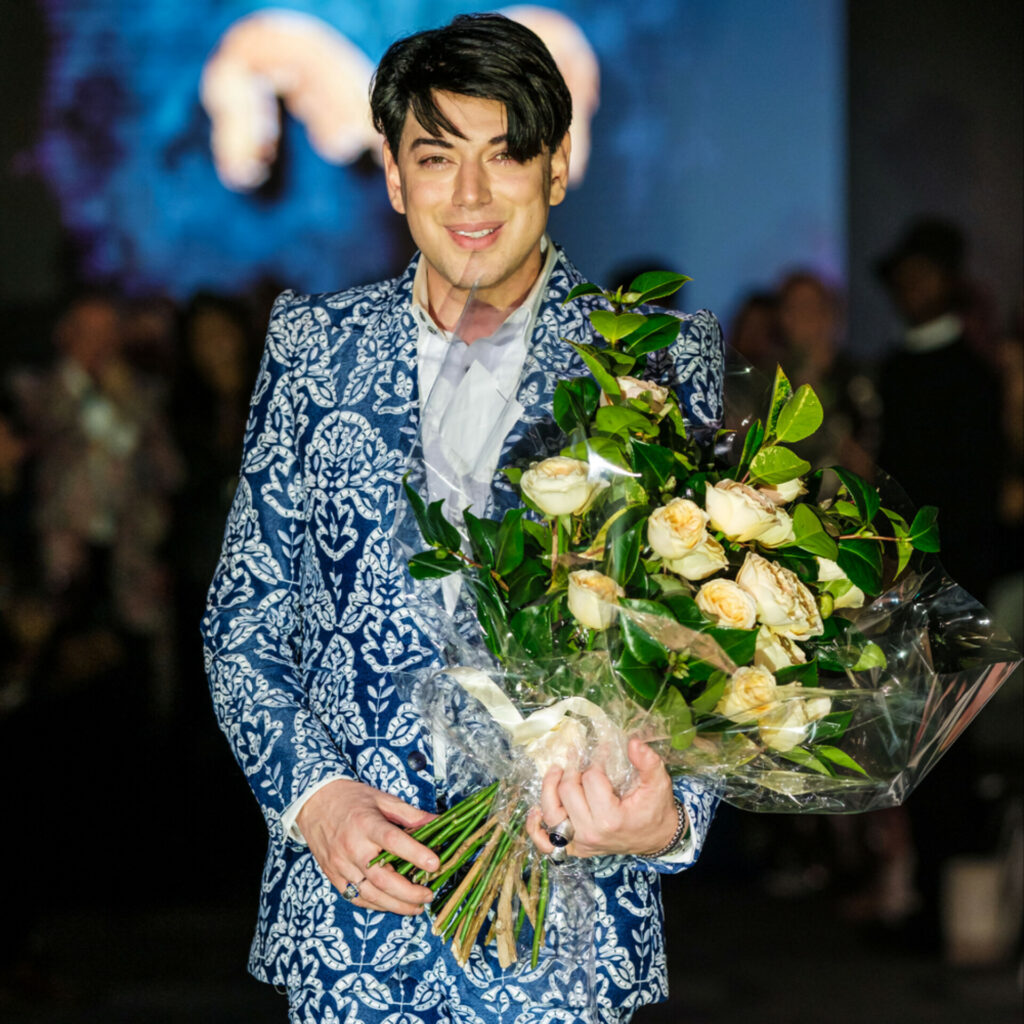 'Wherever you go Shine' – Malan Breton
World-famous fashion designer Malan Breton takes his last bow as he captivated LFW this September with his latest spectacular collection which showcased at the De Vere Grand Connaught in aid of the prostate cancer charity prost8.org.uk while headlining at one of London Fashion Week's most valued events THIS IS ICON. Malan Breton, Taiwanese-born, is one of the fashion industry's most beloved international fashion designers.
Sadly this will be the last of the collections that he designs under his brand name and I shall miss him. I know Malan to be a down to earth, warm and caring person, a designer that is very much in touch with the zeitgeist. Malan has dressed Priyanka Chopra , Ariana Grande and Lorde amongst others with designs worn by more than 300 international celebrities, dignitaries and royals. His designs are featured on the covers of over 200 magazines internationally and they have been been worn on the red carpets at major international events including the BAFTAS, Academy Awards, The Tony's and Cannes.
Lady Victoria Hervey and Consuelo Vanderbilt-Costin were among those walking in the show with Gaia Wise, her mother Actress Dame Emma Thompson and a host of other celebrities in attendance. Downtown Julie Brown emceed the show which included musical performances.
Following the shows and performances Malan Breton was one of three recipients of the 2023 Icon Award as well as model Elton Ilirjani and TV personality Julia Haart.
THIS IS ICON co-founder Helen Georgio stated , " THIS IS ICON sets out to deliver another star-studded and glamorous event where we offer the stage to some truly talented people from the worlds of fashion and music. "
In this season's collection Malan Breton seamlessly wove together elements of art, history and the vibrancy of the human spirit. This latest and final line under his direction serves as a testament to his boundless creativity and unwavering
commitment to fashion which resonates with the heart and soul of humanity.
Drawing inspiration from the past for his collection, Breton pays homage to Fritz Lang's iconic film "Metropolis", the
aviators of the 1930s and the mythological nine Muses.
The collection's overarching theme celebrates the muse's ability to inspire form and style through
inner beauty, emphasizing on inner strength and sensuality in every individual.
With this season's collection Breton explored the
concept of clothing as a protective shield, highlighting strength and resilience in an ever-evolving
world.
He pushes the
boundaries of fashion by reimagining it as armor. Breton's choice of colours and fabrics includes silver, chrome, black onyx, and Breton Bleu
symbolizing strength and radiance. Sustainable practices are evident throughout the collection
with the use of Swarovski elements and jewelry crafted from recycled glass and metals.
Emphasizing ease and functionality, Breton takes a sleek and modern approach to design marking
a new direction for the brand that embodies strength and sensuality. His rich cultural background
and personal experiences serve as the foundation of his creative process, drawing inspiration from
the beauty of the human heart and the universal connection between us all.
Breton embarks on a creative journey that involved writing a film script based on the nine Muses,
infusing life into these mythical beings and taking them to new heights. The primary inspiration
for this season's collection stems from the images of 1930s stainless steel airplanes, symbolizing
hope and strength needed to navigate a changing world. Ultimately, Breton hopes that viewers
and potential buyers take away his deep love for humanity, the human heart and the overall
aesthetic that his collection embodies.
Breton's commitment to diversity remains a cornerstone of his current collection, offering a safe
space for all body types and identities. In his latest work, Breton revisits the suit, a staple of his
European reputation, deconstructing and reinventing it based on structure and guidance from the
most exquisite garments in history.
For aspiring designers, Malan Breton's invaluable advice is for them to stay humble, be kind, and prioritize growth while
mastering the business side of the industry.
Malan Breton's collection at London Fashion Week stands as a testament to his unparalleled
creativity, unwavering commitment to diversity and his dedication to fashion as a powerful
medium of self-expression and empowerment. His designs
celebrate the human spirit and pay tribute to the arts that have shaped our world.
With over 28 years of experience, his brand stands for inclusivity, diversity, and artistic
expression through fashion. Malan Breton's creations have graced runways across the world
captivating audiences with their timeless elegance and original contemporary flair.
Photos courtesy of
Portia Shaw / POP PR and Chris Daw