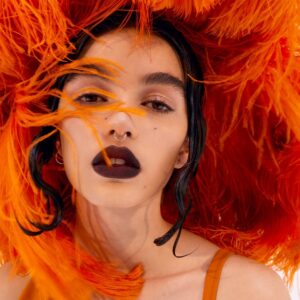 Lupe Gajardo is a Chilean based designer who has earnt herself the distinction as " Brand to Follow" on the WGSN platform.
The Lupe Garjardo LFW SS22 collection has a flamboyant artistic flair that is impossible to ignore. Her signature drapery and ability to merge fabrics has firmly established a cult following not only in Chile, but around the globe in London, Berlin, New York and Latin America.
Lupe Garjardo's collection is made up of 28 looks. She has a unique take on tailoring with globally sourced fabrics. Her bold collections emphasize her garments as wearable art which have derived inspiration from art movements such as Dadaism in unique conjuction with creative methods like origami. Lupe's designs have the style of streetwear mixed with artisan 'haute couture'.
She uses tropically vivid shades of orange, fushia and turquoise in block formation across several full length gowns whilst denim printed seperates create an urban edge. The look is an integrated combination of feminine, masculine and genderless shapes. This season her choice of fabrics are wool, cotton, silk, linen, and alpaca in unique compositions. 94% of the collection has maintained a zero waste standard.
For this stylish collection Lupe has decided to focus on her Artisanal Luxury -Pret a Porter line, creating exclusive pieces with beautiful aesthetics.
The styling of the collection had headdresses by Chilean designer Juan Daltonico.
article by Kim Grahame
Photos by Max Lagos
@lupegajardo
Fashion video:
Direc: Jose Moraga
DOP: Rafa Russo