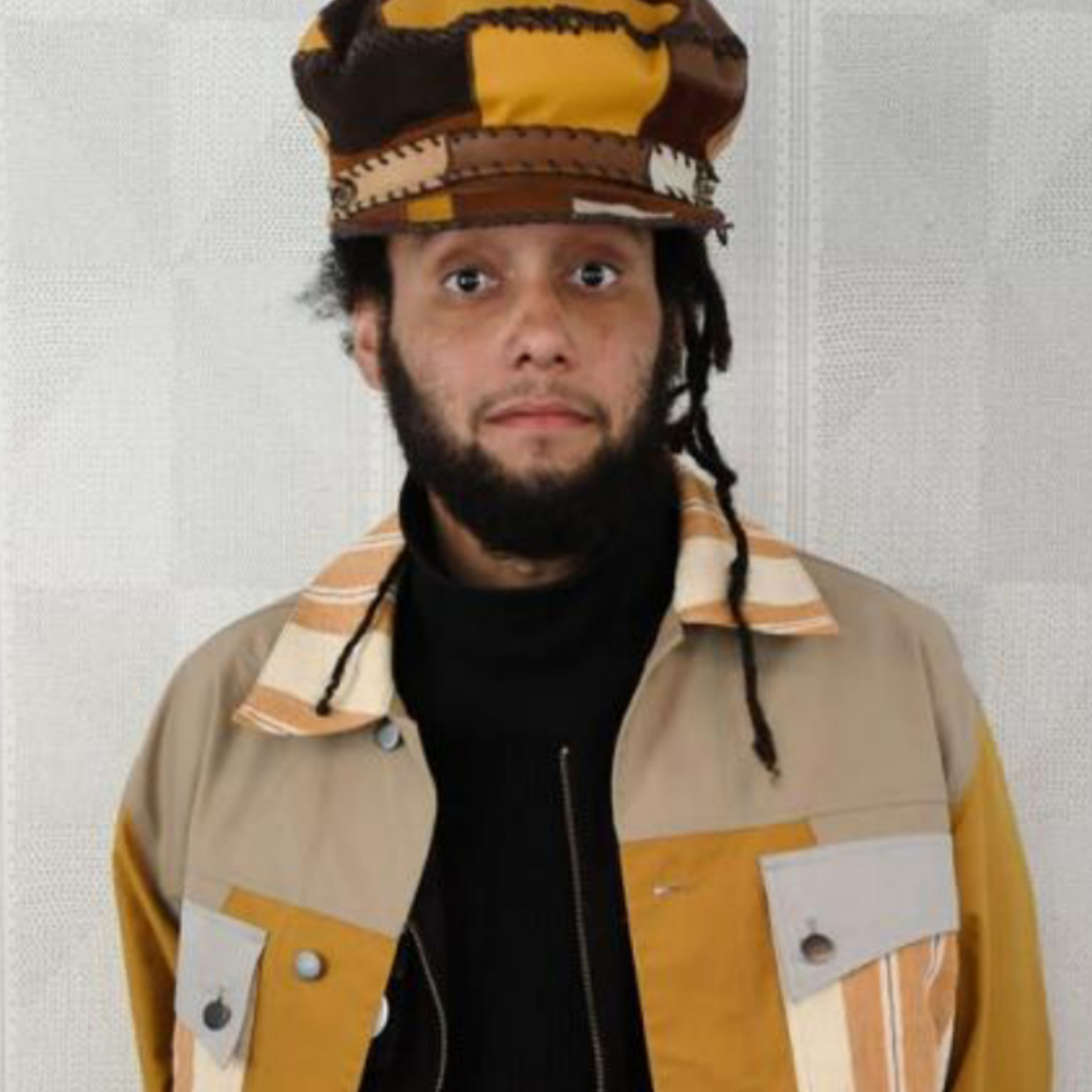 Nicholas Daley is the worthy winner of the 2022 BFC/GQ Designer Fashion Fund. Daley's designs feel the music! Having been brought up by jazz professionals with jazz artists visiting as I was growing up I can see the strong cool jazz influence in Daley's work and think of Miles Davis. His Menswear collections show the fashion style and musical feeling of jazz, post-punk, reggae and dub resulting in a combined strong and original laid-back style.
The Nicholas Daley Menswear brand based in London works with recognised artisans creating bespoke textiles and fabric finishes. His strong creative designs meet bespoke tailoring in traditional Scottish checks, patch worked garments, tie-dyed knitwear and graphic t-shirts. Daley's AW22 collection's influences are reverbing right now amongst Daley's generation. Think of a 'Black diaspora sonic-scape' or in Daley's own words a 'dark haze'. His Scottish and Jamaican heritages are evident in his AW22 collection, along with his use of Japanese Roketsu wax batik prints and leather fringing. The style of his collections have far-out vibes and to complete his strong chilled silhouettes, Daley uses boots made from the long-established Canadian Viberg bootmakers.
Manufactured in the U.K and sold internationally,
Nicholas Daley has collaborated with iconic brands such as Adidas and Fred Perry. Supported by the British Fashion Council NEWGEN designer program and showcasing the collections during London Fashion Week, the brand reached the finals of the LVMH 2020 finals in Paris this year.
Daley will receive a 12-month bespoke high-level business mentoring programme, pro-bono legal services from Sheridans and
a £150,000 cash prize.
Nicholas Daley commented, "I am very honoured to receive this award and I would like to thank GQ the BFC and the industry judging
panel for selecting me as this year's winner. The funding and mentoring program will support me
in continuing to grow my brand for the future."
Adam Baidawi, Head of Editorial Content, British GQ & Deputy Global Editorial Director, GQ
commented, "Nicholas Daley is a phenomenon. He has brought to life a menswear vision that is
totally his own." Adam Baidawi, GQ's Deputy Global Editorial Director continued,"On top of his wild
and dizzying design talent, Nicholas has a gift for curation, pulling together a diverse collection
of collaborators and influences to create a truly modern brand. We couldn't be prouder to be
honouring him."
Caroline Rush CBE, Chief Executive of the British Fashion Council commented, "With a continued
emphasis on community, craftsmanship and culture and cementing a place at the centre of London
society – Nicholas Daley is a menswear brand exploring the interplay of fashion, music and art in
novel and exciting ways. With a forward-thinking approach, Daley challenges the way fashion is
deciphered through presentations, live performances, and films. He is a breath of fresh air and
we are excited to see what the brand continues to achieve in the future."
This year's shortlist included clothsurgeon, LYPH and Olubiyi Thomas who all had the opportunity
to participate in a mentoring programme through the BFC's Designer Initiatives team, with access
to funders, industry experts, and pro-bono legal services from Sheridans.
The BFC/GQ Designer
Menswear Fund is generously supported by Clearpay.
Chaired by Caroline Rush CBE, Chief Executive, British Fashion Council and Adam Baidawi, Head
of Editorial Content, British GQ & Deputy Global Editorial Director, GQ, the judging committee was
made up of representatives from businesses who support the Fund and industry experts including
Damien Paul, Head of Menswear Buying, MatchesFashion.com; Laurent Malecaze, CEO, Dunhill;
Laura Yeomans, Market Development Director, Clearpay UK; Leah Abbott, Stylist; Samuel Ross,
2019 Winner of the BFC/GQ Designer Fashion Fund and Founder, A-COLD-WALL*; Tan France,
Fashion Designer, TV Personality and Author; Teo van den Broeke, Style & Grooming Director,
British GQ; Yinka Ilori, Multidisciplinary Artist.
Previous winners of the BFC/GQ Designer Menswear Fund include Ahluwalia (2021), A-COLDWALL* (2019), Craig Green (2016), E Tautz (2015) and Christopher Shannon (2014).
The BFC/GQ Designer Fashion Fund is part of the BFC Foundation (Registered Charity Number:
1185152) which supports the future growth and success of the British fashion industry by focusing
on three areas: Education, Grant-Giving & Business Mentoring and Institute of Positive Fashion.
written by Kim Grahame