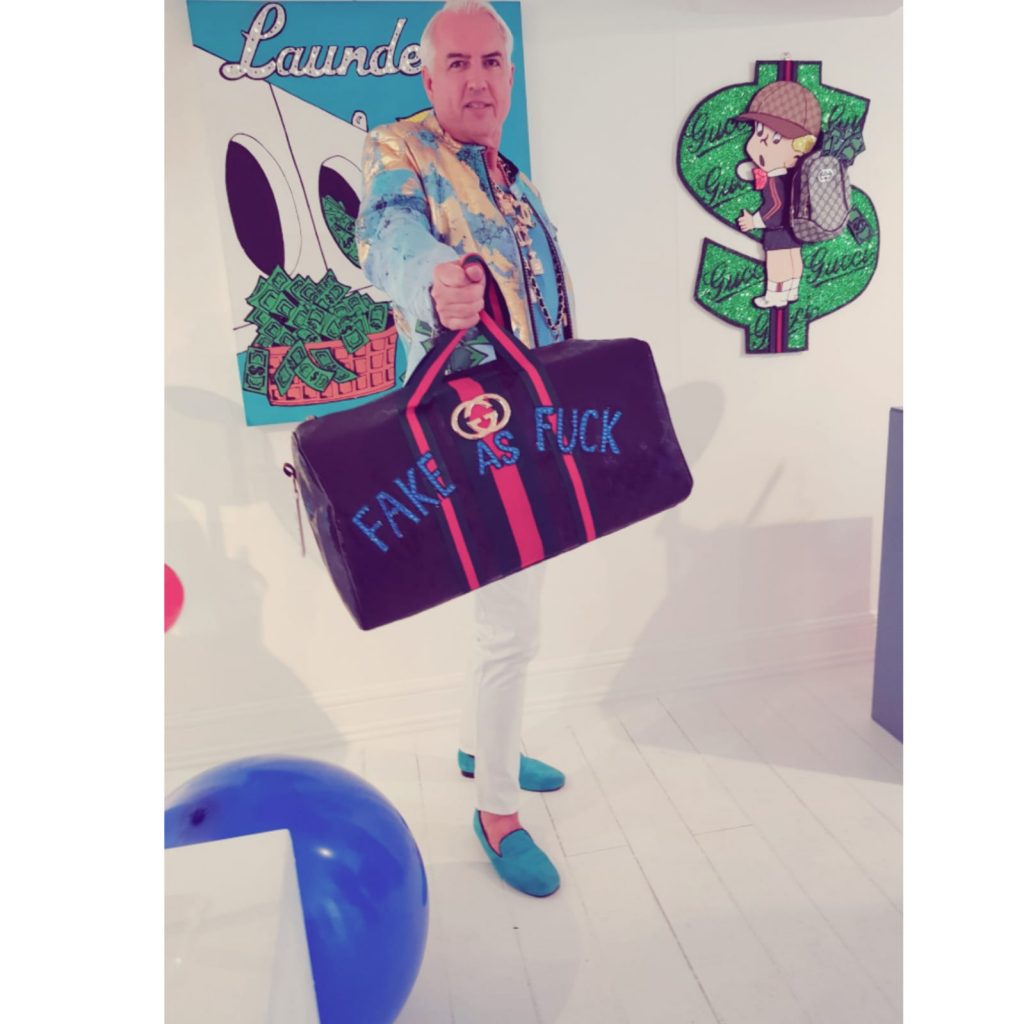 KIM: Marty, you are an internationally celebrated artist and you have enjoyed international success with your work. Your art is contemporary and has an eclectic mix of iconography with a blend of street pop culture. You describe yourself as pop artist to the stars and for decades you have been patronised by celebrities including Madonna, Barbara Hulanicki and Joanna Lumley amongst others. Which celebrities would you most like to see collecting your art?
MARTY: Now at this point, I think I've kind of got them all Kim, don't you. Once you've got Madonna as a gay man, I think I've hit the jackpot, don't you. Well once you've got Madonna you've hit the jackpot. Where can you go from there, perhaps Kylie. I think I've struck lucky there.
KIM: Marty you are a very colourful character. Having grown up in Plaistow East London in the 60's you are a real East Ender.  Could you tell me a little bit more about your background.
MARTY: Absolutely I'm a true East Ender. My family, they are originally from Plaistow. I mean like they go back hundreds of years and my mum's family were gypsies. I'm gypsy stock on that side. We can go back to …I think it's 1760 and that's the Lees and the Boswells which are two of the main gypsy tribes. On my dad's side they all worked in the docks and they were all publicans, so it was really a lovely mix really to be brought up with. When I left school they wanted me to go into the docks and I thought I didn't want that Kim so the safer option was to work in the pubs which I did, and then I found myself at 15 years old working in Hoxton before it was ever fashionable with topless go-go dancers and strippers because that's how it rolled then in the early 70's. So, I suppose I was a little bit shy then. I suppose that got me over my shyness. Yah working with a stripper with a boa constrictor.
( laughter )
KIM: Did you have an interest in art from an early age?
MARTY: Always, always, always. I mean at school I always got top grades for it, but the other things I didn't really take much interest in. I should have gone to art school.
KIM: What and who got you interested in art?
MARTY: Always, always doing it, then the jobs that I did I went from being a croupier, I did all sorts Kim. Waiting on tables I've done the lot. I started doing interior design and I met, by chance Molly Parkin on the underground in Bethnal Green. And we literally bumped into one another and she was taking her grandson Paris to buy a Barbie doll,
(laughter)
this was like thirty odd years ago, she was like he wants a doll I'll go and get him one. So she said to me you know sweetheart, I'm a bit screwed really I've got this film company coming round to film in my house. She said she had just rented a place in Bethnal Green she said its awful. I said I'll come 'round I said I do interiors, so we literally painted it in peacock colours and then they filmed
KIM: What would you say are your biggest influences?
MARTY: Its Molly that told me. I thought an artist had to go to art school and they had to have a studio. She said don't be ridiculous, as long as you've got a sink with a jar with some water in it and a table you can do it. She really did start me. The first thing we did after a while of working together, we travelled, we went to India. We did a lot of traveling together and she was offered this art car boot which was one of the first ones. It was Karen Ashton and it was down at Brick Lane. So she said we've been offered to do an art car boot sale. So we went and on the way I picked a Metro up and it said that Tracey Emin was going to be there, Gavin Turk, Peter Blake so I thought this is not so bad. So, I went there. It's very cool but we didn't realise at the time. So we both sold art by two o'clock I'd sold everything and a lady in a gallery in Hollywood Road Chelsea Catherine Miller, she took me on so it gave me my confidence to give up my decorating and go over to art.
KIM: Your art is pop. What are your favourite mediums?
MARTY: Well I'd say I'm partial to a bit of sparkle. I like a bit of sparkle. But basically, if I like something, I pick it up, cut it up and put it in. As I do with the bags. I've been taken something that's fake and turning it into something original. So, you know that's a bit of everything really. Swarovski crystals…what ever comes to hand really.
KIM: What do you feel is your signature style.
MARTY: Oh, I'm very influenced by Andrew Logan. I was so so blessed meeting Molly. Before I knew it, I was with Zandra Rhodes, in actual fact I went to a lunch which Zandra Rhodes cooked it was at her place in Bermondsey. There was Andrew Logan. There was Barbara Huliniki, Molly Parkin, Twiggy and me. I was sitting at this table and I was thinking oh my god, I've just been so so blessed, mind you Zandra's salmon wasn't alright but you know you can't have everything. I've picked up a little colour from Molly and from Zandra and the sparkle and the mirrors from Andrew. So it's a little bit of anyone, I've ever met that's influenced me .
KIM: Do you listen to a favourite type of music when you create?
MARTY:  At the minute, cause a lot of it annoys me cause a lot of my friends all got the night clubs and so I listen to a lot of house music and rave music when I'm out. I try to relax a little bit, so it's usually BBC Radio 2 or all sorts really. So, nothing in particular.
KIM: What would you describe as a typical working day?
MARTY: I'm a bit of a work-a-holic Kim, so between 12 to 16 hours which I know is wrong, but when you love what you do, which I do, I don't see it as work. Now that I've set up a studio, I used to have one in Hackney Wick, but now I've actually set one up in the corner of my lounge. So literally I don't stop but at this point being so busy its good. It suits me.
KIM: Approximately how often do you have exhibitions Marty?
MARTY: Oh Gee this year I did one, a little one, cause you know after Rodger passed I used to do two or three a year after that so this year I thought lets go into it, gung ho so I did a little one at Kensington and Chelsea Hotel, just to test the waters. I sold out. I sold the most work there and then from that I did one a Foreman's Smokehouse Gallery, then from that at Sophie Parkin's Club Vout-O-Reenees. And then from that I'm going into Pikes in Ibiza, I'm also showing in Arushi Arts in Mumbai and New Delhi. That's going on now as we speak, and I think they are gonna show me in LA in November so that's six so far this year. It's constant but I think I'm a bit like Joan Rivers, you know when you get the gap in the diary and you think that people don't love you anymore. You know when you've got a few days off you think is this gonna carry on or just keep going for it.
KIM: Being busy is also very good for when you lose a partner, someone that's so dear to you, your keeping busy like that and to be so successful is brilliant.
MARTY: Oh, I was doing it for him totally, because before he passed five years ago, I was kind of just getting there and getting a little bit of publicity. Everything was going lovely, but it wasn't my time then Kim. Now it is. Now I can give it 100%. I'm loving it.
KIM: He's probably shining down on you.
MARTY: Of course, he's done this for me darling. He's put everything in my way.
KIM: Oh it's serendipity.
MARTY: Sweetheart what brought you into the London Fashion Week launch where I was showing, you could have been at a million other fashion parties. So in all the gin joints in all the towns you come into mine. We had a dance didn't we. It was fun.
(laughter)
KIM:  Having enjoyed international success with your work where else have you shown your art?
MARTY: About five years ago there was a lady called Margo Marrone. She's across the world, owns a company called Organic Pharmacy. I was showing in Sloane Square in a gallery there a pop-up gallery. She went in and bought a piece and she said she couldn't stop thinking about it and she owned this huge company that was worldwide, and she contacted me. You know she was persistent because the gallery wouldn't give her my number, so she tracked me down. She was really really persistent. She said would you meet me for a coffee, and I thought you know what what's it gonna hurt? Anyway she said you know I've got this company called Organic Pharmacy and she said I want you to design the Christmas brochure. This was like in July so I couldn't really think about it. But she said it's all religions you know so I did a bottle on the front cover. She actually paid fortunes to have glitter on the front. I've still got one somewhere, a brochure. But she actually paid a lot of money to put glitter in my work, in the bottle and it was in every window. I was in Selfridges. So then she got me to do a piece of art for every store so in one it may be a face cream, in another one it may be a body cream it's all sorts. But I had to do the packaging on canvases, and it went to Moscow, Seoul, Hong Kong…it just went everywhere and every window display was my designs. Obviously, I didn't manually do them they where all in light boxes. So, my work I was seeing it everywhere. I was seeing it on Argyle Street and in Chelsea. I was seeing it in windows. And then also
she wanted it for every store, she was so passionate about it, Beverley Hills, Rodeo Drive. I did, remember The Archies, the comic they were at The Beverley Hills Hotel and I weaved her stuff into it. So literally that went well. She knew what she wanted for this campaign and she said it was the best Christmas campaign they ever did.
KIM: Well I did see some of your work recently during London Fashion Week September 2019.  You exhibited your recent collection 'FAKE AS FxxK' at the amazing 'SUPER SUPER SUPER' Fashion Movement launch at 19 Greek Street in Soho, London. I love the humour in this collection with its references to sustainable fashion.  The wall art and your fake designer 'objet d'art' bags are such original metaphors for today's throwaway society. Where did you get the inspiration for this collection?
MARTY: My cousin had come back from Turkey and its exactly that. It's one of those really bad knock-off bags. You know you could absolutely see that it was so bad. Anyway, I was taking her to The Dover Street Arts Club and I said you cannot bring that bag. You're not coming out with me with that bag. She said, "What's wrong with it?"
And I said, "What's right with it?" I said its gonna end up in the tip. So anyway, I wrote on it with a sharpie FAKE AS FxxK and I said I'll buy you a bag. Anyway, we had one too many drinks and she brought it out anyway. While we were out people were really seeing the humour and then she took it out another night with her friends and they were saying will you do me a little bag. So hence I did a collection of them which got me into London Fashion Week and one thing led to another. Zoe asked me to do London Fashion Week. I was just like beside myself so again its by accident. And it just escalated people saw the humour.
KIM: I love it.
MARTY: Thank you.
KIM: So, what is your vision for the future Marty?
MARTY: For the future I'm gonna carry on carrying on. My next collection, I'm gonna get Pikes out of the way and I wanna do leather jackets, really soft as butter, beautiful quality leather jackets hand painted and I'm gonna be putting my Richie Rich and all my characters are gonna be incorporated into the jackets. So it's gonna be like wearable art so it's one off pieces of wearable art so your never gonna bump into another one. If I can, I don't want to rush this but I'd like to get at least ten out for Men's Fashion Week in February.
KIM: And you mentioned Pikes I know you have your forthcoming Marty Thornton Exhibition at Pikes in Ibiza on the 20th October which sounds very exciting.
MARTY: I know it is exciting darling, I can't believe it.
KIM: And of course, it's presented by Ibiza Style Magazine and they describe it as a 'premier exhibition'. Pikes is an iconic Ibizan institution, home to music, fashion, art and celebrity and it
has a wonderful history. What a perfect place to show your explosive contemporary artwork. Can you comment on this event?
MARTY: Well at first you know it's like sliding doors with whatever happens. When I met Helen who works for Ibiza Style Magazine I got chatting to her and I had this shirt on and it had like a Buddha that I had done myself and she said, "Oh my god that's so Ibiza." We got chatting and I said I was an artist right, so it went from there. Well when I googled Ibiza Style Magazine, The Best of the Best I thought my god I've cracked it here I've landed on my feet again. Then she started talking about Pikes would you like to do a show there. I said well I've been there, I was at Freddy Mercury's famous birthday  party, back in the day. I was talking with John Reid, Elton John's manager. Another name drop!
KIM: I know John he's a lovely man.
MARTY: Do you really?
KIM: Yes, I know him from when he lived in Montpelier Square. I occasionally see him at my girlfriend Lisa Voice's parties. They are very good friends.
MARTY: I used to go to his mansion in Lockwell House, Rickmans worth. I know John, I love John. Yes, so he took us. That's how I ended up at Pikes at Freddy Mercury's. Again, I'm thinking oh my god I'm from the East End it's happened it's been amazing.
KIM: Well its going to be incredible, perfect!
MARTY: I'm back! I'm back Kim!
(laughter)
KIM: Absolutely you most definitely are back!
Well Marty it's been a great pleasure. And I want to wish you all the best with your forthcoming Marty Thornton Exhibition at Pikes in Ibiza.
MARTY: At Pikes and it's like the way it goes, and I thought to myself that's it now I'll do this collection for Men's Fashion Week.
KIM: That's going to be very interesting.
Interview and written by Kim Grahame
@marty.thornton @zoelem1 @sam_slingshotldn
photos Kim Grahame and Marty Thornton
http://www.thorntonandenglish.com/marty/