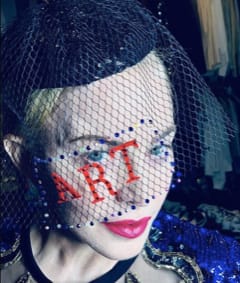 What a delight to join the V&A inside the wonderful world of the 'celebrity hatter' / 'mad hatter' Victoria Grant at her Nottinghill atelier. Victoria discussed her passion for British Heritage and craft as well as her inspiration and creative techniques with the V&A's Young Patrons Circle.
Since launching her millinery business in 2007 Victoria Grant has become one of Britain's leading hat designers. She has a following of 'really amazing, wild and fabulous people, from royal circles to rock royalty'. Her clients include celebrities such as Lady Gaga, Madonna, Beyoncé, Kylie Minogue, Cara Delevingne and Rihanna amongst others. With creations gracing the covers of fashion magazines, Victoria has found her hats photographed by many renowned photographers such as Annie Leibovitz, Inez & Vinoodh, Ellen Von Unwerth and Mario Testino.
Victoria's strong interest in military fashion, current culture and the arts is evident in her work. She gained inspiration from a young age by visiting the Honourable Artillery Company with her Father, who is now a Pikeman with the Pikeman & Musketeers. Having worked as a fashion stylist, Victoria was inspired to create her own headpieces for a photoshoot and this was the beginning of her millinery career. Her hats have a playful quality with design styles that are eccentric or high fashion. Her highly sought after bespoke hats have a sophisticated elegance and are hand blocked and handstitched at her London atelier. These flamboyant designs accentuate the character of the wearer and are head turners!. The Victoria Grant 'Kiss' beret, embellished with goose pointers and a crystal veil is a good example. This was voted 'best hat' at the wedding of HRH Prince Harry and Meghan Markle.
Collaborations include:
British jeweller Stephen Webster,
artist Antony Micallef,
French beret-maker Laulhere,
designer Isabel Marant,
designer Temperley
"I've met a few mad hatters in my time. Some make hats, some look good in a hat and others become synonymous with their hat. None of them have combined the milliners craft, an impeccable sense of the potential of hats and a wicked sense of humour quite like Victoria. Collaborating with Victoria 'mad hatter' Grant has been a joy, a laugh out loud and above all, kept my head warm."
Stephen Webster
"Victoria Grant's head pieces are the perfect balance between tradition, handcrafting and British sophisticated yet provocative elegance.
They perfectly embody the modern rock'n roll twist of my latest collection."
Isabel Marant
Photos courtesy of David M. Benett for Getty Images
Victoria Grant and Kim Grahame
Written by Kim Grahame
Victoria Grant video produced by Kevin Petillo and directed by Rupert Sansom
@VictoriaGrant @vam_young_patrons_circle
https://www.victoriagrant.co.uk/